http://www.cbssports.com/nba/news/doc-rivers-perfectly-explains-the-warriors-psychological-effect-on-opponents/
Doc Rivers perfectly explains the Warriors' psychological effect on their opponents
Golden State puts runs up on you, and they always feel worse than they are.
    Matt Moore
mugshot by Matt Moore
@MattMooreCBS
22h ago • 3 min read
The Warriors beat the Clippers 144-98 Saturday night, a 46-point beatdown so bad that the box score should stand as the Wikipedia entry for "Catch This 'L.'" Steph Curry had 43 points in the win, including a half-court 3. After the game, Steve Kerr said this about the performance:
"People write this, but Steph's gonna Steph," Warriors Coach Steve Kerr said. "What does that mean? I don't know."I've read that. Whatever that means, I think that's what happened."

And he's right. Curry was magnificent, shooting 9-of-15 from 3-point range. The Warriors outscored L.A. by 15 from beyond the arc.
But wait, subtract 15 from 46 and you get 31. The Warriors would have beat the Clippers by 31 points if the Warriors had hit the exact same number of 3-pointers as Los Angeles. Here's an even better stat. In the first half, where the Warriors led by 21 and had effectively ended the game, both teams shot 8 of 13 from 3-point range.

Doc Rivers noted this after the game, and in doing so, he touched on something very important to notice about the Warriors.

https://t.co/vZSVbtQBf7

Emphasis mine:
"At halftime, I asked the guys what's hurting us, and they said 'the 3'," Rivers told reporters. "And I said 'You gotta be kidding me. We're even. We were 8-for-13 and they were 8-for-13." It's amazing the mental thing when they make a 3. They needed Curry makes a halfcourt shot to tie us. They had 46 points in the paint. The paint is what killed us tonight. Their drives, their cuts, their layups, and our guys are still thinking about the 3-point shots. That didn't hurt us. It did later, but in the first half it was all the layups."

This is something unquantifiable. There is no metric to reflect this. But there is a feeling among opponents of truly great teams with truly great offenses that the entire effort feels defeatist. You plug in, you try and defend, you make your rotations, and they get the offensive rebound, knock down a 3-pointer, and there's an emotional impact, a feeling of helplessness. The Warriors do this more than any other team. Watch the body language of opponents when the Warriors go on these crushing runs. They're throwing their hands up, then bowing and shaking their heads. They seem like they're caught in a storm, just hoping it ends soon.

This is not how you win a basketball game.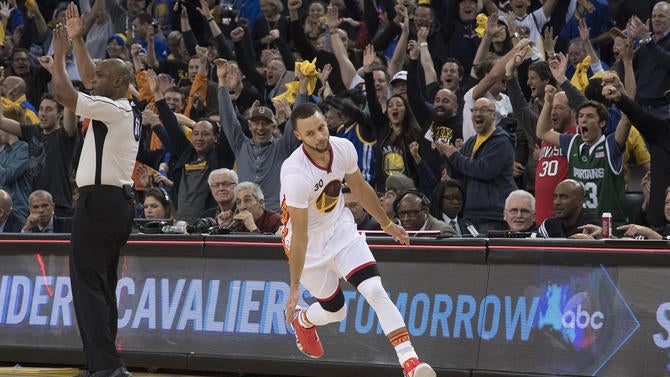 The Warriors are rolling. USATSI


Kevin Durant spoke about this last year when facing the Spurs and the Warriors both, that you have to not be affected by the last play and simply keep your mental resolve to keep playing. You can't be emotionally impacted by the disappointment of their making what feel like big shots. The crowd at Oracle Arena contributes to this, their collective pre-roar on a Curry launch makes the ensuing chaos seem an orchestrated trapeze act. Then again, Durant turned around and joined the Warriors, so maybe there's no real escape from that psychological effect.

You have to keep playing, and not be affected by such things, but that's easier said than done. What this really shows you, however, is the challenge of playing the Warriors isn't just their system, their unbelievable talent, their energy, or their boldness, though it is all those things as well. It's the psychological warfare that their big-shot hunting can have on you. There's a flip side to it; the Warriors hunt for big shots religiously, especially when they get down, trying to spark those runs so that it gets easy again instead of grinding out possessions. But the Warriors' edge isn't just skill, speed, athleticism, precision, selflessness. It's fighting your own impulses of frustration when they succeed.
bob
MY NOTE:  Tommy always talks about how the Celtics of old used to break the other team's spirit to compete and how important and valuable it is to do that.  We saw that happen last week when we played Orlando. We crushed them so thoroughly they started to unravel, starting questioning everything they did, questioning if they even deserved to be on the same floor as us that night. That's what GSW does regularly.  In a league that is trending towards offense and the perimeter the team that you know is the better scorers from the perimeter have the psychological edge.  Even when they are having an off night, you still feel they own you.

if you want/plan on winning championships in this era you have to compete in this era, and this era is about 3s.  Like it, and I don't very much, or not.  Adapt or die.
.

bobheckler




Posts

: 42901


Join date

: 2009-10-28




---
Permissions in this forum:
You
cannot
reply to topics in this forum