http://bleacherreport.com/articles/2700301-generation-dirk-nowitzkis-heirs-on-how-the-dunking-deutschman-changed-the-game?utm_source=cnn.com&utm_medium=referral&utm_campaign=editorial
GENERATION DIRK: NOWITZKI'S HEIRS ON HOW THE DUNKING DEUTSCHMAN CHANGED THE GAME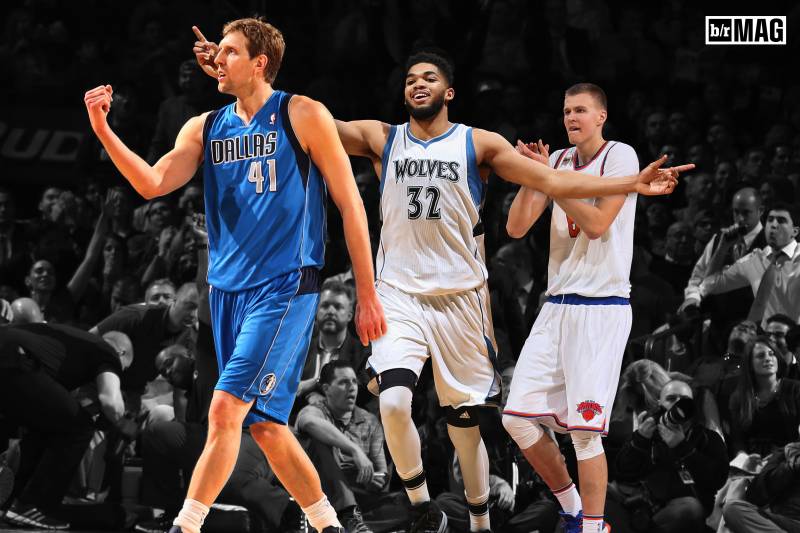 Jonathan Abrams
Senior Writer, B/R Mag
April 5, 2017
Dirk Nowitzki stopped after a game a few seasons ago to field a question from Luol Deng, then of the Chicago Bulls. Deng asked him which part of the rim he focused on as he released his shot. The inquiry caught Nowitzki off guard.

After all, few players in NBA history have propelled the game into modern times quite like Dirk, who blossomed from obscurity into the epitome and definition of a "stretch forward." Think about how often that term gets thrown around now versus before "the Dunking Deutschman" first entered the league some two decades ago.

Yet, few opponents—Nowitzki can only recall Deng—have picked his basketball mind for advice throughout some 30,000 points and counting. "I don't really get approached that much," Nowitzki says. "Even some of my teammates, they don't really. I guess they just see me as a freak who is able to shoot. They don't really see me as, I guess, a guy who can show them a few things."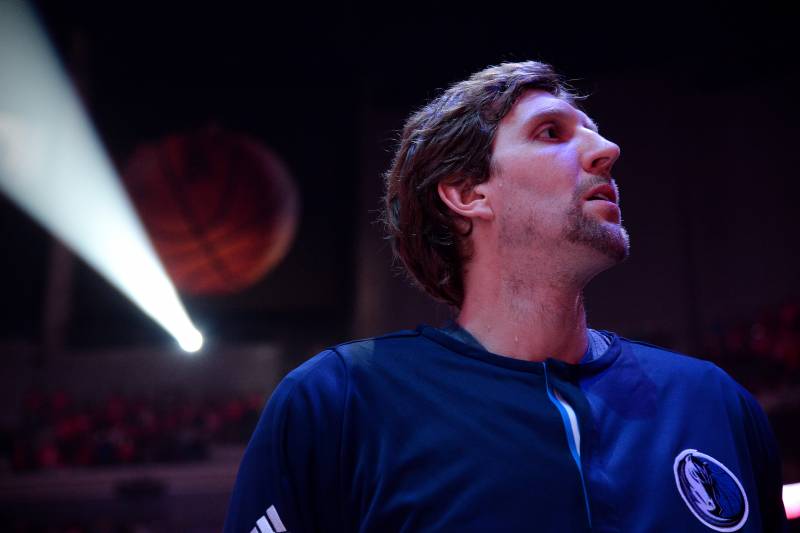 Dirk Nowitzki of the Dallas Mavericks looks on before a game against the Los Angeles Clippers on December 23, 2016.(Getty Images)


Maybe one day Nowitzki will appreciate his imprint. That time is not now. "I approach the game the same," he tells B/R Mag. "I don't really look at myself in the history of the game and change this, change that. Maybe I'm too humble. I'm not sure. I just look at myself and want to win and try to play the game the right way."

It does not take too long of a stare all around today's NBA for Nowitzki to notice his influence. "I mean, I know LaMarcus [Aldridge] is shooting a one-legger every now and then," he says.

Indeed. Basketball is now populated by Dirk prototypes and copycats—big men who shoot from long distance. Almost anyone can shoot from anywhere. Some have taken to studying and imitating Nowitzki, even if they have not directly queried the man.

"[Dirk] being able to stretch the floor out to the three and being able to shoot from anywhere on the floor changed the game." — Kristaps Porzingis
In interviews with B/R Mag over the second half of the NBA season, several stars, including Aldridge, Karl-Anthony Towns, Anthony Davis and Kristaps Porzingis—big men who would have been relegated to the paint in another era and now regularly dial it in from distance—spoke about Nowitzki's impact and influence on their own game.

The result is a legend perhaps humbled by his own legacy in the making.


Karl-Anthony Towns has always had a feathery touch. Watching and mimicking Dirk Nowitzki—a childhood friend's favorite player—became natural. Towns spent part of this All-Star break watching Dirk's film.

"It's helped me a lot, especially after the All-Star break with the way I've been shooting the three ball," says Towns, who is shooting 41.3 percent—up from 33.9 percent—from beyond the arc since the break. "He's always prepared. He always takes his one-two step. He's always generating a lot of power. Like Klay Thompson always takes a hop step, he's always one-two stepping into the shot, and he's always driving a lot of force, and he always generates a lot of power, always has his legs under him, and he always holds the ball differently than a lot of people. He spreads his hands out a lot."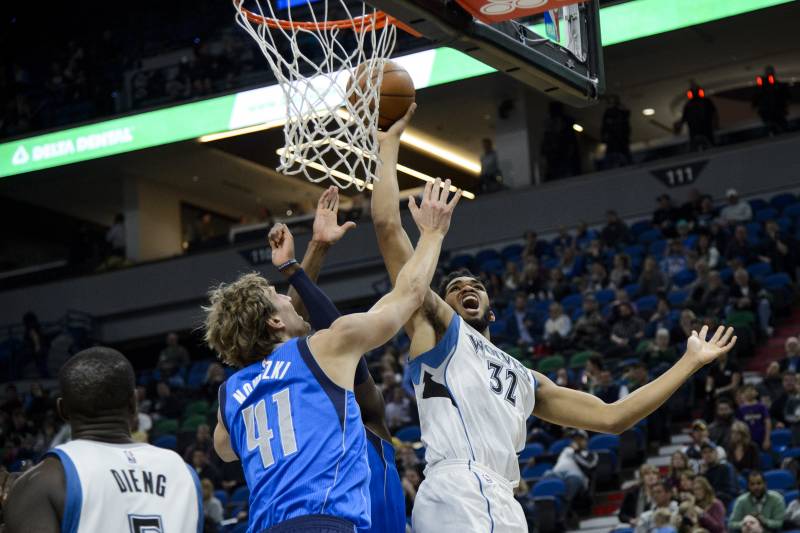 Minnesota's Karl-Anthony Towns shoots against Nowitzki on January 9, 2017.(Getty Images)


Nowitzki voiced surprise when he learned Towns is attempting to duplicate his hand placement simply by watching tape.

"That's crazy," Nowitzki says. "I was very fortunate. I met [longtime coach and mentor] Holger [Geschwindner] when I was 16. He's a guy that really taught me all the shooting. It's not like I came up with all this. I can't take all the credit for this. He taught me really well, and that's actually one point we always teach, is keep your fingers spread, especially those second, the third, where the ball comes off last. So, actually that is one teaching point I'm surprised he picked that up just by watching film."


Nowitzki thinks the intense competition of the NBA stops players from asking him more questions about his game. "I never really worked out or had great relationships with people that were on the teams," he says. "Maybe on the court, I'm usually pretty stiff and tight. I guess they don't really know how loose I am off the court. I mean, I talk to anybody and I'll have a relationship with anybody."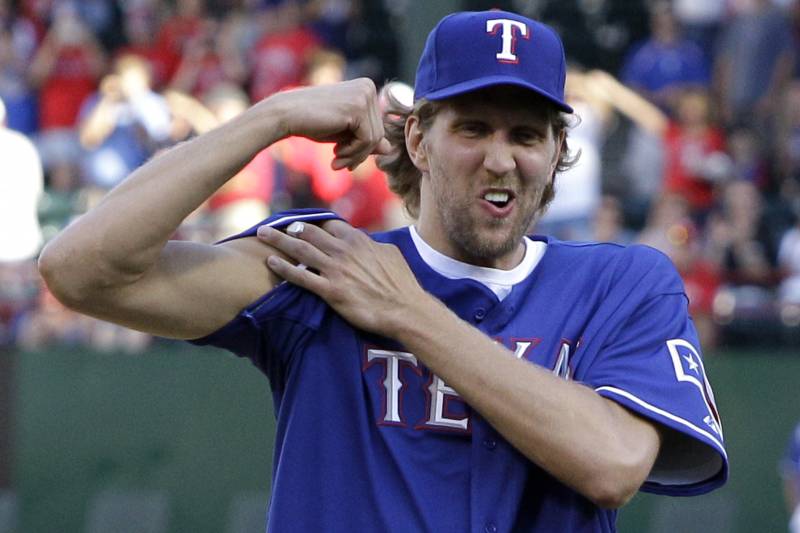 Dirk flexes his bicep after throwing out the honorary first pitch before a game between the New York Mets and Texas Rangers on June 24, 2011.(AP)


The attitude highlights Dirk's transformation since coming to the league nearly two decades ago, when he had boy-band-blond hair, knew little English and was outmuscled nearly every night. Donnie Nelson, then Dallas' assistant general manager and now its GM, was intent on drafting either Nowitzki or Paul Pierce in 1998. To his surprise, both fell to him even though the team had traded with the Milwaukee Bucks into the ninth slot from the sixth. Nelson had spent much of the season scouting Pierce and recognized him as a proven commodity.

"But at the end of the day, we went with the guy that was 7 foot, a guy that could play power forward and center and we thought could revolutionize the power forward position," Nelson says.

But before Dirk could change the game, he had to cope with an unexpected level of culture shock.


"You're thrust into a whole different realm, where it's literally like shadowboxing with your friends and all of a sudden you find out you're in the Roman Colosseum with a sword and you're up against a bunch of gladiators," Nelson says. "That's what we're talking about. Even though it seems like a good idea at the time and you're looking at NBA games and you got Scottie Pippen's poster on your bedroom wall, it's a whole different thing when you're sitting there with your lunch pail and you got 11 other guys that have families to feed, and they're looking at you like you're a piece of meat that's in their way."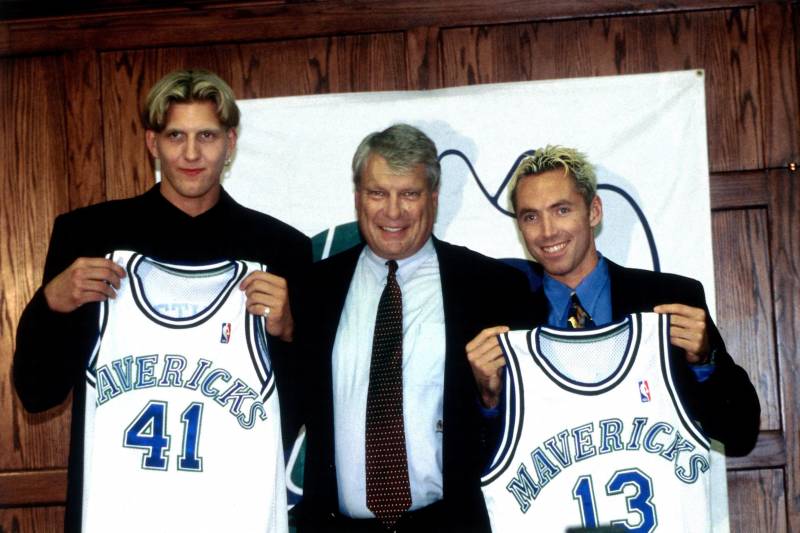 Nowitzki, left, Mavericks head coach Don Nelson and Steve Nash pose for a photo as they are introduced during a press conference on June 29, 1998.(Getty Images)


In those early years, Nowitzki spent the bulk of his time with Steve Nash, another underrated player looking to make his mark on the league.

The two often found gyms on the road where they would put in extra work shooting, meeting up in the evenings after practices had ended.

"Especially the first two years, when we were usually not playing much, we'd go in almost every night," Nash says. "It depended who was having the better day, but we had a lot of battles. One-on-one and H-O-R-S-E, and all sorts of shooting games, but most importantly, we were just in there working and working, and trying to get better."


Nowitzki and Nash both developed into All-Stars who helped revolutionize the game.

"The pick-and-roll with those two guys was nearly impossible to guard," says Popeye Jones, their former teammate. "They led with such a quiet confidence. They led by how hard they worked, and for other people to see the type of work that they were putting in, not only in practice, but post-practice shooting, coming back at night. Those work habits, I think, really transferred to the rest of the team."

Dirk Nowitzki began hearing comparisons between himself and Kristaps Porzingis last season. "I really like what I saw," Nowitzki says. "He's a freak. He's long. He is so skilled. He is even more athletic than I ever was. So I think he is the real deal."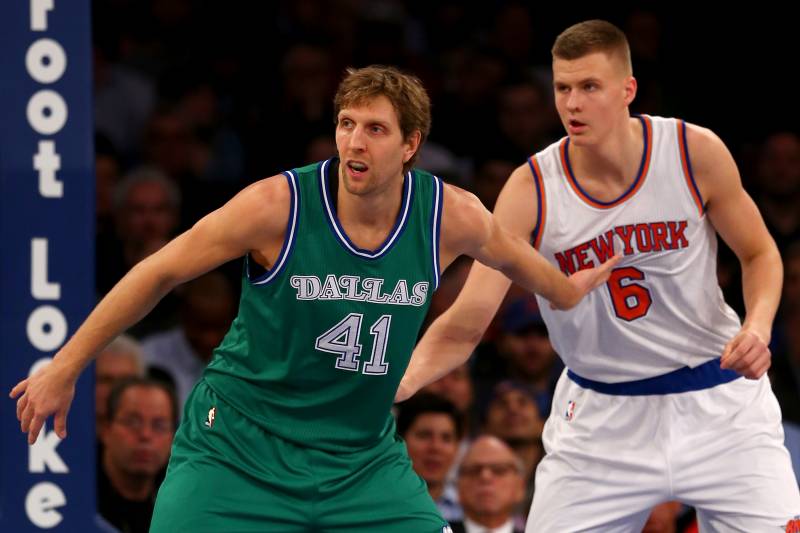 Nowitzki and New York's Kristaps Porzingis fight for position on December 7, 2015.(Getty Images)


Nowitzki offered Porzingis his phone number and an opportunity to train together but
did not hear back until just before this season's training camp.

The Knicks' fledgling superstar says he was worried about bugging the legend.

"Whenever I can I would love to fly out to wherever he is—in Germany, Dallas or wherever—and have the chance to work out with him and spend a couple of days with him," Porzingis says. "I want to pick his brain and learn whatever I can from him."


Now's the time.

"Obviously, I'm not going to have too many more summers to work out with. This might be one of the last ones," Dirk says. "If he wants to come and work out for like a week or so, I'm open for it."

"I would love to," Porzingis says. "People might want to say that bigs don't want to bang inside no more, but you've got to be effective at the same time. So, him being able to stretch the floor out to the three and being able to shoot from anywhere on the floor changed the game. Young guys like myself, and others, want to make that same impact."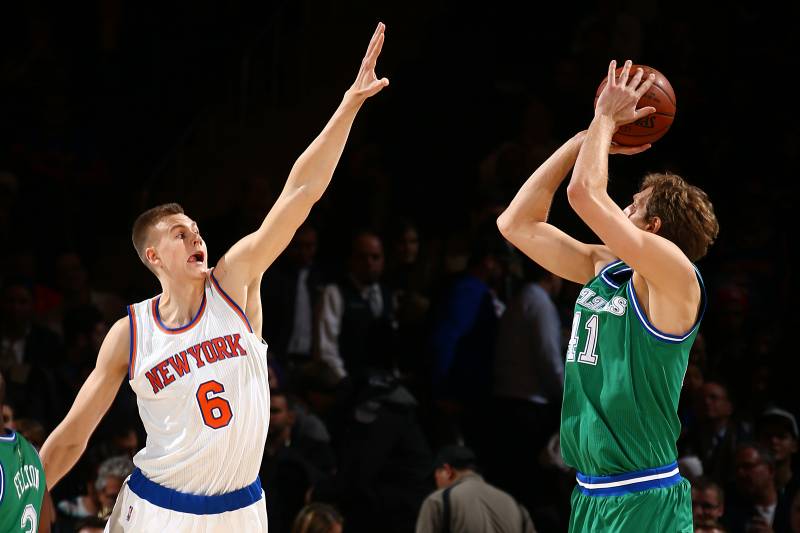 Porzingis defends against Nowitzki on December 7, 2015.(Getty Images)


Porzingis says he wants to tap into Dirk's game experience and the drills he's been doing throughout his career.

"That might help my game, even what he does in the weight room to hold his body together with his size and everything," Porzingis says. "All of that is going to help me and be important for me. So, that will be a huge opportunity for me."

Anthony Davis, too, is trying to steal some of Nowitzki's tricks.

"I watched a lot of Dirk film," the New Orleans Pelicans All-Star says. "All his stuff from the elbow, his face-up shots, stuff from the post. So, I watched a lot of his film and tried to take stuff from his game and add it to mine."


Any good Dirk Nowitzki impression starts with that patented one-legged fadeaway.

"It was something I started shooting more as I got older," Nowitzki says. "When you're younger, you have the first step. You can drive by guys that are close. It's just something that we came up with to just create a little separation, to lean back a little bit, take a step and get away from the defender a little bit. And then, obviously, I'm 7 feet. I'm long enough to basically shoot over anybody. That's how that shot came along, and it started working for me a little bit.

"It's awesome in a way that people remember you for something. It's obviously an honor in itself."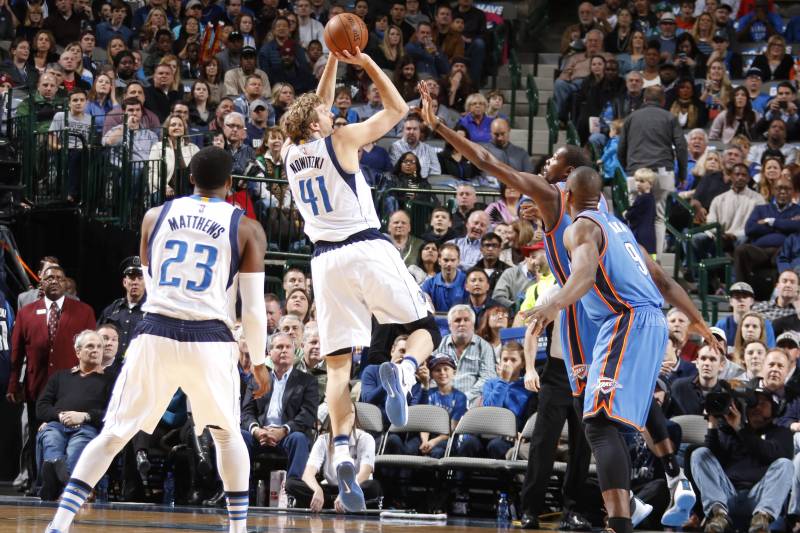 Nowitzki shoots a fadeaway jumper against the Oklahoma City Thunder on January 22, 2016.(Getty Images)


LaMarcus Aldridge says he has shifted his game toward Nowitzki's as he ages.

"Early in my career, I was more trying to be Tim [Duncan], Rasheed [Wallace] and KG [Kevin Garnett]," Aldridge says. "Later in my career, watching Dirk take his game to the next level and watching how he kind of fine-tuned it over time and made it better, that's when I started to borrow some things, like the one-legged shot and just being OK with taking jump shots.

"Before he went to the Finals and really started to dominate by taking jump shots, it was kind of frowned on for a big to do that. But he kind of showed if you really worked on it and mastered it, you could be dominant by taking jump shots. ... As I became less athletic and had to play smarter and use my skill level, I've taken even more from Dirk, to last longer and still be at a high level."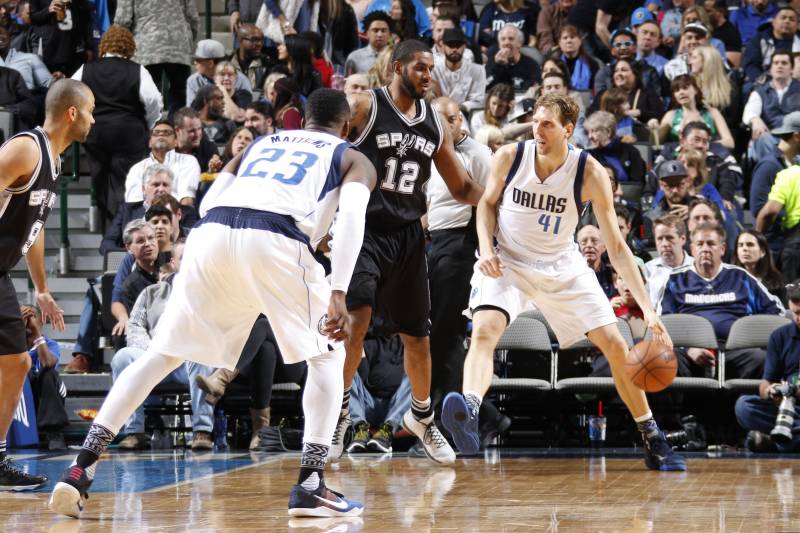 Nowitzki posts up against San Antonio's LaMarcus Aldridge on February 5, 2016.(Getty Images)


More players, like Aldridge, may adopt the shot into their repertoire. Nowitzki says it's a fairly easy shot to master—you only need to be 7'0" tall, have NBA talent and possess a soft touch.

"You need to square up your shoulders towards the basket," he says. "And as long as your elbow is pointing towards the rim, I think a lot of guys can shoot it. That's why more and more guys have been using it 'cause it really ain't that hard of a shot. It's not like a skyhook where nobody can do it besides Kareem. The shot is easy, and all you have to do is have a touch and get a little separation."

Nowitzki's practice drills drew the awkward glances of teammates when he first entered the league.

Geschwindner, his mentor and a former player for Germany's national team, had taken a teenage Nowitzki under his wing. In Dallas, the pair continued to run workouts Nowitzki grew up on.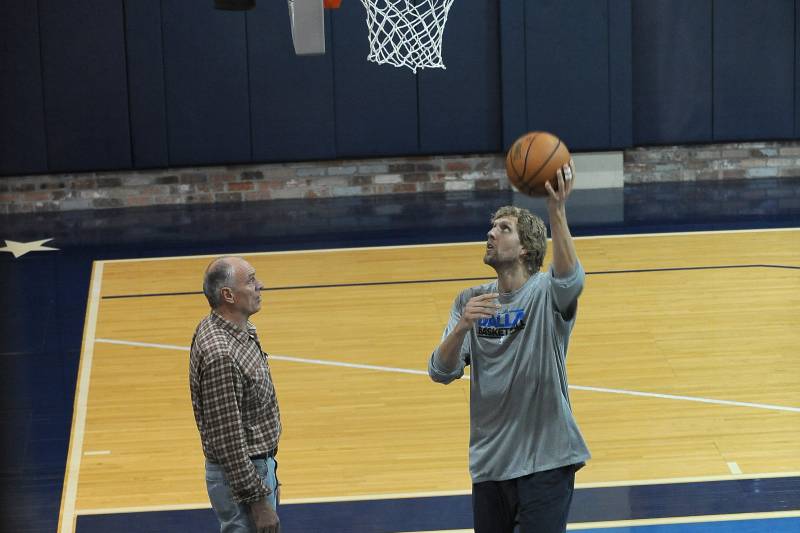 Nowitzki shoots around on the practice court with mentor Holger Geschwindner prior to Game 5 of the 2011 NBA Finals against the Miami Heat on June 9, 2011.(Getty Images)


"At the time, it was un-basketball related," says former teammate Michael Finley, who added some of the drills into his own regimen as his career wore on. "One drill was doing 360 jumps, coming down, then shooting the ball, but in actuality, that just helped Dirk with his fadeaway, learning how to locate the rim quickly on a fadeaway jump shot, but they broke it down to somewhat like a science. Just to see that from afar, you would think, 'What is he doing?'"

Dirk Nowitzki looked around the locker room at his last All-Star appearance, the 2015 game in New York. It wasn't like it had been for most of his career. No Kobe Bryant (out injured). No KG (didn't get the votes in the East). Sure, Duncan was there. But he wasn't starting.

"I guess it's time," Nowitzki says. "It's just everybody's time at some point. It's disappointing, but it's just the way it is. For Kobe, Timmy and KG all going in one summer, that's a rough hit for the older guys and for the league especially, what they've done for the league and for the game. I'll definitely miss those guys."

Paul Pierce, the player Dallas once debated taking over Nowitzki, previously announced he is retiring after this season. Nowitzki has declared he will play on.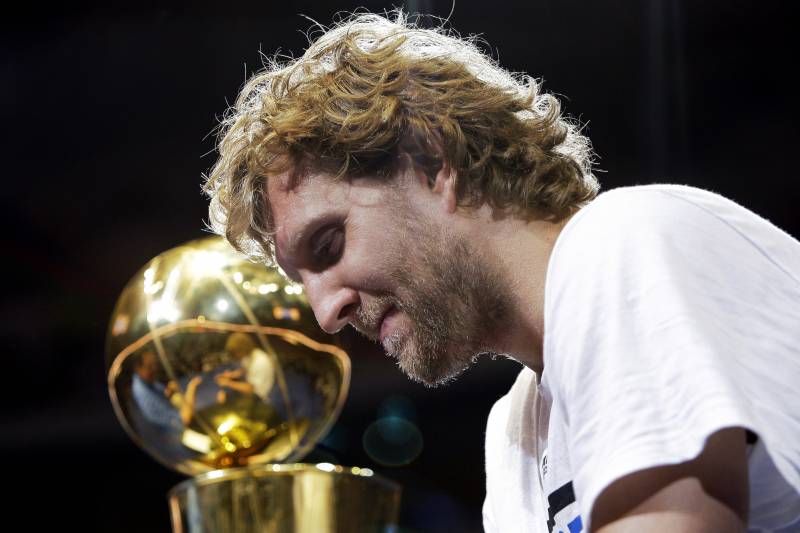 Nowitzki fights back tears during a celebration of Dallas' 2011 NBA championship on June 16, 2011.(AP)


"I guess he's trying to break every record in the league," says Nick Van Exel, a former teammate. "Shit. I can get 30,000 points if I play 30 years, too. But man, that's him. That's the competitor in him." Nowitzki will allegedly retire at some point and (along with Vince Carter) will close the book on a generation of NBA stars who debuted in the late 1990s.

"But you can't complain," Dirk says. "This league is in great hands. If you look at some of the stuff that's going on with [Russell] Westbrook having a triple-double every game, [James] Harden is playing outstanding. This league has got some great new stars.

"It will be in great hands for a long, long time."
bob
MY NOTE:  It took me a long time to get around to liking Dirk's game.  I always liked my bigs getting down in the paint and forcing the defense to foul them or take the easy two points, so a weak-rebounding fade-away jumping 7'er irked me.  There's not denying, however, his impact on the game.  They mentioned Porzingis, Towns and Aldridge but our own Kelly Olynyk pulls out the wrong-legged fade away occasionally too.  If the reason why you want your bigs down low is to create high % shots, then a sweet-shooting 7'er taking a fade away is pretty much unstoppable, as Dirk has been for many years.  Yeah, I know Kelly can't do it like Dirk does, but he's only 25 too and this is definitely a learnable skill.

First round lock for the HOF.  Dirk, that is, not Kelly.
.

bobheckler




Posts

: 37598


Join date

: 2009-10-28




---
Permissions in this forum:
You
cannot
reply to topics in this forum