http://bleacherreport.com/articles/2702305-lavar-ball-says-ucla-didnt-win-title-because-white-players-slowed-game-down?utm_source=cnn.com&utm_medium=referral&utm_campaign=editorial
LAVAR BALL SAYS UCLA DIDN'T WIN TITLE BECAUSE WHITE PLAYERS ARE TOO SLOW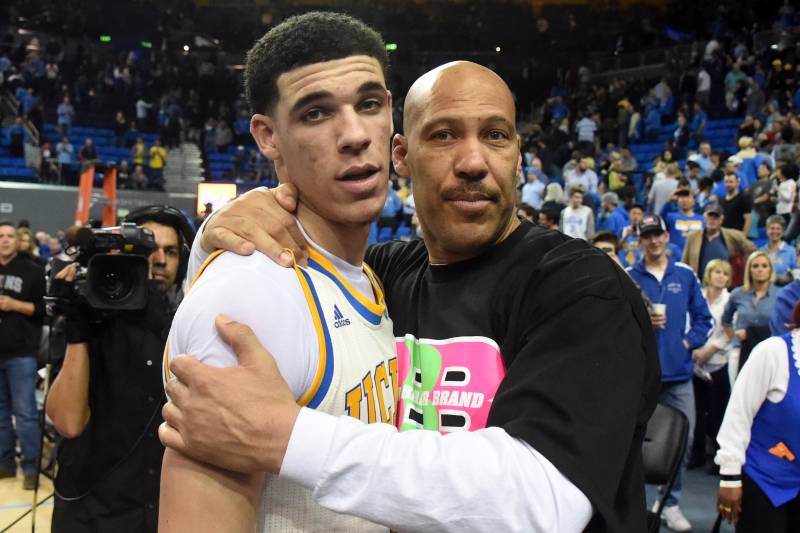 Mar 4, 2017; Los Angeles, CA, USA; Lavar Ball embraces his son UCLA Bruins guard Lonzo Ball (2) after the game against the Washington State Cougars at Pauley Pavilion. Mandatory Credit: Richard Mackson-USA TODAY Sports
Richard Mackson-USA TODAY Sports
Rob Goldberg
Featured Columnist
April 6, 2017
Although LaVar Ball's outrageous comments had been relatively harmless over the course of the college basketball season, his latest accusation will likely be much more controversial.

"Realistically you can't win no championship with three white guys because the foot speed is too slow," Ball said, per Clay Fowler of the Inland Valley Daily Bulletin. "I told Lonzo—'One of these games you might need to go for 30 or 40 points.' It turned out the that was the one game. Then once they get to the Elite Eight, they're right there."

The father of UCLA star Lonzo Ball likely was referring to Bryce Alford, TJ Leaf and Thomas Welsh, three white starters for the Bruins.


UCLA fell to Kentucky in the Sweet 16 by a score of 86-75.


While Ball might have wanted his son to score 30 points, Lonzo ended with just 10 points on 4-of-10 shooting from the field, including a 1-of-6 effort from three-point range. Meanwhile, his counterpart, De'Aaron Fox, scored 39 points for Kentucky.

As for his teammates, Leaf has declared for the NBA draft and is expected to be a first-round pick, according to DraftExpress. Meanwhile, Alford finished his career with 1,922 points, which is one of the best totals in UCLA history.
bob
MY NOTE:  LaVar Ball wants his son to play for the Lakers because that's where his family lives and so they can go see him play home games.  That makes sense, I can't blame him for that (he has clarified his remarks by saying that wherever Lonzo plays is good, he just would like him in LA for the family convenience).  Assuming the Lakers don't lose their pick, do they really want Lonzo Ball with all this baggage?  It'd be bad enough with LaVar on another coast but to have him on the airwaves everyday in LA?  LaVar is shopping a reality TV show about his 3 sons.  I know that LA is the place for all that but is that what Rob Pelinka and Magic want around their team, someone with a big mouth who is trying to make himself big by playing off his Laker son?  I'm not a college sports fan but if even half the stories I'm hearing from people about this draft it is one of the deepest in many years.  The difference between Fultz/Ball and Tatum/Jackson/Monk/Fox isn't that great, in terms of talent level and their realistic upside.  LaVar Ball doesn't seem to care what other people think.  Why assume he'd remain silent if Luke Walton decides to play his son 15-20mpg because he still starts Jordan Clarkson and gives him 28-32mpg?  I sure wouldn't. I don't know anything about Lonzo Ball's talent (although his shot is even fuglier than Noah's) but his father is cancer, and that's a shame.
.

bobheckler




Posts

: 37560


Join date

: 2009-10-28



So that explains why I'm not faster!

And, LaVar, I'd have us draft TJ Leaf in a heartbeat. Only problem is he'll probably go mid first round and we won't have the chance.

NYCelt




Posts

: 7161


Join date

: 2009-10-12



What a moron. Even if he was a nice guy I still would not draft Ball.

dboss




Posts

: 8193


Join date

: 2009-11-01




---
Permissions in this forum:
You
cannot
reply to topics in this forum