http://www.sportingnews.com/nba/news/nba-playoffs-2017-celtics-vs-bulls-gerald-green-clippers-contract-free-agent-isaiah-thomas/1ki64po06caze1nvur060eh2mh
NBA playoffs 2017: Nearly a Clipper last summer, Gerald Green rides to Celtics' rescue
NBA
April 24, 2017 10:04am EDTApril 24, 2017 10:04am EDT
Gerald Green was set to sign with the Clippers last summer, sources told Sporting News. The Celtics now are glad they pulled him to Boston.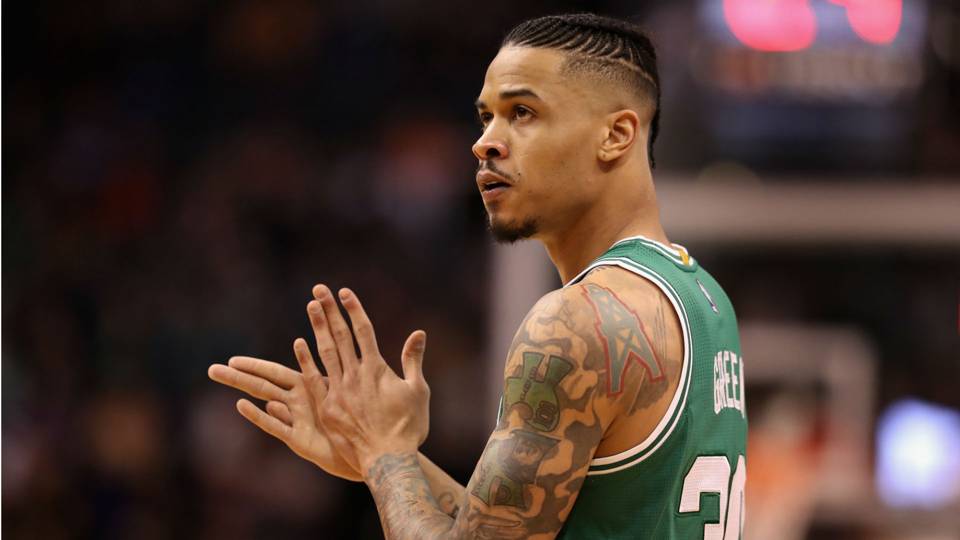 Gerald Green(Getty Images)
Sean Deveney  @seandeveney
Updated at 10:04 a.m. ET
Gerald Green played 22 minutes for the Celtics against the Bulls on Sunday, getting his second consecutive postseason start. He scored 18 points on 7-for-13 shooting, helping Boston to a win and a 2-2 series tie, igniting an offense that had struggled to keep up with Chicago in its first two games.

Green had played just five minutes in the first two games of this series, missing two shots and knocking down a free throw. But coach Brad Stevens' decision to insert Green into the starting five has helped awaken the top-seeded Celtics after a disastrous opening to the first round of the postseason.


But there is a twist to Green's Celtics revival: It almost didn't happen. Green, team and league sources told Sporting News, was all but signed by another team — the Clippers — last July before the Celtics came calling.

Yes, rather than bolstering Boston in its first-round fight, Green could have been chipping in for the Clippers, facing an uphill climb now against Utah. The Clippers, sources told Sporting News, thought they'd had Green locked up.

That would have been a bit of a homecoming for Green, who came into the league with the Celtics in 2005, with Clippers coach Doc Rivers then at the helm in Boston. But when the Celtics expressed interest in Green last July, they could offer a true homecoming, the chance to play with Isaiah Thomas — Green's friend from their time together in Phoenix — and, most likely, more playing time. The Clippers later signed Alan Anderson to provide depth on the wing.

It was Thomas who, after Game 4 on Sunday, reminded the media that he'd been saying all year that Green would, at some point, win the Celtics a playoff game.

"I really believed that," Thomas said. "We have so much confidence in him. I know when he is on the court, he spaces the floor, not just for myself but for everybody. Even if he's not making shots, you have got to respect his shot because he is a hell of a shooter. I love when he's out there, because he gives me space to go to work, and also another outlet when I'm in trouble, because I know he can knock down those shots."

Green has had ups and downs in Boston this season, playing 47 games and averaging 11.4 minutes. That was mostly because rookie Jaylen Brown proved more NBA-ready than expected early in the year, and Stevens liked Brown's length and defensive instincts off the bench. Green did put up 18 points, one off his season-high, in the Celtics' regular-season finale.

But Green remained professional. He didn't complain about lost playing time. He had a hunch his number would be called eventually, and said he sought to keep himself sharp throughout the year.

"I think you've gotta believe in yourself, I think you gotta put in a lot of work off the court to make sure you're ready," Green said. "You know the famous quote, sometimes you have to be ready so you don't have to get ready. I do a lot of things that, it's like, off the camera, that a lot of people don't see me do. So, I just always try to prepare myself like I'm going to play even when I wasn't going to play. And when I wasn't playing, my thing is, I was always enjoying the team's success, always enjoying somebody else's success."

Now, there has been a role reversal. The rest of his Boston teammates are benefiting from Green's success. He might nearly have been a Clipper last July, but instead, he's a happy Celtic this April.

bob
.

bobheckler




Posts

: 37807


Join date

: 2009-10-28





Similar topics
---
Permissions in this forum:
You
cannot
reply to topics in this forum