http://www.nba.com/celtics/news/sidebar/misc-042917-series-preview-celtics-wizards?sf74777788=1



Series Preview: Celtics vs. Wizards


Posted: Apr 29, 2017


By Taylor C. Snow |  @taylorcsnow
Celtics.com



April 29, 2017



Of all the second-round matchups that are set to take place, the Celtics-Wizards series packs the most intriguing punch from a rivalry standpoint.

Boston and Washington had four physical, chippy battles during the regular season, so you can bet that blood will boil between these two teams during a best-of-seven series that could last as long as 16 days.

Perhaps one of the reasons why the Celtics and Wizards have such heated contests is the fact that they are so similar from a matchup standpoint. The teams went 2-2 against each other during the regular season with each team winning twice on its home court.

Now, with their Eastern Conference semifinal series about to begin, let's take a look at how the top-seeded Celtics and fourth-seeded Wizards match up on an individual basis.


Head Coaches – Brad Stevens vs. Scott Brooks



Brad Stevens and Scott Brooks have achieved similar success this season by leading their respective teams well beyond expectations.

Despite dealing with constant injuries and having just one All-Star on his roster, Stevens managed to guide a scrappy group of Celtics to the top record in the East (53-29) and the No. 1 seed in the conference.

Boston continued to battle obstacles in the first round as they fell into a 2-0 hole against the eighth-seeded Chicago Bulls, but Stevens adjusted his starting rotation and the Celtics dug deep to win the next four games and advance.

Brooks' group also faced adversity this season. The Wizards lost eight of their first 10 games and were a mediocre 16-18 through the first week of January. However, their first-season head coach guided them to win 25 of their next 31 games, and they ultimately finished in fourth place with a 49-33 record. Washington then went on to beat Atlanta in six games, setting up their second-round series against Boston.

While the pair of coaches experienced indistinguishable success during the regular season, Brooks takes the upper hand when it comes to postseason experience. The 2010 NBA Coach of the Year won nine playoff series' during his seven seasons in Oklahoma City, which included a trip to the 2012 NBA Finals.

Stevens, meanwhile, is fresh off of his first playoff series win and has a 6-10 career postseason record, compared to Brooks' mark of 39-34.


Point Guards – Isaiah Thomas vs. John Wall



There are two 2017 All-Stars in this series, and they just so happen to be going head to head at the point guard position.

Isaiah Thomas and John Wall both have incredible offensive repertoires, and they are the main reasons why their respective clubs finished in the top three in the East in scoring.

Scoring is exactly what Thomas is known for, having led the Eastern Conference in that department with an incredible average of 28.9 points per game.

Wall, meanwhile, is known more for his distribution. He led the East with 10.7 assists per game and is the only player in the NBA who has averaged at least 10.0 APG during each of the last three seasons.

Thomas has clearly owned the matchup this season. During four contests against the Wizards, he put up 27.8 points, 8.0 assists and 4.0 rebounds per game, while Wall averaged 17.8 PPG, 8.3 APG and 5.3 RPG.

Wall, however, has been one of the hottest players in the postseason. He averaged 29.5 PPG, 10.3 APG and 4.0 RPG during Washington's first-round series against Atlanta, and is fresh off of a 42-point, Game 6 effort.

Boston will have its hands full trying to slow down Wall, while the Wizards will try to end Thomas' tremendous string of success against them.


Shooting Guards – Avery Bradley vs. Bradley Beal



The Battle of the Bradley's has a nice ring to it, doesn't it?

Well, get used to it, because there will certainly be some quality duels between these two players over the next couple of weeks.

Beal is a tremendous offensive threat, having averaged 23.1 PPG this season on 48.2 percent shooting from the field and 40.4 percent shooting from 3-point range.

Bradley, on the other hand, is one of the best – if not the best –perimeter defenders in the NBA, who is also capable of contributing handsomely on the offensive end.

The pair only faced off twice this season because Bradley missed two of the contests due to injury. Beal, meanwhile, played all four games, but his success hinged upon Bradley's presence. During the two games that Bradley played, Beal was held to 23 total points; during the two games that Bradley was absent, Beal scored a total of 66 points.

Bradley not only won the defensive battle against Beal, but he also won the offensive fight, having scored 41 total points to Beal's 23.

In the Playoffs, the two have both stepped up their game. Beal averaged 25.8 PPG during Washington's six-game series against Atlanta, and scored 30-plus points during half of those contests.

Bradley finished his series against the Bulls on a high note, having totaled 47 points during his last two games while limiting All-Star Jimmy Butler on the other end of the court.

Now, Bradley will face off against another star-quality scorer; but Beal will certainly have his hands full as well against Boston's All-Defensive First-teamer.


Small Forward – Jae Crowder vs. Otto Porter



Stevens mixed up the starting rotation during the final four games against Chicago by inserting Gerald Green at the 3 and moving Jae Crowder up to the 4.

There's a good chance, however, that Stevens will revert back to his typical starting 5, so that's why we have Crowder slotted in this matchup against Otto Porter.

These two put up incredibly similar numbers this season, with Crowder averaging 13.9 PPG and 5.8 RPG, and Porter tallying 13.4 PPG and 6.4 RPG. Offensively, they are alike in that they're both very capable shooters. Defensively, however, Crowder has a major advantage in this matchup, which was proven during their head-to-head showdowns this season.

Crowder averaged 17.7 PPG and 6.7 RPG during three games against the Wizards, while Porter put up 11.3 PPG and 4.3 RPG during the three times he faced off against Boston's tenacious small forward.

Earlier we pointed out how much of an impact Bradley's presence makes against Beal, and the same can be said in this matchup between Crowder and Porter.

Crowder missed one game against the Wizards early in the season because of a sprained ankle, and sure enough Porter went off for career highs in points (34) and rebounds (14).

A healthy Crowder during this series should be able to keep Porter at bay.



The Power Forwards – Amir Johnson vs. Markieff Morris


Amir Johnson did not see much of the court during the first round after being replaced by Green in the starting lineup. He registered just 32 total minutes and did not play at all during Boston's last three games.

There's a decent chance, however, that he could find himself back in a starting role when the Celtics take on the Wizards.

From a statistical standpoint, Morris has the clear advantage in this matchup, having averaged 14.0 PPG and 6.5 RPG to Johnson's 6.5 PPG and 4.6 RPG.

Johnson should, however, continue to impact the game outside the box score with his strong defense, screen-setting and physical presence on the interior.


The Centers – Al Horford vs. Marcin Gortat


While Washington may have the edge at the power forward position, the Celtics have a clear advantage at the center spot.

Marcin Gortat is a very proficient rebounder (10.3 RPG this season), but four-time All-Star Al Horford is superior in every other area of the game.

Horford averaged 14.0 PPG, 6.8 RPG and 5.0 APG – an NBA-high among centers – during the regular season. During the postseason, he has been an incredibly valuable asset to the C's, posting averages of 15.3 PPG, 8.5 RPG and 6.5 APG. He's also the postseason team-leader in field goal percentage (59.7 percent) and 3-point percentage (53.8 percent).

Gortat, meanwhile, has only been good for rebounding (10.7 RPG) during the Playoffs. On the offensive end he has made just one field goal during each of the last four games, while averaging 2.8 PPG.

When it comes to regular season battles between these two, Horford took the upper hand as well. Horford averaged 18.0 PPG, 6.7 RPG and 4.0 APG during three games against the Wizards this season, while his counterpart averaged 10.8 PPG, 7.5 RPG and 1.8 APG during four games against the C's.


The Bench Units


Marcus Smart backs down Brandon Jennings.
Maddie Meyer/Getty Images
Neither team had extraordinary second units this season, but Washington certainly should not win the battle of the benches during this series.

The Wizards placed dead last in the Eastern Conference in bench scoring this season with an average mark of 27.0 PPG. Boston, meanwhile, was 11th in the conference with 32.7 PPG from its reserves.

Washington bolstered its bench at the trade deadline by dealing for guards Brandon Jennings and Bojan Bogdanovic, but those acquisitions have not helped much. To prove that point, the Wizards rank 16th out of 16 teams in postseason bench scoring. The Celtics, meanwhile, are right in the middle at ninth.

Boston has been getting solid contributions from Kelly Olynyk, Marcus Smart and Terry Rozier of late, and that trio, along with Gerald Green (if he does not start), Jaylen Brown, Jonas Jerebko and Tyler Zeller, should be able to outshine Washington's cast of reserves.


bob


.

bobheckler




Posts

: 37603


Join date

: 2009-10-28



This will be a very tough matchup for the Celtics.

Mostly concerned with the Johnson/Morris matchup.

Expect a surprise.  Mickey may get some minutes on Morris.

Celts bench is stronger.  

Green may be a factor on Porter along with Crowder.

Wall advantage over Thomas.  Our Bradley advantage over their Bradley due to defense.  

AH advantage over Gortat.

We have a swiss army knife in Smart.  They have no one.

Expect to see Rozier continue to play well.

Expect KO to pursue his new found tenacity.

Taking our coach over theirs

dboss

dboss




Posts

: 8207


Join date

: 2009-11-01



WAR!!!
part 1 today.
our WARRIERS: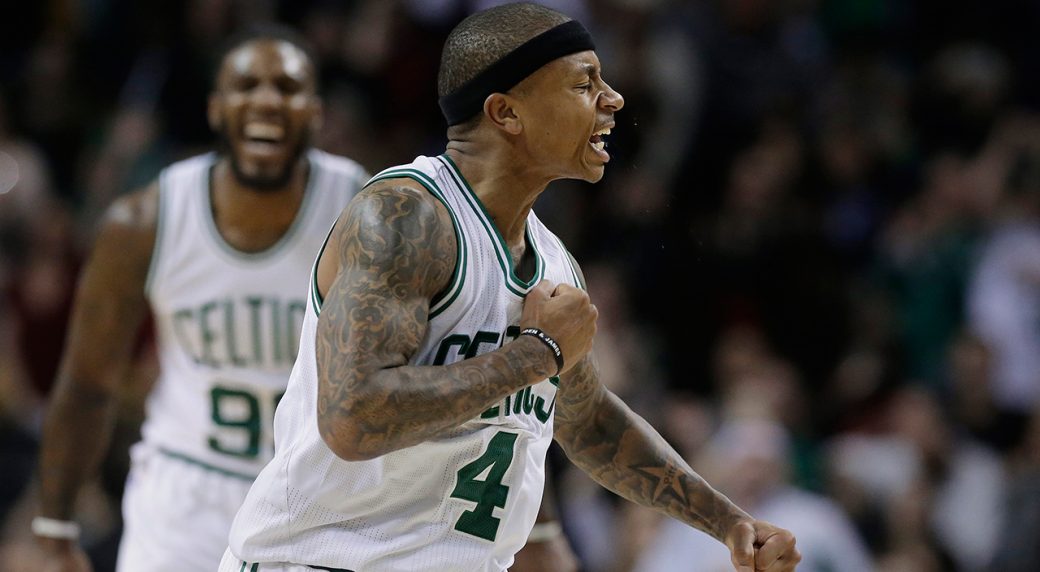 that's four guys I want on my side in a war, right there.

kdp59




Posts

: 3512


Join date

: 2014-01-05


Age

: 58




dboss




Posts

: 8207


Join date

: 2009-11-01



WAR
Part TWO:

kdp59




Posts

: 3512


Join date

: 2014-01-05


Age

: 58




---
Permissions in this forum:
You
cannot
reply to topics in this forum