http://www.espn.com/nba/story/_/id/19304461/boston-celtics-guard-isaiah-thomas-enlisted-help-former-los-angeles-lakers-star-kobe-bryant
Kobe Bryant helping Celtics' Isaiah Thomas with playoff preparation
7:18 AM PT
http://www.espn.com/video/clip?id=19304214
Chris Forsberg
ESPN Staff Writer
WASHINGTON -- Boston Celtics point guard Isaiah Thomas said that Los Angeles Lakers legend Kobe Bryant reached out to him after Thomas' sister passed away last month and has been helping him break down playoff game film.

Thomas said he emailed game clips to Bryant after Boston fell into a 2-0 hole against the Chicago Bulls. The two chatted via FaceTime while Thomas was back home in Tacoma, Washington, during a break before Game 3 of Boston's first-round series against the Bulls and Bryant dispensed advice on how Thomas could elevate his postseason play.

The Celtics have won six straight playoff games since Bryant reached out to Thomas. Over the past six games, Thomas is averaging 28.5 points on 45.5 percent shooting with 6.5 assists, 3.5 rebounds and 1.2 steals over 35.3 minutes per game.

"We've been in communication the last couple weeks since my sister passed," said Thomas, who noted Bryant reached out to express his condolences to the Thomas family after Chyna Thomas died in a single-vehicle accident on April 15. "He's been a big help since Game 2 [of the Bulls series]. We actually watched film together on the phone for 30 minutes. He was going over my film with me and teaching the things that he looks at when he watches film."

Thomas said Bryant has continued to text him before and after every game in the playoffs. But it was that initial consultation that really stuck with Thomas.

"[Bryant reaching out is] the craziest thing that's happened to me. I remember when I was at home in Washington and I was on the phone and my mom kept saying, 'Who are you talking to?'" said Thomas. "I'm like, I had to put it on mute and I told her, 'It's Kobe!' She started tripping a little bit. That was fun."

So what kind of advice has Bryant dispensed?

"I'm not going to tell you his secrets. He wouldn't want me to do that," said Thomas. "Mentally, he's on a different level than anybody I've ever met. We were on the phone for 30 minutes. I emailed him my film and he watched every second of it. He was telling me what times to go to and what to look at, just certain plays and things I didn't look at when I watched film.

"Like I said, mentally, you could tell he's one of the greatest ever."

Thomas' father, James, was a fervent Lakers fan, having grown up in the Los Angeles area. Thomas has joked in the past how he was brainwashed to be a Lakers fan as a child but always admired Kobe Bryant.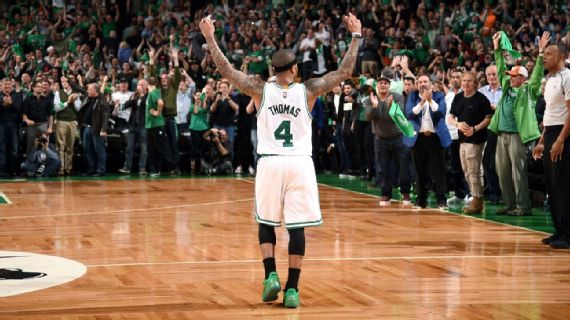 Celtics guard Isaiah Thomas says former Lakers star Kobe Bryant has helped him cope with the untimely death of his younger sister and break down playoff game film. Brian Babineau/NBAE via Getty Images


The two stars crossed paths last season during Bryant's farewell tour and Bryant sat down with Thomas before Bryant's final game in Boston. Thomas came away raving about the session and a story Bryant told about how a lion searches for food.

On what would have been his sister's 23rd birthday, Thomas scored 53 points in an overtime win over the Washington Wizards on Tuesday night. Boston holds a 2-0 series lead with Game 3 on Thursday night in Washington.


Thomas said he was overwhelmed by the response from people around the NBA -- and the world -- who reached out to express their appreciation for his performance, especially given both his emotional grief and his dental troubles after having a tooth knocked out in Game 1.

"It doesn't seem real, even for Kevin Garnett to leave me a voicemail [earlier in the postseason]," said Thomas. "Those things are just things you only dream of. When I get done with games and I see a text message from Kobe and Tom Brady, Floyd [Mayweather], all those type of guys that I'm trying to follow in their footsteps, it says a lot. I'm just trying to continue to keep growing as a basketball player and as a person."

Thomas was asked if he thought Bryant might have any concerns about helping a member of the Boston Celtics.

"I don't even think he thinks of things like that, " said Thomas. "He is just trying to help out and that's part of it."
bob
MY NOTE:  At first blush, given Kobe's history vs the Celtics, this sounds surprising but it really isn't so much.  Think about it.  Isn't IT Kobe's type of player?  What made Kobe Kobe?  He was relentlessly competitive.  He was relentlessly improving his game.  He was relentlessly trying to prove he was the best, not just in his era but vs MJ.  He played through pain.  He screwed up a finger on his shooting hand and he just adjusted his grip on the ball.  He has tendonitis in his shooting elbow, he just adjusts his shot.  He has knee issues, he deals with them.  He tears both his Achilles and doesn't leave the game until after his takes his fritos.  Kobe loved Rondo despite him being a Celtic.  When the talk was on about trading him Kobe said "we'll take him on the Lakers in a heartbeat, I love everything about Rondo".  What about Rondo?  He was a ferocious competitor, like Kobe.  He played through pain (playing an entire 2nd half with one arm after DWade dislocated his elbow, with his left arm dangling at his side useless), like Kobe.  And Big-Game Playoff Rondo is famous, just like Kobe.  Look at everything IT has gone through and how he has come out and fought through it all.  Look at how competitive IT is, the challenges he has had to overcome as a 5'8" (he has admitted he isn't 5'9") player, picked #60, and he's committed to being the best little man ever.  Gets a tooth knocked out and calmly picks it up and gives it to the trainer to hold and keeps playing.  He's Kobe's type of player.  If the Celtics win a championship, even if not this year but with IT still on the team leading the charge, we will have Kobe Bryant to thank for #18.  Now that's irony, folks...

Thanks for the hand, Kobe.
.

bobheckler




Posts

: 37560


Join date

: 2009-10-28




---
Permissions in this forum:
You
cannot
reply to topics in this forum