http://www.celticsblog.com/2017/5/11/15621316/point-center-al-horford-wins-game-5-for-celtics-boston-washington-wizards-nba-playoffs
Point Center Al Horford orchestrates Game 5 win for Celtics
Al Horford took on real point center duties as Brad Stevens came up with yet another interesting wrinkle to push the Washington Wizards to the brink of elimination.
by Jared Weiss  
May 11, 2017, 2:38am EDT
David Butler II-USA TODAY Sports
BOSTON – The deeper the Celtics go into the series, the deeper Brad Stevens digs into his bag of tricks.

In game 5, Stevens pulled out a new wrinkle, introducing Al Horford as a literal point center. Horford is the fulcrum of the Celtics offense, distributing from the post, perimeter and the occasional offensive rebound. But for the first time this series, Stevens swapped him and Isaiah to make Al the point guard.

"Al has been one of our primary playmakers all year," Stevens said when CelticsBlog asked about the strategy to use him as the ballhandler. "There were times in the Chicago series especially, where he brought the ball down the floor for us and we played out of a kind of a five-out look.

"Today he was usually the second guy to touch it and was able to read whatever was the right next play. When we went on a run at the end of the third he was passing out of the post. His ability to make people around him better has been very helpful to our team, obviously."

Horford was warned before the game that he might find himself in some of these actions, flipping the traditional 1-5 pick-and-roll on its head.


"I was actually talking to Jay Larranaga before the game, one of our assistants, and he was like, 'Isaiah might come over and screen for you,'" Horford said. "I've never done that before and he did it, he set a great screen, and I scored a couple times. It was nice for a change."

This type of action befuddled the Wizards defense, who see more blue moons than these types of actions. Marcin Gortat sees the play in motion and tries to defend it like a usual 1-5 high pick-and-roll, confused by the fact that his man is handling the ball. It sends him into his own defender and gives Horford an easy jumper that led to him going 8-for-9 from the field.

Horford had an insane true shooting percentage of 100.6%, with his only miss coming when the game was virtually over in the fourth quarter.

https://twitter.com/JaredWeissNBA/status/862473574615060480
Follow
Jared Weiss ✔ @JaredWeissNBA
Horford and IT are running a 5-1 PnR and the Wizards have no idea how to defend it. #Celtics
6:04 PM - 10 May 2017
 29 29 Retweets   54 54 likes

"They were front-guarding him, and I don't know why they would do that at the top of the key," Jae Crowder said of this play. "We ran the same play five times in a row and got whatever we wanted."

When CelticsBlog asked Wizards coach Scott Brooks about these plays after the game, he said that they were willing to settle for these looks, but the true killer was the transition dominance by Boston. While this was true, it appeared that the Wizards' appeasement was less than voluntary.

Horford was passing from everywhere, running his typical DHO actions on the perimeter, or carving out space in the paint to open up other cutters. He finished with 7 assists and 1 turnover.

https://twitter.com/JaredWeissNBA/status/862475435791319041
Follow
Jared Weiss ✔ @JaredWeissNBA
#Celtics had Al horford run point the last few minutes of the second quarter and it worked to perfection. DHO to set up AB three off curl.
6:12 PM - 10 May 2017
 4 4 Retweets   6 6 likes

The Celtics are now 6-0 this season when Al Horford has an assist to turnover ratio of 7.0 or higher, per NBA Stats. The team's assist to turnover ratio was the one stat Stevens cited post-game as the barometer for how well they played, at 2.75 (33 assists to 12 turnovers).

Their assist network shows the ideal synergy between Horford and Thomas, who were able to sit back and orchestrate, letting the shots come to them as they needed. Tonight's performance led Avery Bradley to say Horford is passing the ball better than any big in the NBA.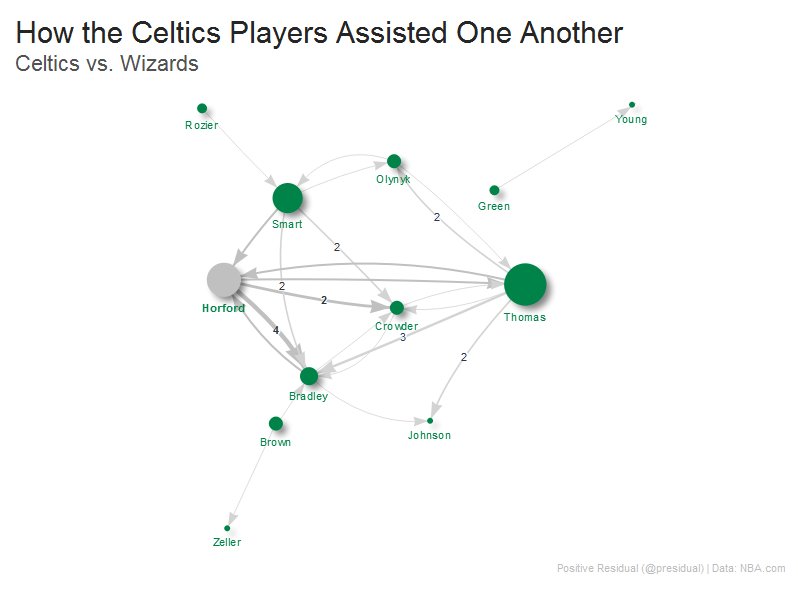 Follow
Positive Residual @presidual
Four of Al Horford's 7 assists and 3 of Isaiah Thomas's 9 assists went to Avery Bradley. Here's the full Celtics assist network:
7:45 PM - 10 May 2017
 4 4 Retweets   5 5 likes


The Celtics came into this game with a gameplan surrounding frequent movement from the corners and using IT as a screener. This opened up easy assists for Horford, as he would pull Gortat from the paint and give Avery Bradley and Thomas space to confuse the defense to set up backdoor cuts.


"Oh man, I just really enjoy playing with him," Bradley said of Horford. "He slows the game down for everyone. To me, he's almost like another Isaiah on the floor. He's another point guard. Another guy who can lead us."

Horford showed raw emotion Wednesday, flexing to the crowd and lighting a fire under his teammates. For a usually reserved and calm player, his fire caught the eye of every witness.

"He's very vocal. He's a guy who helps us all keep our composure," Bradley said. "Because we were kind of falling apart at halftime and Al kept everyone together and told us that if we continued to keep playing the same way and have a great third quarter, we have a chance to win the game."

The team has been trting to find a way to score consistently without relying on Thomas to drop 30. They found one potion that worked Wednesday.

"It can't just be Isaiah Thomas every night. If we're able to understand that, the sky's the limit for us," Bradley said.

Now they have that chance to close it out Friday in Washington and set up an Eastern Conference Finals showdown against LeBron James and the Cleveland Cavaliers. Horford's brilliance has been present throughout the playoffs. But it's his fire that will spark a real Celtics run for the ultimate goal.

https://twitter.com/JaredWeissNBA/status/862470577965215746?ref_src=twsrc%5Etfw&ref_url=http%3A%2F%2Fwww.celticsblog.com%2F2017%2F5%2F11%2F15621316%2Fpoint-center-al-horford-wins-game-5-for-celtics-boston-washington-wizards-nba-playoffs
Follow
Jared Weiss ✔ @JaredWeissNBA
Even Al Horford's flexing is subtle with textbook form. #Celtics
5:53 PM - 10 May 2017
 7 7 Retweets   15 15 likes
bob
.

bobheckler




Posts

: 37560


Join date

: 2009-10-28



AH is the perfect basketball player for Boston

Add a bench scorer and upgrade the frontline with a stud and this team will reach elite status.

dboss

dboss




Posts

: 8193


Join date

: 2009-11-01




---
Permissions in this forum:
You
cannot
reply to topics in this forum