http://celticsgreen.blogspot.com/2017/05/comments-from-other-side-wizards-game-7.html
This game could be described as a must win.  (MY NOTE:  Captain Obvious)I was thinking the same thing, but definitely leaning that way... 50/50 must win game. I do think we'll need to score more points than them if we want to advance. Not sure how else to put it.  (MY NOTE:  And his First Mate)
Last time #Wizards won at TD Garden? Regular season finale of 2014 over three years ago. They have lost eight straight in Boston.
It's about time we win at TD Garden. Go Wiz!
Just don't see it. I hope I'm wrong but it took a Herculean effort just to win at home and the fact that Avery Bradley's Game 5 was a not a fluke is disconcerting. He's shooting out of his mind and John takes too many defensive sets off where he just pays him no attention. That and Al Horford playing like an All-Star and making 3s like Curry. Their bench is coming off a garbage game and they are better than our horrific bench.
I'm going in with low expectations. Most D.C. Fans had high expectations for Game 7 of Caps/Pens because they had played great in Game 6. I think it's the opposite for this one.
This one is for all the marbles. It's win or go home time. Let's show them what we're made of. You can't underestimate the heart of a champion.  

We are going to steal Boston's heart With a dagger  (MY NOTE:  How the Hell do you steal something with a dagger?  A bag, a cart, sure, but a dagger?)

I am going to be disappointed if we aren't knocking dudes to the dirt in the paint tonight Refs won't foul you out in a game 7, no free baskets
Chuck says Wall and Beal can't win this game by themselves, I been saying that since round 1, the deeper they get into the playoffs the more you need from "others"
I don't buy that in Game 7 It would have to be a crazy game by one of them, but that's why they are stars, they can do that from time to time
Been waiting 70 hours for this Let's get this W.
38 years for some of us!
NBA is fixed. Lets blow them out so they can't change the ending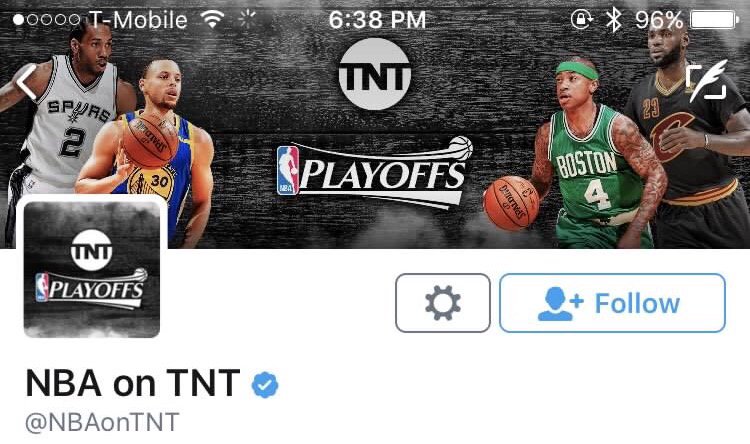 Follow
Dynamics • £ @theDYNAMICS
Silver made that
already.
4:47 PM - 15 May 2017
 899 899 Retweets   657 657 likes
I think they just took the top 2 seeded teams of each conference and pasted their star players
Let's go with the conspiracy narrative
Please Barkley, do not pick the Wiz.
Oh no, Shaq and Barkley picked the Wiz.
This rendition of the anthem will take some of the edge off the game - can't get much more painful than that finish no matter what.
Refs on it already
I guess you can't breathe on IT tonight.
Can't breathe on him any night. Bulls were obviously not as good as the Celtics, but watching our first round series it's mind boggling how they're trying to turn IT into James Harden east. Rooting for the Wizards because they spend more time playing basketball than manipulating refs.
John just isn't even playing defense?? Wtf? It's 4 on 5 out there. Like no effort at all lol. What the he** its game 7 man
Beal has mental issues. To miss so many open 3s in the playoffs is clearly nerves
Brad has to get up there This isn't the game to be laying down and looking at refs for calls!!
Just can't hang with them in Boston.
Boy IT must be related to a ref
Their offense just generates easier looks I don't want to know what the 3P% would look like without Morris this series

Uglier than Kelly Olynyk's face
How does Mahinmi get beat by Olynyk?
Horford...is good....
The C's picks are sooo much stickier than our picks.
Morris should not have Olynyk beat him off the dribble
Bojan can get minutes whenever Marcus Smart is on the floor because he can guard him just fine.
The Wizards don't have anybody who can check Horford.
I'm telling you man, when Wall comes out like this, dishing for open 3s and attacking the rim, the wizards don't EVER lose.!
We just gotta play D. The real test will come when IT comes in (they pull him earlier than most starters in the 1st so he can try to get his points against the opponent's bench). If our bench can D up on IT while Wall and Beal resting, we'll be okay.
Mahinmi is probably my least favourite wizard right now
Don't worry we'll trade him with next years first For a one year rental….Again.
Game 7 and Wall's still giving up backdoor cuts to Bradley. That's not good He is hardly looking at Bradley, he just saying here you go have a layup Mahinmi, we wanted you back but bruh your trash right now Olynyk been turning him into BBQ chicken all season
Mahinmi got away with one right there. Thanks refs
Bogs actually blocked a shot from Amir Johnson? Johnson should be banned from the league
Not a lot of free throws but already some foul trouble for Boston. Amir Johnson with three, Smart with two.
Mahinmi is so trash against Olynyk
The celtics fans are classy as heck

They're legit all alcoholics.

They had it down to 1 before Doctor J Olynyk drove in for the and 1
Crowder is invisible
You can't beat the Celtics without taking and making 3's.
Random triple team on IT. That's cool
We played poorly and are only down 4 so that is a thing
I'd feel good about that if the Celtics hadn't missed so many open 3s
None of John, Brad or IT really got going that quarter. One explosion by any of those guys could decide this.
Celtics getting away with a lot. Wiz need to up the physicality
Mahinmi is useless. We're going to lose this game 100% because he's playing over Smith. Literally no other reason.
Brooks is too slow to adjust, does he not see that Ian can't guard Olynyk?
Imagine if he have Brad Stevens. We'd generate easier looks at least
Just like the last two games. They're making everything really tough for us on offense.
Celtics Fans Might Influence Refs Fans screaming Bull S*** after every call

Keef looks like the best player on the floor so far tbh.
We just hanging around ....hanging around....
That's pretty much what Brooks is trying to do. Keep it close then unleash wall/beal in the 3rd/4th and try to win.
Wall rested so much because Brooks expects the game to be close. When Wall plays heavy minutes in the first half he's noticeably gassed by the time the 4th comes.
We should be winning this game honestly
This dude Brandon Jennings is like a roach Running around not doing sh** that's beneficial
IT with the huge carry
Man, our centers are unbelievably useless. Any way we can trade Gortat for Horford at halftime?
Boston is getting away with so much contact on Beal
LOL wow IT called timeout so everyone stopped playing. No call. Pathetic
Rozier making an impact. Celtic winning with small ball, Amir foul trouble actually helps them.

Celtics getting open shots after open shots. Even when they miss it's open.

Celtics getting good shots and missing we just playing stupid
If they lose the series I think it'll be game 2 that they regret more than this one
WE GON WIN
Down 1pt in game7 on the road got'em right where we want'em
Just wish we could swap Gortat and Horford at least for this game
Our margin on the boards continues to grow AND we're killing in fast break point. Great sign
Celtics get rattled and resort to IT flopping around every possession. God I hate them
It's painful watching IT play. All he does is bait for calls. He is like a midget Harden
IT literally does nothing but flop. You can't even touch the guy. Initiates all of the contact, flops every single play, gets every single call. Least favorite player in the league
How the **** does Greg Anthony call out beal for flopping but not IT?  (MY NOTE:  Because Beal is much more obvious)
HAHAHAHAHA - makeup call on Smart.
I feel great about this game. My only concern going in was which wall would we get. We got close out game superstar playmaker John Wall. We will not lose  (MY NOTE:  It's obviously not the 4th quarter yet.  Heheheh)
Up 2 at the half, I aint mad... Go Wiz!!!!!!
The better, more talented team is winning. How's that for a change?
If Oubre's not gonna play, can we bring him off the bench to deck Olynyk again?
Refs have been very generous today. That's probably why we're up

Have to admit the refs are favoring us this game...hopefully the league favors us to make it to the next round We deserve it anyway…1979Who would have thought we would be up two at the half! I figured we'd be down, and then Wall would dig deep and go all crazy in the second half to keep it close. Then we'd all be freaking out on the edge of our seats! Still may turn out that way. Could be a nail biter right down to the last shot. Instead, it would be especially sweet if we could win by 10.  (MY NOTE:  Wrong on almost every count.  Wall fell apart and we won by 10)
For once we're not getting torched by Horford and Bradley playing like Jordan and Hakeem, hopefully they're kept in check in the second half as well.
Still like Kelly Olynyk, Ken?
Honestly, not like I once did. He's got 12 points but he's -6 for very good reasons. He's a liability everywhere on defense. Dude can't guard any position. He's a good reason the Wizards got to the line as often as they did. Where he's more than competent is as a situational scorer. AFM, overall no. Kind of like with Tyler Zeller, I'm seeing why they don't get much playing time. Just can't cut it athletically.
They're admonishing the fans up in Boston to avoid bad behavior and language.
Greg Anthony is such a hater!
That's a charge clearly. Terrible call. **** off Geeg Anthony
Gortat needs to stop flopping
Horford setting illegal screens every play. He doesn't just run up next to a player and get still. He steps INTO the player. Every time.
It sucks to be on the road. The Celtics aren't really doing that well, the game is tied, but the crowd makes it seem like the Wizards are on the ropes.
AB is such a little jersey grabbing sh**
Horford always a marksman vs. The Wiz
The Boston crowd is stunned. So quiet!
Late whistle lol Refs liking us tonight
Game turned on the made three by Horford. Then Smart gets a three... Just when it seemed the Wizards were going to take over.
We weren't even trying to guard Smart. I hate it when we dare people to shoot. They sometimes will prove you wrong.
Was that really a three by Smart?
Now both announcers are rooting for Boston.
Wall has lost all aggression. He better be pacing himself
Refs should be ashamed of themselves for that few minutes in the 3rd quarter
Horford is in Gortat's head. Gonna get anything he wants against him.
Marcus Blart can get away with mugging out there
Ian is in and Stevens rightfully brings in Olynyk to eat his lunch
Eagle is 6x more excited about Boston's 6pt lead than Washington's
In a neutral setting, we'd have a chance. But in Boston, this game is over.
GET SMITH OFF THE COURT. GET THE WHITE GUYS OUT.
Brad Stevens outclassing Scott Brooks in this one for sure
Of course Crowder flexes Wouldn't expect anything less from him
The move of the game was Stevens taking IT out early in the 3rd, so that he could run with the bench squad against our tired backcourt and bad bench.
I just want to say **** Olynyk **** Horford and **** Smart Yes I've had a few
He clearly gave up on Oubre. Oubre is not a scrub. He's better than Rozier and Jaylen Brown.
Backbreaking shot. Smart is killing us.

Olynyk gets the last laugh while Oubre sits on the bench all game, which I'm fine with. Hurts though.
If we even attempted to guard Olynyk, this might be tied.
WHY IS OLYNYK DOING THIS WHY IS THIS HAPPENING.

This will forever be known as the Kelly Olynyk game.
It is one thing to have very good players like Isiah Thomas or Horford doing damage, but seeing Olynyk look like a superstar is painful.
Now, Olynyk plays like I thought he could.

First, the "Horford Game" a few years ago. Now, "The Olynyk Massacre". It's a shame we always have to have a titled "game" against us. But it wouldn't be #sowizards without one.And now they're on the same team. Oh the humanity!

Why can't we run some actual motion/run some action. Just 1-on-1
Because most of our players suck Wall can't shoot… Beal can't dribble against this pressure We aren't that good.
Guys, the reason why Olynyk is open is because the team is pulling out all stops to guard the IT pick-and-roll. We dared their role players to beat us and that's exactly what happened. It's not a "pathetic effort" or "horrible coaching". It's the Celtics taking what the defense is giving.  (MY NOTE:
 BINGO!!!)
Olynk went space Jam and stole Horford's talents on us.
How much money we have tied up between Gortwat and Ian. Reality starting to set in how f***Ed we are.
The series was lost in Game 2 and we didn't show up in Game 5. I don't think Wall will be standing on the table after this one.
Celtics play hard every possession not just when they feel like it. They deserved it.
I hope Cavs sweep them in 4.
The whiners on this board say the same crap every time. When Player X plays poorly, you scream that Brooks should have played Player Y. But you never give Brooks credit for leaving Player X in the game even after he misses his first two shots when he goes on to make the next 3.

And of course Boston will win the lottery and get the #1 pick tomorrow
Thomas causes so many double teams for Boston
John wall is losing this game for the Wizards
Olynyk taking over.  Thomas would be one thing. This is just depressing

It is especially painful that dirty Olynyk is the one

Kelly Olynyk killed our season (and of course our shi**y big defense). Let that sink in

Not IT,not Avery Bradley,not Horford..Kelly Olynyk lmao
Lame way to lose, but 100% predictable At least we tired out the leprechauns.. I'm a LeBron fan for the first time in my life… for four games, anyway.
I hate Boston and the Cavs. I'll have to root for the west coast team again.
All this and we arent even set up that good for the offseason
Our bench warmers are two levels below the bench warmers on other teams. Gerald Green would be a 20 minute guy on our team consistently. Same with Jerebko and even James Young. That's where we're at.I'm serious James Young would be a focal part of our team. Jerebko would be a better version of Smith. I mean come on, the Celtics have the luxury of playing Rozier just 4 minutes in a game 7. That guy would play 25 minutes for us.Good for the Celtics though. They have less talent but are well coached and play HARD all the time. Hopefully the can challenge the cavs

Go Celts, beat the Cavs.  (MY NOTE:  There ya go.  A couple of classy comments.  Scott Brooks was classy in the post-game presser too)

Bah. Boston is a well coached and EXCELLENTLY managed franchise. Must be nice.Guess what? I'll be the first to credit the opposition. Not just Olynyk or Stevens, who people think is Red Auerbach reincarnated despite doing nothing in the postseason until now. Smart is a M-fer on D and on 50-50 balls. Bradley had a bad game but a great series and was all over the place on D. I'd love to have both guys as my third guard. Crowder defends as well. Horford was very good most of the series. They don't have the stars or talent but they have the better team. Usually talent wins but not in this series.
bob
.

bobheckler




Posts

: 37603


Join date

: 2009-10-28




---
Permissions in this forum:
You
cannot
reply to topics in this forum