https://sports.yahoo.com/wizards-nets-waging-petty-war-otto-porters-offer-sheet-020448505.html

A 15% trade kicker and the ability to opt out after his third year cuts the Wiz both ways. If he doesn't play great they will pay a big penalty when trading him; if he exceeds expectations, he can opt out. Plus, the offer gives Porter 50% of his annual salary advanced to him every Oct. 1st.

Wiz will match it while holding their nose.
Last edited by steve3344 on Fri Jul 07, 2017 8:11 am; edited 1 time in total

steve3344




Posts

: 3785


Join date

: 2009-10-27


Age

: 68



Here's a link:
https://sports.yahoo.com/wizards-nets-waging-petty-war-otto-porters-offer-sheet-020448505.html
The Wizards and Nets are waging a petty war over Otto Porter's offer sheet
One of the more compelling questions of NBA free agency in 2017 has revolved around a player who wasn't all that "free" of an agent. Otto Porter developed into a pivotal player for the Washington Wizards over the final two years of his rookie contract in the nation's capital. But he was a clear third option in a league dominated by stars. So what was Porter worth? Would he be paid like a star? Would he command a maximum contract?

Porter's destination, though, has never really been in question. As a restricted free agent, the Wizards have the right to match any offer thrown Porter's way, and have not been shy about telling reporters that they will do so.

Nonetheless, Washington essentially told Porter to go discover his own worth on the open market. If somebody else wanted to pay Porter the max? Washington would too. If nobody did, Washington wouldn't have to.

So Porter obeyed. He went coast to coast, hunting for a max deal. And he didn't just get any max deal; oh, no, he got the sweetest of sweet max offers.
Or, from another perspective, he got the pettiest of petty max offers.

Porter actually got two max offer sheets, the first from the Kings, the second from the Nets, the latter of which he signed. Brooklyn officially delivered that offer sheet to Washington on Thursday, and, well, it wasn't just any max offer sheet. It had a fourth-year player option …




You know what that is? It's an expert troll job from Nets GM Sean Marks, who has made a habit of ensuring restricted free agents get paid big bucks, whether he's doing the paying or somebody else is.

The Nets knew Washington would match the offer, so they threw every sweetener they could find onto the offer sheet they put in front of Porter. In doing so, they created for themselves a win-win scenario.

In Brooklyn's best case scenario, the sweeteners are too much for Washington to stomach, the Wizards refuse to match the offer, and Porter becomes a Net. In the less-good-but-still-fantastically-amusing scenario, the sweeteners make the contract ever so slightly more difficult for Washington to swallow. The player option gives the team less control over Porter, and allows him to opt out for more money after three seasons if he develops into a true superstar. If Porter's development hits a snag and the contract becomes a burden, the kicker makes it more difficult to move in a trade. And the salary advance … well, that might as well just be a declaration of petty war.

So how would the Wizards respond? Oh, you better believe they're lining up their troops: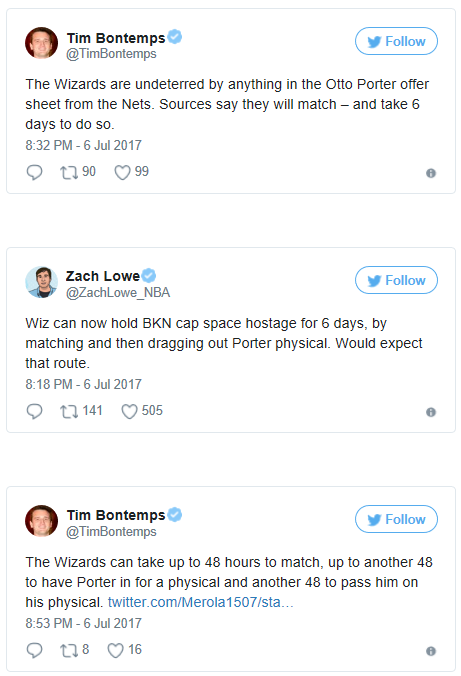 The Nets have nearly $25 million in cap space. Or at least they did. Now, temporarily, they don't. Not until Porter passes his physical, which, as Tim Bontemps of the Washington Post explains above, won't be until July 12 if the Wizards decide it won't be until July 12. That prevents the Nets from officially signing players to contracts or using the cap space to acquire assets via salary dumps during that time.

It's unclear if there is another retaliatory ploy in this edition of NBA free agency petty wars. (If one is at all possible, you better believe Marks and the Nets won't hesitate.)

What is clear is that the whole situation became a lose-lose. The Wizards could have paid Porter up front, saved themselves some time and drama, and possibly locked themselves into a slightly more favorable contract. The Nets could have concentrated their attention on something that won't prove to be completely futile.

But pettiness isn't worthless in the NBA. Every franchise must play its part. So thanks to the Nets and Wizards for not shying away from the opportunity.
My comment:  It used to be that offers that included "poison pills" wouldn't get matched, so the free agent went to the new team.  Jeremy Lin and Omar Asik, for example.  Now the home team is more likely to match these crazy offers, just to keep talent in house.

The Wizards took a chance on the free market and lost.  They could have made Porter a good, reasonable offer, but decided to roll the dice. The Nets have nothing to lose, there is no way but up for them, so they made the offer as poisonous as possible.

At least he didn't go to the Nets.
gyso
_________________


gyso




Posts

: 12548


Join date

: 2009-10-13



besides the 50% salary by Oct , i don;t see anything unusual .



kdp59




Posts

: 3518


Join date

: 2014-01-05


Age

: 58




---
Permissions in this forum:
You
cannot
reply to topics in this forum