Bulpett: Jayson Tatum's maturity earning notice at Celtics summer league



Tatum takes professional approach



Steve Bulpett



Monday, July 10, 2017





LAS VEGAS — It was just his first NBA summer league game. Jayson Tatum had miles to go. But there was a lesson he needed to learn right then.

The Celtics' top draft pick, No. 3 overall, had just posted up and thought he was fouled. When there was no call forthcoming, he said, "Hey, ref, I got hit."

Derek Richardson wasn't having it. The veteran official had a message for Tatum at the next stoppage in play, with the ball being inbounded directly in front of the press table.

"You're going to be in the league a long time," Richardson said with a grin. "I'm Derek, you're Jayson. Let's learn each other's names."

Tatum smiled when the scene was recounted to him.

"I was like, 'All right, Mr. Derek.' He said, 'There we go.' I just laughed. But he was right," the rookie said.

That night and since, Tatum has been making team president Danny Ainge look prescient for giving up the No. 1 overall pick and trading down so he could get a future asset and still take the guy he thought was best in the draft.

The 6-foot-8 forward averaged 18.7 points and 9.7 rebounds — summer league games are 40 minutes long — in three Utah appearances and threw 27 points at the Lakers on Saturday before netting 11 in limited time in Sunday's easy win against Portland. He's averaged 9.0 rebounds in Las Vegas.

And though he has schooled a number of his opponents, Tatum is learning all the while. He hasn't had a lot of trouble, but when he has, you can almost read his mind.

He went into the lane against Philadelphia, made his move and got blocked by Alex Poythress. You could see him realizing that particular move isn't going to work in the NBA.

"Definitely," Tatum said. "I mean, you've got to learn it from high school to college and from college to the NBA. I think that's what summer league is for, to learn.

"You know, even some shots I do make, I've got to think about if LeBron was guarding me or if DeAndre Jordan was down there, they probably wouldn't go in. I just think about all those things."

It's a mature approach, and that "m" word is heard often when Tatum is the subject. Richardson said it later that first night, and the rookie's Celtics coaches have been similarly impressed. Assistant Jerome Allen, who ran the summer league entry in Salt Lake City, said, "He kind of has an old soul."

Tatum's mom certainly is proud of her child, but Brandy Cole-Barnes isn't sure she's buying every bit of the grown-up talk.

"He's always been mature for his age," she said. "But he's still 19, and I remind him of that sometimes."

Brad Stevens is hoping Tatum continues to display the not-so-rookie leanings he's shown thus far.

"I don't know," said the coach, who had a rather grown-up rookie in Jaylen Brown last season. "We'll see. But he does so far seem to be hard to rattle. He moves on to the next play well. You could see that in his workout when he came to work out for us."

Everyone who's dealt with Tatum has seen him as more advanced emotionally than what one would expect for someone so chronologically challenged. His ability to pick things up quickly and avoid mistakes could help get him on the court more often when the real games begin.

"I think so," Stevens said. "But again, we're just a few days in. It's so hard to tell. But that's his reputation.

"You get challenged when you have to play 82 games. You get challenged when you have to ride that roller coaster a little bit. But if you can keep that mindset, it would help greatly."

Celtics assistant Jamie Young is among those convinced.

"He's definitely different," said Young, who's entering his 17th season with the team. "His calmness and maturity for his age, his desire to learn, it's all above average, and certainly for someone who's still just 19.

"He's like a sponge. He listens to what you say and takes it in. He'll ask questions. There are still things he needs to work on, and you just know he will. I think he'll take a step between now and training camp even. And I think he'll look even better when he's playing with the guys on our roster. For sure."



bob



.

bobheckler




Posts

: 37635


Join date

: 2009-10-28



The Jayson Tatum/Truth Jr. Hype Train rolls on...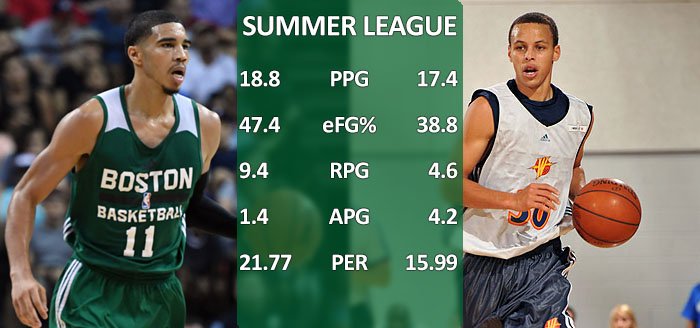 bob
.

bobheckler




Posts

: 37635


Join date

: 2009-10-28



bobheckler wrote:The Jayson Tatum/Truth Jr. Hype Train rolls on...

bob

.
The other guy in that picture isn't The Truth. It certainly induced an eye-roll response from me.

LOL
gyso
_________________


gyso




Posts

: 12540


Join date

: 2009-10-13



gyso wrote:

bobheckler wrote:The Jayson Tatum/Truth Jr. Hype Train rolls on...

bob

.

The other guy in that picture isn't The Truth.  It certainly induced an eye-roll response from me.  

LOL

gyso
gyso,
No, he isn't, but he is a pretty frippin' good shooter nevertheless...
bob
.

bobheckler




Posts

: 37635


Join date

: 2009-10-28



Tatum certainly looks to be off to a great start in his Cs career. He is pretty good in every aspect of the game, but we should still wait to see him against the varsity players before sliding his nomination on to the HOF.

His most impressive characteristics, to me, are that he seems very cool, calm and collected and is understanding that he has lots more to learn. Very much like Jaylen Brown last summer and during his first full season as well.

wideclyde




Posts

: 1540


Join date

: 2015-12-15



I'd just like to inject a word of caution here. Tatum looks good, no doubt, but we thought RJ Hunter looked good in summer league too, and then we hear from the Celtics that he was so light he was not able to finish his cuts because he was being muscled off his routes. Tatum could be like that too, in regular NBA games, because he's only 206#.


bob


.

bobheckler




Posts

: 37635


Join date

: 2009-10-28



Bob,

This a great point and is just another reason why I think that Stevens is planning more and more to push his small ball attack knowing that he may get muscled some but by the end of every game his road runners will wear down the opposition.

His roster is so heavily packed with small ball players (only three traditional 'bigs') that I just cannot see him trying to get into a heavy weight battle every night and expect to win.

wideclyde




Posts

: 1540


Join date

: 2015-12-15



Last night they were quoting Tatum saying that he was "tired", this was alot harder than he could have imagined. His physical condition is going to have to be worked on, which is probably exactly what they will do with him when he comes back from Las Vegas. They are over at the Waltham facility at all times of the day and night, the young players realize that this is going to be tough. Jamie Young is over there all the time too. He is a really good guy, one who probably works with these young players alot. I know I have read that Brown is over there with Tatum at all hours.

Good to see hard working young players. They can only get better by getting stronger.

RosalieTCeltics




Posts

: 17446


Join date

: 2009-10-17


Age

: 70




---
Permissions in this forum:
You
cannot
reply to topics in this forum