http://www.masslive.com/celtics/index.ssf/2017/07/boston_celtics_roster_breakdow.html
Boston Celtics roster breakdown: 3 super-early takeaways about the Celtics' current team
Posted on July 18, 2017 at 12:00 PM
Brad Stevens analyzes Boston Celtics youngsters Ante Zizic, Jayson Tatum, Jaylen Brown and Semi O...
By Jay King
The NBA offseason is a bit like a fierce rainstorm. News pours from the sky, pelting the pavement, until the rain stops almost all at once. Now that we've reached the dry stage of the summer, it's time to pause, take a look at the Boston Celtics roster, and react with a few major takeaways.


1. So many wings!

After agreeing to contracts for Abdel Nader and Semi Ojeleye, the Celtics could be just about finished building their 15-man roster: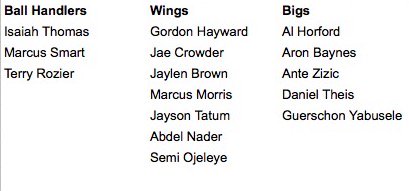 Follow
Chris Forsberg ✔ @ESPNForsberg
In signing recent second-round picks Abdel Nader + Semi Ojeleye, Celtics' 15-man roster will look like this:
3:40 PM - 15 Jul 2017
 347 347 Retweets   788 788 likes


One look at the depth chart shows the Celtics placed a priority on adding long, mobile dudes who can do a lot of basketball things. Though a casual observer might wonder how Brad Stevens will find minutes for the million 6-foot-8 wings on his roster, it's more than obvious the plan was to load up on perimeter versatility. Stevens will have lineups to pulverize opposing guards in the post. He will have lineups to stretch out bigger, slower teams. He will have some lineups to do both at the same time. He should have a lot of fun figuring out ways to maximize all the interchangeable pieces.

Because Isaiah Thomas' height will always stand as an issue, the Celtics knew they needed more size alongside him. Though they didn't add too many bruising big men, they now have a horde of big wings, which should help limit their rebounding/defensive issues, and skill everywhere, which should give them one of the NBA's best scoring attacks. The roster is set up -- so very obviously -- to switch a bundle of screens, punish mismatches inside and out, and overcome Thomas' literal shortcomings. Good luck guarding the star when he has Gordon Hayward, Al Horford, Jae Crowder and Jayson Tatum holding the defense's attention around him.


It will be tough for Tatum and Jaylen Brown to earn big minutes, but, easing that issue somewhat, Stevens should play multiple wings almost all the time. These Celtics should be athletic, skilled, and long, just like they have wanted to be. Anyone paying attention to Stevens over the last few years should know he's pumped up to coach so many versatile guys.


2. So much youth!

Despite making the Eastern Conference Finals last season, the Celtics underwent big changes this summer. Because they acquired Gordon Hayward, the changes were good ones, but it will still hurt to lose Avery Bradley, Kelly Olynyk and Amir Johnson -- three guys who played major roles last season.

Though Boston added more than it lost, the new team could have an adjustment period fitting in so many new pieces. Hayward, like Horford before him, should prove to be one of the easier stars to slide in, but there's just a lot of overhaul for a good team to deal with. Making the adjustment tougher, the Celtics will be relying on a lot of youth, especially on the bench.

They currently have six rookies, plus two more contributors, Marcus Smart and Terry Rozier, still on their rookie contracts. There's plenty of upside with the second unit, but there's also a lot of uncertainty. Can Rozier build on a promising playoff run, or will he go back to the land of miserable shooting percentages that he occupied during the regular season? Can Smart and/or Brown take a bit of a leap forward with another year of experience? What will Tatum contribute as a rookie?

Helping matters, the Celtics should have at least one of Thomas and Hayward on the court at nearly all times, easing the pressure on anybody else to create plays. Most of the rookies won't be expected to play much when the team's fully healthy, but any amount of injuries will force Stevens to turn to inexperienced players.

He hasn't always shown much faith in young guys in the past, but won't have much of a choice this season. There aren't any veterans like Gerald Green or Tyler Zeller to turn to in a pinch. If the Celtics bench one youngster, they'll most likely need to call on another one. Given the circumstances, it will be interesting to see who emerges as Stevens' trusted end-of-the-bench options. Semi Ojeleye might be an early favorite.


3. Not enough rebounding?

After finishing 26th in defensive rebounding last season then getting smashed by the likes of Robin Lopez in the playoffs, the Celtics knew they needed to address their woes in that category. They're probably better now, but didn't exactly go out and add Dennis Rodman.

To be clear, Aron Baynes is a big, strong guy known to enjoy the art of board-collecting, and the Celtics added plenty of size on the perimeter, which should help out to an extent. But this team still won't be super physical inside.

Danny Ainge didn't want to address the rebounding at the expense of other areas, and clearly wanted to maintain his team's skill level, which he did. The Celtics don't need to become the world's best rebounding team, but it would be nice if they don't get physically manhandled by any decent big man once the postseason arrives. To hold their own, the Celtics will need to gang rebound, with the wings doing their share of the work. It's possible the lengthy perimeter rotation will offer enough assistance, but rebounding will still be a focus area for Stevens this year.

He should have a fun team, a competitive team and a whole lot of options at his disposal.
bob
MY NOTE: My takeaway from this article is that all three points are valid and all three are negative. We do have too many wings, we are too young and we don't have enough rebounding. On the other hand, we shouldn't have scoring droughts that last 4-5 minutes like we had numerous times last season.
.

bobheckler




Posts

: 37789


Join date

: 2009-10-28



my answers:
1) wings...even on that list we have 5 that will be getting real playing time. Since brad will be playing 2 to 3 all the time, every game, one could argue we have the right amount.
2) didn't we have a thread about this earlier? our projected top 5 players in minutes will have an average of 28YO. No one is younger than 27, which means in their primes.
3) last year we were physically smaller than almost every team we played, this year we will only be smaller with IT. the rest of the main minute men will be 6-10, 6-8, 6-8, 6-6. Since Brad's rebounding scheme is about the "big men" blocking out and letting our smaller players get the boards, the improvement should help here as well.
4) don't bring me down...I've finally gotten on the Danny is a good GM thing and quit trying to bring me off my cloud........


kdp59




Posts

: 3595


Join date

: 2014-01-05


Age

: 58



Interesting article.  But as usual I find fault with part of the assessment.

The Celtics do not have too many wings.  

The Celtics have two many wings that are average to below average ball handlers.  Looking at the roster I see only 6 wings not 7,  To categorize Morris as a wing is a stretch.  He is a PF and an undersized PF at that.  He is no wing.

Out of the 6 remaining wings only 2 of them can handle the ball ( Hayward and Tatum)  Nadar is ok but still just pretty average.

The article correctly reveals that the rebounding issue for the 26th worst rebounding team in the NBA was not addressed.   The Celtics added legit size and strength in Baynes but we do not know how much he will be part of the rotation.  Morris vs Amir is a wash.  Hayward vs AB is a Wash.

The Celtics choose to add a very talented wing over adding a talented big man (that can rebound)  

I think rebounding will continue to be an issue.

The so much youth observation is very timely but it is not just about the inexperience level.  It is about chemistry and the fact that it takes time for guys to learn to play in a given system and with one another.

One important factor not even mentioned in the article is rim protection.  That was an issue last year as we all know and it is more likely to become an even bigger issue this upcoming season because IT and Hayward could not play man to man defense against a corpse.  That is going to expose our defensive rotations as well as our lack of a backline rim protector.

So those are issues to consider.  

The Celtics will be an exciting team to watch because they have added an excellent offensive player in Hayward and our young developing players like Brown and Tatum and Rozier, Zizic Semi, Yabusele, Nadar, etc are very talented but just inexperienced.  They will get better.

Night in and night out the Celtics will create matchup nightmares for a lot of teams.

dboss

dboss




Posts

: 8345


Join date

: 2009-11-01




---
Permissions in this forum:
You
cannot
reply to topics in this forum