http://www.nba.com/celtics/Schedule
And a more traditional view: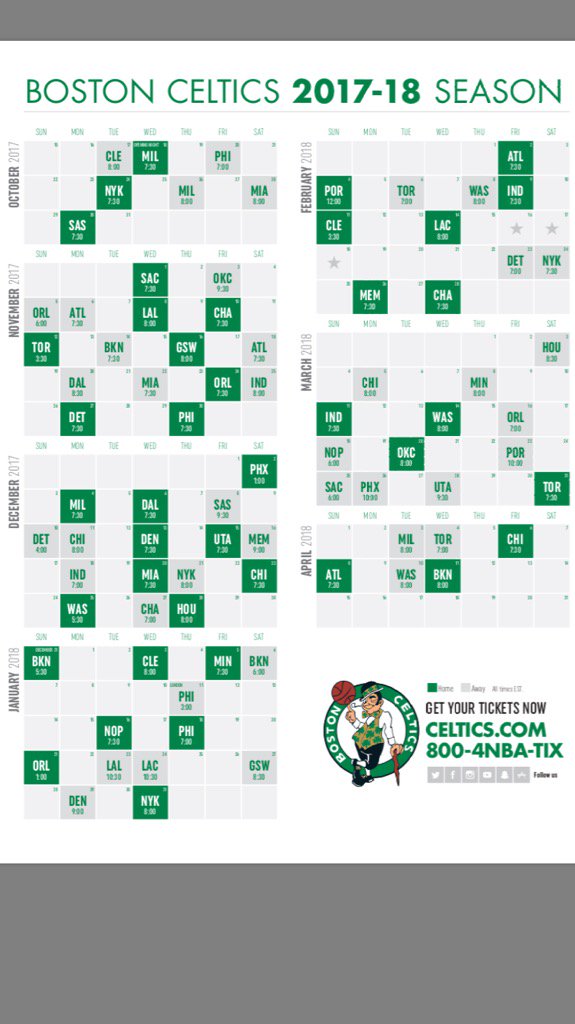 bob
.
Last edited by bobheckler on Mon Aug 14, 2017 7:16 pm; edited 1 time in total

bobheckler




Posts

: 42536


Join date

: 2009-10-28



http://www.nba.com/celtics/news/sidebar/081417-breaking-down-2017-18-celtics-schedule




Breaking Down the 2017-18 Celtics Schedule



Posted: Aug 14, 2017



By Taylor C. Snow |  @taylorcsnow
Celtics.com



August 14, 2017




BOSTON – The Boston Celtics have been anxiously waiting to hit the parquet floor ever since their season came to an end in late May when they fell to the Cleveland Cavaliers in the Eastern Conference Finals.

There's still two months to go until the 2017-18 regular season begins, but at least the C's can begin marking up their calendars now that the schedule has officially been released.

There will be many changes to the schedule this season, as a result of the season beginning nearly two weeks earlier than normal. So take note and let the hype for the 2017-18 season begin.


An Early Start

The Celtics will open the regular season Oct. 17 in Cleveland, which marks their earliest start in 37 seasons. All 30 NBA teams will begin their 82-game grind approximately a week and a half early this season, as the league attempts to lessen the amount of back-to-backs and eliminate sets of four games during a five-night period.

The early start does not mean an early end for the Celtics this season. They will wrap up the regular season April 11, and hopefully won't wrap up for good until mid-June.


Homestands and Road Trips

Boston's home and away games will be evenly spread out this season, as there will rarely be instances when the team will play more than three games consecutively at home or on the road.

Last season, the C's had two separate six-game homestands, but things will be much different during the upcoming campaign. Boston's longest homestand will be a five-game stretch from Nov. 27 to Dec. 6 that will see Detroit, Philadelphia, Phoenix, Milwaukee and Dallas come to TD Garden. Aside from that slate of games, the Celtics have just one other homestand that will exceed more than three contests – a four-game stretch from Dec. 28 to Jan. 5 that will include matchups with Houston, Brooklyn, Cleveland and Minnesota.

Boston's road trips this season will be even less extensive than its homestands. The C's will have no trip that lasts longer than four games, but they will have two that last four games. Their first such journey won't begin until Jan. 23 when they travel out west to Los Angeles to play a back-to-back against the Lakers and Clippers, respectively. They'll then head up to Golden State for one game, and then finish off the trip Jan. 29 in Denver. Boston's only other four-game trip will take place from March 23-28 when it plays in Portland, Sacramento, Phoenix and Utah, in that order.


Less Back-to-Backs, No 4-in-5s

The Celtics have had anywhere from 17 to 20 back-to-backs during each of the last five seasons. They will have a bit more rest this season, as the mid-October start will lessen the load to just 14 back-to-backs. Half of those back-to-backs will occur before the start of the New Year, including four during a three-week span in December.

Unlike in seasons past, Boston will not be burdened by any four-games-in-five-nights stretches, so this campaign should be much more forgiving on the players' bodies.


Hump Day Home Games

If you need a middle-of-the-week pick-me-up, the Celtics will have you covered this season. They will play 12 Wednesday-night home games this season, which is nearly double the amount of home games that any other night of the week will feature.

The next-most popular night is Friday; there will be seven home games played on that night of the week. There will also be seven Sunday home games, four of which will be played during the afternoon. Boston will host five Monday games, four Thursday games and three games apiece on Tuesdays and Saturdays.


Holiday Games

The excitement is already building for Boston's Christmas Day home game at home against Washington. Well, enjoy it, because that will be the only holiday that will feature a Celtics game this season. The Celts, per usual, will have Thanksgiving off, though they will play the night before in Miami, and then the night after at home against Orlando. The team will also host Brooklyn on New Year's Eve.

Excitement is also building for Boston's trip to London to take on the 76ers Jan. 11. The team will have some down time around that game, as it will be their only contest during that calendar week. The last day of the Celtics' London break will be Jan. 15, which is Martin Luther King Day. They will resume play the following night at home against New Orleans.

There will also be no St. Patrick's Day game for the green and white. They will be on the road to celebrate, and will play March 16 in Orlando and then March 18 in New Orleans.


Monthly Breakdowns

The first two and a half months of the season will be jam-packed for the C's, as they are scheduled to play 40 of their 82 games before the start of 2018. Boston will play seven games (three home, four away) during the month of October, 16 games (eight home, eight away) during November, and a season-high 17 games (10 home, seven away) during December.

The remaining three and a half months will carry a much lighter workload. January will be a unique month because the Celts will have the aforementioned extended break when they travel to London. Boston will have four days off (Jan. 7-10) before the international contest, and then will have another four days off (Jan. 12-15) following the game. It will play just 12 games (six home, six away) that month.

The next month, the C's will have another vacation – the All-Star break – so they will only play 11 games (seven home, four away) in February. March will be slightly more grueling because Boston will play nine of its 13 games on the road. It will then play six games during the first week and a half of April (three home, three away) that will conclude on Fan Appreciation Night, April 11, when the C's host Brooklyn.



bob



.

bobheckler




Posts

: 42536


Join date

: 2009-10-28



So this fan a appreciaton night on April 11..   is this in appreciation of our team or to give thanks to the nets for having dealt with us a few years back?

Matty




Posts

: 4315


Join date

: 2009-10-18



The London game fits in well with the schedule.

Dboss

dboss




Posts

: 11393


Join date

: 2009-11-01


Age

: 69



October
7 games in 14 games to start the season, but only 1 back-to-back.  Some crazy flying though (Milwaukee to Miami).  3 home, 4 away.  Not too bad.  Projected tough games:  Cleveland, Milwaukee, Spurs.  3 tough games out of 7.

November
16 games in 30 days.  8 home, 8 away.  2 b2b (Orlando-Atlanta, Boston-Indy).  A little more crazy flying; Boston-OKC-Orlando-Atlanta in 6 days.  4 games in 6 days.  Whoa.  Projected tough games: Spurs, OKC, Toronto, GSW.  4 tough games, regardless of where played, out of 6.  

December
17 games in 31 days.  10 home, 7 away.  4 b2b (Detroit-Chicago, Boston-Memphis, Boston-NY, Charlotte-Boston).  What we gain in more home games we lose in b2b.  Projected tough games:  Milwaukee, Spurs, Wizards, Rockets.  4 out of 17.  VERY good with that too.

January
12 games in 31 days.  6 home, 6 away.  One of the away games is London.  2 b2b (Boston-Bkln, Lakers-Clippers).  EASY b2bs, not that the Clips are easy but there is no travel.  Projected tough games:  Cleveland, NOP, Clippers, Minny, GSW.  5 games out of 12, easy b2b schedule, half at home.  I'm liking January.

February
11 games in 28 days.  7 home, 4 away.  2 b2b (Washington-Pacers, Detroit-NYK both away).  So far so very good.  Projected tough games:  Portland, Toronto, Washington (both away games and are consecutive), Cleveland, Clippers.  5 tough games.  Easy month work-wise, tough month competition-wise.

March
13 games in 31 days.  4 home, 9 away.  Ouch.  1 b2b (Sacto-Phx).  Excellent.  Projected tough games:  Houston, Minny, Washington, NOP, OKC, Portland, Toronto.  7 tough games out of 13.  Not many games, lots of practice time, lots of competition.

April
6 games in 11 days.  3 home, 3 away.  2 b2b (Milwaukee-Toronto, Washington-Bklyn).  The Milwaukee-Toronto b2b will be very tough.  Projected tough games:  Milwaukee, Toronto, Washington.  3 out of 6.  Tough finish, going against 3 serious playoff teams.

Barring surprises from non-contenders turning into dark horses (like Miami did last year.  Started off terribly and then came on very strong) or strong teams falling apart (could be Cleveland depending upon the Kyrie situation, could be Clippers, could be Portland), I'm seeing 31 tough games out of 82.  Obviously, someone can look at the schedule and view our opponents differently, and please do.  If we win 75% of our easy ones and 50% of our tough ones the math says we should end up with 53-54 wins.


bob


.

bobheckler




Posts

: 42536


Join date

: 2009-10-28




---
Permissions in this forum:
You
cannot
reply to topics in this forum