http://www.yardbarker.com/nba/articles/winners_and_losers_from_nba_offseason/s1_12680_24613575
Winners and losers from NBA offseason
Originally posted on Sportsnaut  |  By David Kenyon  |  Last updated 9/5/17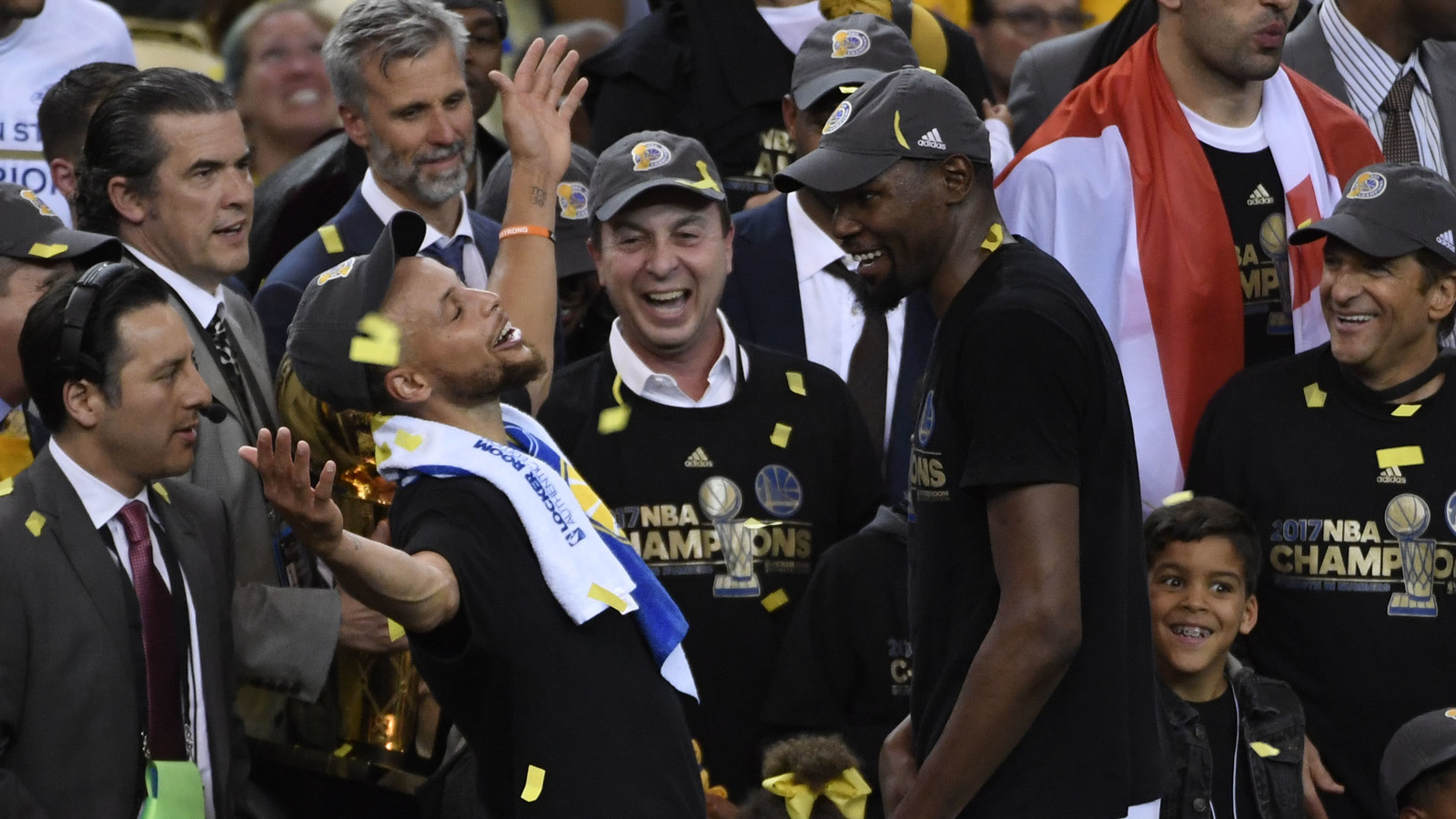 When multiple teams reload because of your team's second title in three years, you're a winner. Kyle Terada-USA TODAY Sports




Marquee trades could still be on the horizon, but the NBA offseason is effectively finished. And after the straightforward, anticlimactic playoffs, the madness of the summer months was a welcomed sign. Looking back, though, which teams emerged as winners and losers?

It's important to remember that being featured as a "winner" doesn't necessarily mean the team is headed for a spectacular year. Improvement is always relative — and so is the opposite.

Getting labeled a "loser" suggests the upcoming season will be rougher. But that doesn't always mean the respective team is going to miss the postseason.


Winner: Philadelphia 76ers

The Process is not over, but Step 1 was a resounding success. Philadelphia stockpiled draft capital and turned it into the No. 1 overall pick in 2017, grabbing Washington point guard Markelle Fultz to bolster a frontcourt-heavy roster. Combined with the return of 2016 top pick Ben Simmons, the 76ers will have two tremendous talents making their NBA debuts next season. And that's not all. Philadelphia attracted a pair of useful veterans in sharpshooter J.J. Redick and forward Amir Johnson. The result is a playoff-caliber team, depending on Joel Embiid's health.

Loser: Utah Jazz

The Jazz lost an All-Star just entering his prime. There's simply no way to prepare for the sting of that departure. Gordon Hayward signed with the Boston Celtics to rejoin his college coach Brad Stevens, leaving Utah with several complementary pieces and no perimeter star. Rudy Gobert is a tremendous defender at the rim, but can he and Rodney Hood carry the offense? Between adding Ricky Rubio, stealing Donovan Mitchell in the draft and acquiring Thabo Sefolosha, the Jazz aren't in dire straits. But navigating the Western Conference without a star like Hayward is highly unlikely.


Winner: Oklahoma City Thunder

One summer after losing Kevin Durant to the Golden State Warriors, the Thunder rebounded in wonderful fashion. They flipped Victor Oladipo and Domantas Sabonis for Paul George. That phrase is still stunning to read. It only took an inconsistent Oladipo and an unproven Sabonis for OKC to land George, the four-time All-Star, and pair him with Russell Westbrook, the reigning league MVP. Throw in the team-friendly contracts of Andre Roberson and Patrick Patterson, and Thunder kept racking up wins in the offseason.

Loser: Chicago Bulls

The 2017-18 season is crucial for the franchise's management because we're not entirely sure what the Bulls were thinking over the summer. They traded All-Star guard Jimmy Butler and the No. 16 overall pick in the 2017 draft to the Minnesota Timberwolves in exchange for Zach LaVine, Kris Dunn and the No. 7 selection. If that was the best offer, why didn't Chicago keep Butler? And how did the Wolves convince the Bulls to swap draft picks in addition to snagging Butler? Chicago now has an overwhelming lack of firepower — not to mention a potentially explosive front office.


Winner: Houston Rockets

After watching James Harden set a career high for assists in Mike D'Antoni's first year, the Rockets acquired one of the NBA's best point guards. They sent Patrick Beverley, Lou Williams, Sam Dekker and a few more pieces to the Los Angeles Clippers for Chris Paul. The "Point God" will allow Houston to always have a premier passer on the floor, so long as D'Antoni doesn't pull a Scott Brooks and not stagger the minutes of his star guards. Plus, the Rockets added a respected wing defender in P.J. Tucker, essentially to better equip the defense for a conceivable matchup with Golden State.

Loser: New York Knicks

Things are a mess in New York, huh? Kristaps Porzingis didn't show up for the season's exit interview. Phil Jackson is no longer the team's president of basketball operations. The Knicks threw an unruly amount of money at Tim Hardaway Jr., who even at market value wasn't worth more than $70 million. New York was bidding against itself. And despite several flirtations with Houston, the Knicks couldn't (yet?) find an agreeable deal for Carmelo Anthony. Porzingis is a rising star, but at this point, it's worth wondering if he's already peeking elsewhere. And NBA fans probably can't blame the guy.


Winner: Minnesota Timberwolves

Minnesota already had a promising duo in Karl-Anthony Towns and Andrew Wiggins. The offseason, however, made the Wolves a team capable of competing for the playoffs. While the highlight was acquiring Butler, the organization also signed Jeff Teague, Jamal Crawford and Taj Gibson in free agency. The moves gave Minnesota an upgrade at point guard, an offensive playmaker off the bench and a respected veteran in the paint. The roster still has a couple of problems — most notably, a dearth of three-point shooting — but the Wolves took several monstrous steps forward during the summer.

Loser: Indiana Pacers

Allow Kevin Durant to summarize the general feeling around the NBA about the Paul George trade: "So that was shocking because Indiana just gave him away," he said in an interview with Bill Simmons of The Ringer. Similar to the Chicago deal for Butler, it was a curious return for an All-Star player. Was that really the best the Pacers could've accepted? Perhaps the PG13-to-the-Lakers-in-2018 rumors were enough to scare off potential suitors and push Indiana into a deal, and the team certainly didn't want to lose George for nothing. But we expected more something in return for a top-10 player.


Winner: Toronto Raptors

Part of this inclusion is thanks to the Eastern Conference's decline (we'll get to that later) because Toronto, looking strictly at the roster, didn't get significantly better. However, the franchise scored a considerable victory when it signed Kyle Lowry to a three-year contract rather than a five-year max deal. Serge Ibaka's $65 million contract was a bit hefty, but the Raptors acquired C.J. Miles while ridding the books of DeMarre Carroll's salary. Toronto is short on talent at power forward and locked itself into a three-year window with the current nucleus, but it's still a perennial playoff team. That's not a terrible place to be, especially in the East.

Loser: San Antonio Spurs

The Spurs will probably finish with 55 or 60 wins in 2017-18, so calling them "a loser" could be considered a stretch. However, San Antonio's cautious pursuit of a superstar led nowhere, while rumors emerged about LaMarcus Aldridge's unhappiness. Also, the oft-shrewd front office ended keeping Pau Gasol for two guaranteed years at $16 million. It's not awful, but before the signing, the books lined up so perfectly for San Antonio to be a significant player in free agency next summer. At least the Spurs re-signed Patty Mills and are getting another year from Manu Ginobili.


Winner: Golden State Warriors

Other than Klay Thompson coming up embarrassingly short on a dunk attempt in China, the offseason was full of good news for Golden State. Durant took a paycut, allowing the Warriors to re-sign both Andre Iguodala and Shaun Livingston. They bolstered the bench by adding Nick Young and Omri Casspi after snatching Jordan Bell in the draft. Zaza Pachulia and David West also returned for another season in the Bay Area. Golden State is facing a massive luxury-tax bill in the future, but the potential for a multi-year championship run like this is exceedingly rare.

Loser: Los Angeles Clippers

Although the Clippers remain a borderline playoff team, that's a significant drop from being a foregone conclusion to make the postseason in recent years. Yes, Los Angeles did an admirable job working to replace Paul, Redick and Crawford. The new players — Beverley, Danilo Gallinari, Williams, Willie Reed and Miles Teodosic, among others — will temporarily buoy the roster. Plus, removing Doc Rivers from a personnel-controlling position should benefit the franchise down the road. But the expectations for the Clippers have been lowered. A quality roster is not the same as a contender.


Winner: Brooklyn Nets

The Nets are going to struggle in 2017-18. The future, however, looks a little brighter. Brooklyn landed D'Angelo Russell while shipping Brook Lopez to the Los Angeles Lakers. In exchange for taking on Carroll's contract, the Nets added a 2018 first- and second-round pick. Then, they acquired Allen Crabbe, who they aggressively pursued in the 2016 offseason, to bolster the perimeter for only a seldom-used reserve. Crabbe, Timofey Mozgov and Carroll are relatively expensive, but the expiration of their contracts matches when Brooklyn's young players will need new deals. The offseason was a net-positive for the Nets.

Loser: Free agents expecting 2016-like contracts

In the summer of 2016, the volatile nature of "market value" heavily favored the players. That was most decidedly not the case in 2017, when Kentavious Caldwell-Pope settled for a one-year deal, Nerlens Noel only mustered a $4.1 million qualifying offer and Andre Roberson accepted a contract at approximately half of a potential value. Patrick Patterson inked a three-year deal worth $17 million one summer after he might've signed for $12-15 million per season. The salary-cap skyrocket in 2016 led to a harsh reality for free agents expecting big money in 2017.


Winner: Denver Nuggets

Gallinari was a great contributor for the Nuggets. But after watching him appear in fewer than 65 games during five of his six full seasons with Denver, parting ways with Gallo wasn't a heartbreak when the alternative was signing Paul Millsap. The versatile forward inked a three-year deal and the Nuggets even snuck in a team option for the final season. Additionally, Denver padded its stretch-4 depth with Trey Lyles and Tyler Lydon thanks to a trade with Utah. The Nuggets, who already had a promising core of Nikola Jokic, Gary Harris and Jamal Murray, moved a step closer to ending their brief playoff drought.

Loser: New Orleans Pelicans

New Orleans invested huge money in Jrue Holiday, which was undoubtedly a risky proposition. When healthy, he's a playmaking point guard and solid scorer. But therein lies the issue: Holiday has missed somewhere between 15 and 48 games in each of the last four years. Granted, that number has steadily decreased during that time, but Holiday commanded a $126 million contract anyway. If he cannot avoid injury, the Pelicans will have a near-unmovable salary on the roster until the summer of 2022.


Winner: Boston Celtics

Even though they traded Avery Bradley, Jae Crowder, Isaiah Thomas, a likely top-five pick and Ante Zizic, the Celtics made a net gain during the offseason. Hayward bolsters the perimeter, Irving is an elite offensive weapon and Jayson Tatum has tremendous scoring potential. Boston may undergo some chemistry-related issues in 2017-18, but the rotation figures to remain intact entering 2018-19. Hayward and Irving will be in their prime, while Tatum will have a year of experience and Boston could still make a top-five selection next summer due to some complicated pick protections. It was a busy offseason, but the Celtics have a great outlook.

Loser: Atlanta Hawks

On the bright side, the Hawks avoiding overpaying Hardaway thanks to whatever the Knicks are doing. Otherwise, it was a disappointing summer. Millsap bolted for Denver as a free agent, so Atlanta lost its most valuable player for nothing. The organization also ended the Dwight Howard experiment after one year and shipped him to the Charlotte Hornets for Miles Plumlee. It wasn't a horrendous move by any means, but the Hawks tying themselves to Plumlee for three years means their cap flexibility is limited. That's not a place a rebuilding team wants to be.


Winner: Cleveland Cavaliers

Is LeBron James still alive? Yes? Well, that's enough to declare Cleveland a winner in the offseason. Everything else was icing on the proverbial cake. The Cavs upgraded the roster and softened the books with Thomas' expiring deal and Crowder's wildly team-friendly contract in the Irving trade. Ante Zizic is a promising international big, and the unprotected Brooklyn pick should net Cleveland an early selection in the 2018 NBA draft — or an appealing asset if the franchise wants to acquire another star prior to the next trade deadline, for example. Plus, the Cavs nabbed Derrick Rose and Jeff Green on no-risk deals. When do the Finals start?

Loser: Eastern Conference

The East watched Butler, George and Millsap leave for the West while only attracting Hayward. And from a depth perspective, the West continued to widen the gap between the conferences. Denver, Minnesota and Oklahoma City improved their rosters after missing the playoffs, while three playoff teams from the East (Atlanta, Chicago and Indiana) blew up the team. And the two hardest-hit teams in the West — the LA Clippers and Utah — are still in the mix. With reluctant nods to Toronto and the Washington Wizards, the Celtics are arguably the lone legitimate challenger to Cleveland.
bob
.

bobheckler




Posts

: 37554


Join date

: 2009-10-28




---
Permissions in this forum:
You
cannot
reply to topics in this forum