http://celticsgreen.blogspot.com/2017/11/comments-from-other-side-raptors-111217.html
Easy win. I'm completely overlooking this game.
Celtics have gotten a big head lately after cruising through their cheesecake schedule. Now they face a real team. Let's see how they do.
Kyrie our for tonight, being evaluated for a possible concussion. Celtics look like trash without him down big to the Bobcats 
Masked Kyrie about to go HAM on Sunday (MY NOTE:  I've seen this, HAM, before.  Anybody know what it means?)
Despite their star players not playing watch the Raptors not show up and be down double digits early.
Would be quite the let down if Kyrie and Horford don't play.
We would easily beat this team even with Kyrie  They are just a bunch of scrubs. Without Kyrie it should be a blowout.   
I think Boston is over-achieving. No matter how good the coaching/system is, their talent isn't good enough to warrant being on pace for 65 wins lol 
Just in case any of you are worried about Sunday's game I wanted to reassure you all that we're going to kick the **** snot out of these fake azz pretender Celtics on Sunday. Their sickly, bottom feeding strength of schedule is about to get a Raptors wake up call. 
Seems like whole Celtics team is injured lol. Even kyrie
I still think we'll crush them like we always do.
Will be shocked if raps win.. expect celts blowout 
Last season we blasted them at home, but on the road game refs took over. Even our commentators said that refs just simply took JV out. 
As a team we are still getting our footing. This game is a test but we should be a different team when we play them near the end of the season. 
We have to use these games to have a system that's sustainable for playoffs. Celtics already have that with brad Stevens. Our defense needs a ton of work and get Lowry comfortable 
God I hate Boston...also any fan that cheers for them that previously was raptors fan..
Wow, we are going to beat the crap out of the Celtics lol. What's Irving averaging like 20 ppg? Lol he's nothing but a glorified JR Smith.
I hope our players don't have to deal with any racial epithets. You know that Boston crowd has an affinity for it. 
A game against a depleted Celtics roster is a lose-lose. Win, and it's a "fake win", given the key injuries. Lose, and it's a "real loss", given the key injuries. 
Stevens is a hell of a coach. he's got them playing well above their level at this point.
Tatum and Bown are good, I just dont see a rookie (or second year) holding up for 82. Not when you need them for 30+ min a game, it's smoke and mirrors. I would think they fall back to earth at some point. 
we want the #1 seed and a season sweep of the Celtics would be YUGE! 
The talent differential between these two teams is so massive it's not even funny... 
I think we're going to find out how we match up with the new Celtics. I'm a bit worried because our team isn't in regular season form yet. There just isn't good flow to the offense. And defensively we're still disconnected. Whereas Celtics are humming at the moment. Celtics are defending better without IT. And that seemed to have solved their defensive issues. Should be a good learning experience.
Kyrie out. Horford questionable. TRAP GAME!
We always seem to play terrible against teams missing key players
Boston announcers are a buncha homer morons
Raptors vs the Racists 
The Celtics have won one title since the Raptors have existed. And that one only happened due to a wink nudge trade between Mchale and Ainge.  (MY NOTE:  I guess that would make us 1-0 compared to the Raptors)
Damn Celtics fans sure love gloating about the banners they've won against Plumbers and Firefighters back in the day
Boston sports fans are incredibly arrogant, it's been that way for as long as I've lived and it will still be that way after I die. 
I hate the Celtics and there fans let's get it 
Even without Hayward it should have been a good game. No Kyrie though and it's a fake win for sure. Oh well. Every team gets a gift once in a while.
You have to admit their shtick is kind of entertaining lol. They have won one title since our inauguration = they aren't even close to being a successful franchise in the last 20 some odd years but they will talk about those championships from decades ago in a weak league. 
This will not be an easy win. Be prepared for Casey to get out coached by a mile. Jaylen Brown to play tough defense on DeRozan. Rozier and Smart to abuse Lowry. We win this game if JV shows up and Ibaka punches Horford out
Ibaka 'bout to give Horford a black eye.
TD Garden AKA Toronto Dominion 
Leafs did their jobs with back to back wins over Boston. Time for the Raps to put the nail in the coffin.
Blooooowwwoooouuutttt! No need to watch after the first half guys. I''m calling it now. We're too talented for the young Celtics. They're good, but lack experience and talent that we have.
Incoming Marcus smart career game splashing down 3s
Fixed bro Incoming Marcus smart career flopping high
Wait we got that Lauren girl reffing? JV getting fouled out 
Man this lady is still reffing in the NBA..Ibaka about to pick up 2 tech's before half time, lowry will also pick up one for talking s... To her.
Beat these fools.
OK, the first battle in a war for the Throne of Atlantic division soon to commence. Sadly, our enemy's forces are depleted, we will not be able to see the real might of our great warriors.  (MY NOTE:  I hope that someday you move out of your parents' basement)
Kyrie's injury is everyday business in NBA, Hayward - that's just wrong. I always liked the guy. Flashy plays, passionate, athletic, smiley -happy personality. Good pro, good guy. His injury made my stomach churn. I know, how difficult is going to be to recover and the question will linger - how effective recovery will be. All the best for him.
There defense has to be good, when you only score 102 per game. Anemic offense that wont hold up, it depends on a rookie and second year player putting up 27.8 ppg. 
Most of their win streaks were fake wins

Wish me luck, going to try to listen to that Trash Tommy Feed...I'll see if I can last. 
Aron Baynes haircut: yay or nay?
Time to destroy these clowns, don't care about Kyrie being out. No mercy.
It sucks that we couldn't beat the Celtics when they had Kyrie If the C's start losing then this will help validate Kyrie's value to winning which also sucks
Celtics sure look for real Very fun team to watch 
This Baynes guy is insufferable 
Time to break their ridiculous 11 game run and I couldn't care less how they do it.... 
I want concussed Kyrie playing who might not feel 100% and would be more prone for mistakes/ fatigue then give more minutes to Smart or Rozier who will punish our guards by driving more to the basket because of lack of D. 
I'm petrified we lose this game without kyrie, and end up 4 games back of them before mid November. Please win boys 
I don't like Boston, but I acknowledge that they're a good team. 
Boston can't score.. But they sure can defend and make your life hard. They are tenacious and don't quit and seem to fight for every loose ball. If we can match their energy then this should be an easy win. If we come in thinking it will be easy we're screwed. 
Tatum, Horford, Brown combine for 80 points and stomp us on their home floor. Casey gets fired. 
All Celtics players are wearing compression stockings. 
Jalen Brown clamping on Derozan lol While Tatum is having a just a fine day with Derozan defending him
Come on Raps, beat these chumps down 
DeCasey about to go off on DeStevens
Lowry's ass has definitely gotten bigger from last year. What has he been eating smh. 
Boston is just so much better and fun to watch with an incredible future.
Here comes the refs!!!
I dont know why but I **** hate the celtics the most. 
How's Tommy feed guys?
Lol aint nobody listening to Tommy
Yeah, I often watch the opp feed..with the Celtics...not a chance. 
TISSUE **** SOFT. I swear bigs always abuse Ibaka down low..... Horford is a much better player. He would be a perfect fit here.
Boston's defense is pretty elite, not gonna lie. Long athletic guys at every position who can switch super fast.
Ok, disgusting trade on Ainge's part to get Tatum & LAL pick for Fultz
Derozan will never be good at defense. Not even average
Ibaka is such a lazy piece of **** 
These Celtics are fast
Celtics getting away with pulls and tugs out there. Especially when our guys are driving.
Our bigs got the lowest iq 
Holy **** ibaka is dumb as bricks 
This truly is an excellent defensive team. And we cannot keep giving up offensive rebounds. 
Baynes cracks me up man, what a cult hero
Imagine if they have Kyrie and Hayward 
Well they don't right now. Let's focus on beating who's on the floor. 
They have some of the most fundamentally sound players plus an amazing coach. Their wings this young I really envy 
Jalen Brown and Tatum what a future. Both have range and fundamentally sound on defense. Boston is so set with their wings   Ceiling can be unreachable 
Are you watching how fast Boston is in transition....it's fast man... 
Baynes so dirty
Baynes should be banned from the league what a barbarian
Baynes is a scrub
Baynes injuring everyone
Baynes just taking out players. First Kyrie now Norm.
With norm out, id say that matches their kyrie injury (MY NOTE:  Yeah, 2x All-League Norman Powell.  LOL)
Norm really has been bad all year long.
That white guy on the Celtics is good. Tys or whatever his name is. 
Players are elite shooters until they come to the Raptors, then they catch a case of northern brickitus syndrome.
Its the conversion of their shot from inches to metres 
Why not even attempt that full-court shot? It seems like DeMar had enough time. 
He doesn't want to ruin his sparking 3p%. 
We are too many low iq basketball players on our team. This is why i say without Lowry this team doesn't make the playoffs, way too many idiots on this team lol 
FVV is a poor mans Larkin LOL
This is where we should be creating seperation. They got scrubs out there
This is a bad time to be a raptors fan. Might be the last year they have a shot of being a 2nd round team
unbelievable move by Tatum 
tatum is good 
Boston plays a really aggressive defense. They are fast enough to challenge the handler for an extra second and recover. Not a lot of teams can do that.
These fake Boston crowd sounds are like a recording of a kindergarten class cheering 
Tatum looks great, no way he does this for 82 though.
I don't see why not. He is playing a sustainable game. He ain't chucking up bad shots that's going in
Rookie wall is real.
I wish Brad Stevens was our coach. His teams actually get back on defense and don't leave players wide open on the 3pt line
I too wish the Raptors had the best coach in the NBA 
Does he come with all their guards?  
I know right? Casey signed an extension this offseason too. He's here forever.
He's not the best coach in the nba, when the best coach of all time is still coaching.
Fair point. 2nd best coach in the NBA 
Boston is straight dumpster juice
Boston don't respect raptors shooters. They're playing us for the drive then just poking and slapping at the ball.
I love when the ball goes out off 2 Celtics and they get the ball back for some reason 
I just realize something with this Boston 11 game winning streak while playing against us; like last year has these refs been bailing this sh!!!ty celtics? 
Tatum and Brown are getting what? Rookie deals lol While us? 
Boston does a really good job of boxing out. They gang rebound and all 5 guys are in position to box out their man. Plus Brown seems to be an elite rebounder as well. 
Really? Marcus Smart draining threes? 
What the **** baynes. You can't just ****ing pile-drive him
Baynes is the Zaza Pachulia of the Eastern Conference
Baynes is one physical dude. 
Lauren Holtkamp is just terrible at her job. 
Boston has played hard enough to get the benefit of getting away with clutch and grab and forearming fouls... 
they foul on every possession. they know the refs will be afraid to call them all. just exploiting terrible nba refs / league office mandate to not spoil games by removing star players. I'd love to see boston play with non-nba refs, their opponents would be in bonus 3 mins into every quarter. 
Celtics have been god tier coming out of halftime this whole season. Brad Stevens really makes adjustments.
Surge is worth every penny, probably underpaid tbh.
Horford can't guard Ibaka
I want us to play the Celtics in the playoffs so bad. Someone needs to slap some humility into that team and its fans
Rozier killed JV twice now
JV outplayed by Baynes?? 
I swear if we didn't have JV we would have the best D in the league by far.
Our bench was great once again. Completely shutting out Boston when they came in. We have the best bench in the league.
We need to get our lead up 9+ pts for a guaranteed win. Celtics offense is awful so they can't make up that difference with our great D. 
Can't believe we're making that caveman Baynes look like an allstar smh
that idiot Baynes takes out another player 
Celtics got a big lumber jack that returns friendly fire on his own team mates
This game is sad as hell....they have no Irving and Hayward are down by 2..... it just clicked Boston is better than us 
Anyone still think the Raptors are better than the Celtics? Irving is not even playing
Boston without 2 allstars and the game is tied. I'm gona take a break from the Raps if they lose this one 
Baynes has such a punchable face  (MY NOTE:  Spoken like the brave man hiding behind a computer monitor)
Refs calling bulls... Fouls on lowry but ignoring Boston fouls.. I swear baynes and JV are going fight soon. Dude is Elbowing him every chance he gets.
Don't believe they are better than us... it's harder to play against a team playing wounded. 
Did Baynes break yet another player's face
Banyes is going to get a free 12 piece from popeyes if he takes out 3 raptors.
Baynes is the NBA's most dangerous man.
baynes has no respect for his elders 
Baynes is a dirty player. 
Dirtiest player since Delly these Australians
Baynes is a human weapon.
GEEZ. THIS OX BODY SLAMMED IBAKA. BAYNES IS TOUGH
Man this Celtics team with a concussed Horford. Can't imagine them at full strength
How are we struggling vs these scrubs
These refs man
Baynes with more rebounds than JV and Ibaka put together.
Lol it's a Celtics team with 3 refs in their pockets. 
These refs are bailing the Celtics out how else they winning the 11th game streak
This is bull.... these **** refs need to get FINED.
How the **** do u give MArcus "GOAT FLOPPER" smart that call. EMBARRASING 
There's bigger issues here than the refs
Can we not whine lol? What's happening here? Y'all expected Raps to win by 30 easily?
Yes? Its a bunch of scrubs vs a healthy Raptor team
Brown, Tatum, horford are hardly scrubs
Harford is 40, Brown and Tatum are scrubs
I just realized Jaylen Brown will be better than Derozan 
In ur dreams?
Nah its a fact. Brown probably will be better than Derozan. Already a whole lot better than Demar on the defensive end.
Boston was better than us last year, and better than us this year. Like it or not it is what it is.
He is better than DeRozan even now. 
Celtics are he real deal. We're trash 
I said Brown is the next Butler at the draft but he is further along in his development already than jimmy at the same age
not sure if jalen or lebron 
Semi is a beast 
These refs are corrupt as hell
The fix is in
what's the foul? For jaylen brown being a twig?
Everybody stop whining. The Raptors eliminated the lead in like....a minute. Just watch the game and enjoy lol
Boston got away with like 50 travels this game
This is unbelievable, the nba is trying to make stars out of the Boston scrubs and manufacture this fake streak for them. What's with all these BS calls
Who knew there were three Terry Roziers. Do you think the other members of the family rank them in order of their favorite Terry Rozier and compare their lists at Christmas?
Add Rozier to the list of raptor killers
Who the **** is Rozier 
Rozier makes winning plays. Everytime I watch the guy he plays great. Great role player to have
.
Man we'd be getting smoked if Kyrie and GH were playin
Daniel Theis is a 0-year NBA veteran out there, he's earned the respect of the officials
lots of fatties in the Boston crowd. 
If we lose this is not because the Celtics is good but the refs is handing them this win like the other 11 streaks wins  (MY NOTE:  How lucky we are that we got 11 different ref crews that all gave us those wins.  LOL) 
This team has serious issues... the Celtics are missing a 30 PPG scorer and we can't even pummel these bums 
Boston fans really love their white players.
Tatum is nice, great decision to trade down for him 
Tatum is legit.
I LOVE TATUM BUT I HATE CELTICS THOU
Theis is a good role player. 
Baynes and Theis with 1 combined foul between them 
Cause they are finesse perimeter players...
Are these cheerleaders or strippers lol.  
This is some fantastic defense by celtics 
Seriously can't beat Celts without their top two stars..sad
Celtics top stars are wearing zebra stripes, to be fair. 
LOL, I hate it when we face Stevens. He makes Casey look like an even bigger fool than he is. These Celtics players are still just raw talent, but he has them working so well as a unit.
Losing to a Kyrie-less Celtics team.... *sigh*
At this point I would prefer Lowry/DD take turns iso'ng. Every single time play we go up against the Celtics Stevens makes Casey look like a college level coach.
Well this isn't fair - Boston is using plays. 
Stevens calls a set play. Casey counters with ISO.
No Kyrie, back from concussion-Horford, scrubs like Rozier, Theis, and rookies/2nd year ..and you L! Not acceptable
Tatum is legit
I bet one of those cheeleaders/strippers/dancers would make a better head coach than Casey.
Casey needs to be fired...Brad showing Casey how it's done with far less talent
Tatum is good tho
Craptors deserved to lose this game
Celtics future is so bright. Fk man.
Do you want to know what the most depressing part? As early as next year not 1 player on this team including OG will be able to check Tatum.
Man this is embarrassing. F*** Boston and these refs
Celtics are just a very good team with an elite coach...Boston vs Cleveland ECF this year is gonna be real competitive.
Can't believe we're about to take an L from a Kyrie-less Celtics squad. 
Smart is the biggest flopper in the NBA. Shameful.
With all the tall guys in our lineup, how are the raptors out rebounded on the offensive glass 15:6? Inexcusable
We need to stop crying about the refs. If anything they have been keeping us in this one
. 
LMAO DD with the terrible shot then Tatum with the offensive foul. My goodness. I can't believe we still have a chance to win this 
Man, what's this Celtics team and elbows.
The ol get elbowed in the face play. Works every time.
LOSTON CELTICS FANS IN SHAMBLES
Celtics fan are so delusional. It was an obvious offensive foul
He didn't connect did he? Looked like a flop lol
Why are there no black people in the Boston stands?
I'm done with the Raptors just blow it up
So what **** we are talking here . Every single crucial possession we have DeBrick shooting it?!?!? OMG GUY WHO DOES NOT HAVE ONE CLUCH GENE IN HIS WHOLE DUCKING BODY
bob
.

bobheckler




Posts

: 38118


Join date

: 2009-10-28



Watched the whole game............didn't really see too many inaccuracies with the officiating. I thought it was equally poor for both sides.

red16russ11




Posts

: 506


Join date

: 2017-05-31


Age

: 58



Some of these fans should just stick to hockey, eh?


red16russ11




Posts

: 506


Join date

: 2017-05-31


Age

: 58



"Their sickly, bottom feeding strength of schedule is about to get a Raptors wake up call"

Celtics 6-1 against teams .500 and above and 6-1 against teams below .500 //Raptors 3-5 against team .500 and above and 4-0 against teams below .500

Raptors are finished. This CAP strapped team is not good enough to win and they do not have ANY space to add anybody. They will try a sell off before the year is out.

dboss

dboss




Posts

: 8817


Join date

: 2009-11-01


Age

: 68



Bob - i think HAM in this context is ' hard as a motherf#$%&*"....

Shamrock1000




Posts

: 1394


Join date

: 2013-08-19



Bob

tried to google HAM

best I could find that fits at all

HIGH AND MIGHTY

beat

beat




Posts

: 6994


Join date

: 2009-10-13


Age

: 65



Hi,
And I was under impression that Canadians are friendly folks. Not exactly...

AK

sinus007




Posts

: 2071


Join date

: 2009-10-22



Boston fans can be arrogant for sure.  Wonder why.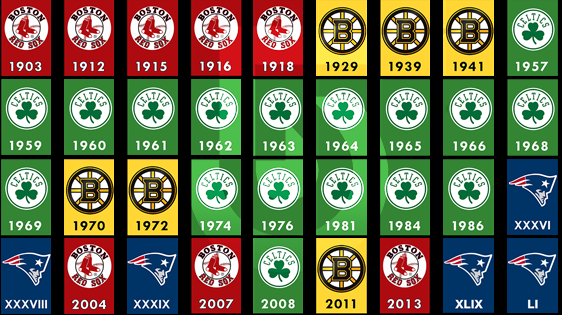 mrkleen09




Posts

: 3197


Join date

: 2009-10-16


Age

: 49



Raptors fans are awfully delusional for never having won a damn thing...


KJ

k_j_88




Posts

: 4591


Join date

: 2013-01-06


Age

: 29




---
Permissions in this forum:
You
cannot
reply to topics in this forum