Celtics 116, Suns 111: Marcus Morris emerging as weapon off bench for Brad Stevens

WEEI JOSUE PAVON

Brad Stevens may have found his go-to starting lineup.

The Celtics head coach insists he hasn't decided on a fixed starting five for the regular season. Through the first 25 games, Stevens has made tweaks to the his frontcourt, swapping big men Aron Baynes and Marcus Morris on a night-to-night basis while the rest of the members of the starting lineup -- Kyrie Irving, Jaylen Brown, Al Horford, Jayson Tatum -- remain intact.

The Celtics are at their best offensively when Baynes starts. Morris has found a role as the second unit's most consistent scorer, and he's someone the Celtics can rely on. Although he had a minute-restriction increased heading into Saturday's game against the Suns, Stevens still elected to keep him in a reserves role and Morris flourished.

He chipped in 17 points for the second consecutive night on 6-of-14 shooting to go with eight rebounds in a 116-111 victory. And much like he did Thursday night against the Sixers, he led a significant run that ultimately changed the complexity of the game.

After falling behind by five points in the third quarter, the Celtics eventually put together a 17-2 run that bled into the final frame and Morris was responsible for 10 points. Then came the rest of the fourth quarter -- where Irving did his thing, scoring six points in four minutes and led the Celtics to their fourth win in five tries.

He scored a team-high 19 points. Jaylen Brown bounced back from his funk (17 points) and Al Horford finished with a double-double (14 points, 11 assists).

Devin Booker didn't come close to duplicating his historic career-high 70-point night from the last time he played at TD Garden, but he did score more than half. His 38 points pulled the Suns to within three when he drained one from deep with 18.2 seconds left. Booker then used his sixth and final foul on Irving, who sank a pair of free-throws to seal the win.

While Morris is capable of scoring in bunches, Baynes provides the kind of toughness the Celtics need to help create stops in the paint and finished with a game's best plus-16 player rating. He helped the Celtics grab a nine-point lead after the game's opening 12 minutes by creating defensive stops while scoring six points on 3-of-3 shots.

If Boston can get into the habit of getting off to quicker starts, Stevens would have the luxury of resting his starters in the fourth quarter -- something he considers a priority for him and his coaching staff.

The Celtics shot over 50 percent (50.6) for the second straight game, something they struggled with throughout their start to the season.

Does Morris' recent play have any influence on Stevens sticking with the same starting lineup moving forward?

"[Not] doesn't really," Stevens said. "Starting or when they play doesn't really matter. So he's still going to start when we feel like the matchup is right. And the good news is that you're not as quick to pull him because of the minutes restriction as it's been lifted or increased. You know, having 20-30 [minutes] is much different than 20-22 when you're trying to manage a four-quarter game.

"I mean there are some teams you just can't start big against and some teams that it's hard to start small against. So it's good that everybody is able to play well through that."

We'll have to wait and see which lineup Stevens chooses Monday night when the C's welcome Giannis Antetokounmpo and the Milwaukee Bucks at TD Garden.C

112288

112288




Posts

: 6415


Join date

: 2009-10-16



20-4 what a great start to the season.

If the Celtics play.689 ball the rest of the season they will get 40 more wins and hit the 60 win milestone.

I think they can go 40-18 The rest of the way.

Dboss

dboss




Posts

: 8814


Join date

: 2009-11-01


Age

: 68



Took Owen and two buddies to the game today and they had a blast.  Had to leave early in the 4th, but they loved every minute.  And the Celtics won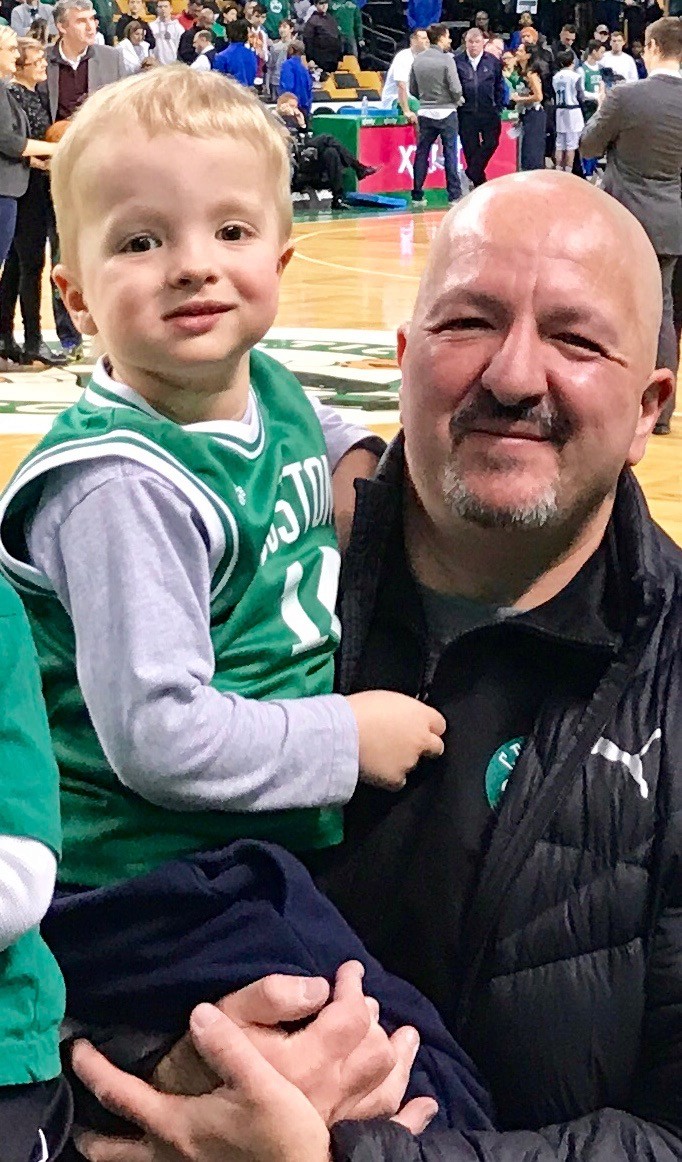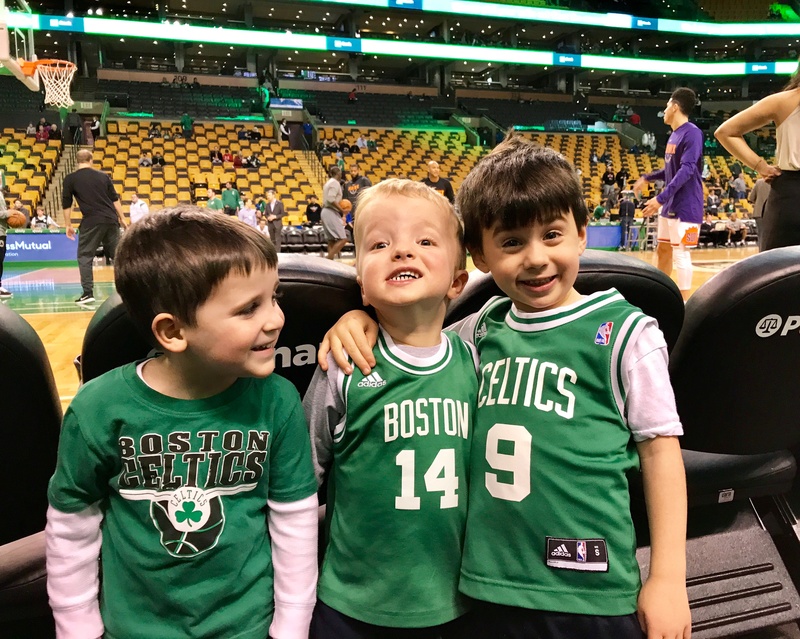 mrkleen09




Posts

: 3197


Join date

: 2009-10-16


Age

: 49



WTF is going on with Jaylen in the 2nd half? Why is no one passing him the ball? My grandmother almost got more touches than Brown, and she died 42 years ago.

worcester




Posts

: 5683


Join date

: 2009-10-31


Age

: 71



MRKLEEN,

GREAT SHOT OF THE NEXT CELTIC SUPERSTAR!


GOD BLESS

112288

112288




Posts

: 6415


Join date

: 2009-10-16



First, great shot of you and Owen, Paul.  He looks ridiculously happy, so does dad, and those are good things.  
Back to biz:
Why does Devin Booker hate us so much, or is he just auditioning for Danny?  He's averaging 23.6ppg this year, 18.7ppg career, but he's averaging 54ppg against us in Boston.  The kid is smooth as silk.  Tommy was drooling over him and it takes quite a bit for Tommy to drool over anybody not in green.  He kept repeating "he was the 6th man at Kentucky" and you could hear the slight chuckle and head shake when he said it.  Kobe has put up big numbers against us, as has MJ and quite a few other players over the decades, but Booker is doing it at a ridiculously efficient rate.  He was 16-29 last night.  Since we won I can say it was a joy watching him.
The high profile bigs Phoenix has aren't doing shit while their longshot wings are killas.  #8 pick Marquise Chriss is an underachiever.  #4 Dragan Bender doesn't look like he can do anything except shoot 3s and #5 pick Alex Len was a DNP last night.  #13 Booker and #14 TJ Warren, on the other hand, are very dangerous.
One-time Tyson Chandler forgot how to play defense in today's NBA last night.  He didn't want to come out of the paint so Brad had Chandler's man, Al Horford, set a high pick for Kyrie who got free for an open shot.
https://twitter.com/JaredWeissNBA/status/937084723343581184
Speaking of Al Horford, a career high 11 assists.  That's something we wouldn't get if we traded him for Anthony Davis (not there aren't plenty of other things we would get...)
Jaylen with a good game.  When his shot is dropping he is SO dangerous.  He was 6-8 from the line last night too.  It's a shame that has to be even mentioned.  He can shoot, obviously, it's just mental.  He rushes his shot at the line and there is no reason to.  Normally I'd be underwhelmed by his man scoring 38 points on 16-29 shooting but it's Devin Booker and that explains that.
Tatum with 6 of his 15 points in the 4th quarter.  He likes the 4th quarter, for sure.  If we could just get him more involved offensively in the first 3 his average would go from the 13.8ppg it is to 20ppg, all it would take is 1 more fgm/first 3 quarters.  He's a rookie, we all are very happy with his progress so far so this isn't running him down, but as Al Horford said "wait until you see him in 2 years!".  Both he and Jaylen need to work on their handle, especially Jaylen.  Tatum has the speed and length to get past NBA 4s, he just needs to be a bit more sure with his dribble (he's 19, he will) and Jaylen especially needs to improve his dribbling because he's being covered by faster 2s.  If he wants to blow past them using size and strength, like LeBron does, he needs to improve his handle.  That, to me, is the next area of improvement Jaylen Brown needs to work on.  His frito shooting will settle down, I think, but he needs to get much better with his dribbling.  Once he does, though, he'll be able to torture even the taller SGs in the league like Klay Thompson and DeRozan because while they might have his height they don't have his strength or weight.  He has to be able to take them off the dribble, get his shoulder past (or at least even with) theirs and then they just don't have the size, strength, speed or weight to do anything besides foul.
Gotta give credit to Marcus Smart.  He had 13 points on 3-6 shooting, 2-5 from 3.  I've given him enough shit for being a bad shooter I have to give him some props when he's shooting well.  I am ecstatic with these numbers.  We don't need 20 from him, we really don't need more than 10 from him, but we can't have him going 3-15 and he hasn't since he went 1-7 in Orlando.  Over the last 5 games he has shot 52.5%, 42.3% from 3.  MORE!!!
Theis only played 10 minutes, started the 3rd quarter because Brad is a mad scientist, but had 6 on 3-6.  He's just a smart player who seems to be in the right place at the right time.  He's a rookie who doesn't play like one.
Morris might not like coming off the bench but our bench plays MUCH better when he does.  He played 27 minutes yesterday, considering he's limited to 25-30mpg he can't complain he's not getting his opportunity, he just has to get past the ego thing.
Terry Rozier with an awful game.  WAY too much dribbling, WAY too much Hero Ball.  He blew a nice double digit lead we had.  1-6 from the field.
http://www.espn.com/nba/boxscore?gameId=400975077
bob
.

bobheckler




Posts

: 38115


Join date

: 2009-10-28



At some point I hope that Morris will embrace his role when coming off the bench but as brad Stevens indicated it all depends on matchups. When Boston needs to go big, Baynes should start and when Boston goes small Morris should start.

Bob while you are thinking about Chandler's defense you did not mention his 18 rebounds including 6 on the offensive glass.

We are starting to see some slippage on the boards and that is because the Celtics do not match up well with teams that have big physical centers. Yesterday Al had 11 assists but he only had 5 rebounds. I know that Baynes can play more minutes but the problem is his offense.

He is a very limited offensive player.

The kid Booker is the real deal.

dboss

dboss




Posts

: 8814


Join date

: 2009-11-01


Age

: 68



Thanks guys. We had a great time. Owen loves the Celtics - especially those $85 dollars new black shirts. Honestly, there is more material in my boxers - the prices they charge families to get their kids new gear is extortion.



mrkleen09




Posts

: 3197


Join date

: 2009-10-16


Age

: 49



Morris is definitely the grumpy type, but that can add to overall chemistry. The C's haven't had a player with this good of a scowl since the Perkins Era. A true championship contender needs a stacked roster. I think Morris is okay with the move to the bench. He seems to just not want to talk about it. Winning cures everything. Although he does seem to be the only player to worry about for attitude, say if Theis and Baynes move in front of him for minutes.

I don't see that happening. He is better than I thought for offense. I assumed he had no game to the hoop. He reminds me of Pierce at 34-35, slower and bigger but still able to create the shot or go to the rim.

Baynes as starter makes more sense unless the other team is very small. Bench scoring needed a boost. It's a win-win.

Phil Pressey




Posts

: 1959


Join date

: 2017-10-24




---
Permissions in this forum:
You
cannot
reply to topics in this forum