https://www.yahoo.com/sports/lavar-ball-lonzo-ball-won-211501931.html
LaVar Ball: Lonzo Ball won't re-sign with Lakers unless they sign LiAngelo
NBC Sports • Dan Feldman • 1 hour 24 minutes ago
When LaVar Ball said Luke Walton lost the Lakers, some players strongly defended their coach. Not LaVar's son, Lonzo Ball. The promising rookie didn't commit to either side. That, and the Lakers' on-the-record silence on the issue, sparked speculation and rumors.
But the Lakers found a little groove, and the hysteria quieted. The words of LaVar – who's in Lithuania, where his other sons, LiAngelo and LaMelo, are playing – faded.
So, LaVar has cooked up another way to get his name into headlines.
Donatas Urbonas: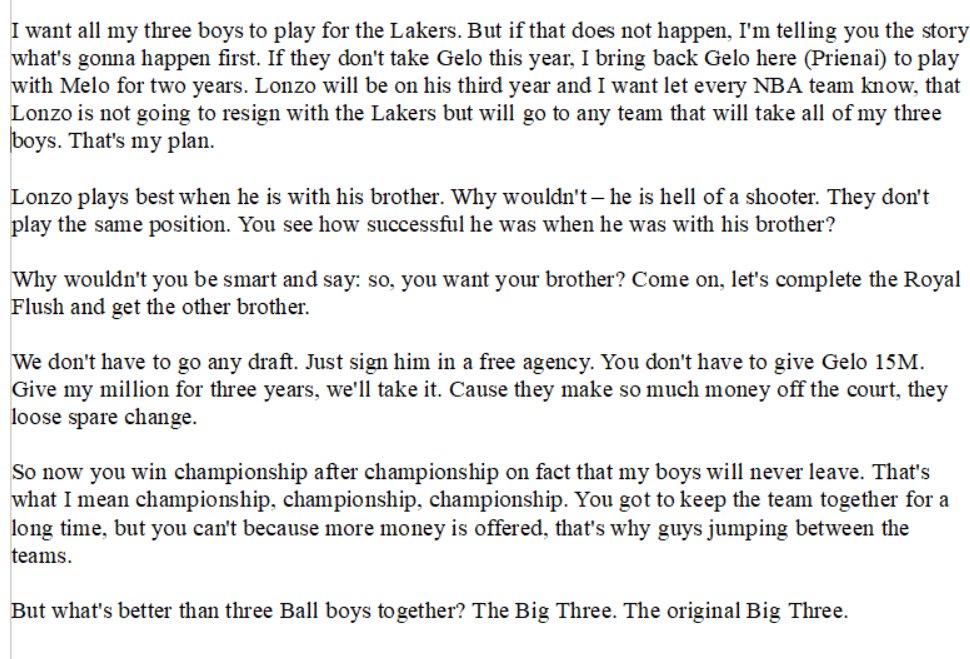 Donatas Urbonas
@Urbodo
LaVar Ball on his big plan how he's going to bring Lonzo, Melo and Gelo to one NBA team: "Lonzo will be on his 3rd year and I want let every NBA team know, that Lonzo is not going to resign with the Lakers, but will go to any team, that will take all of my three boys."
12:07 PM - Feb 12, 2018
1,192
867 people are talking about this
It's hard to follow LaVar's exact timeline here. (It's hard to follow a lot of what he says.) But let's try to unpack it.
Lonzo is under contract through the 2020-21 season. The Lakers have team options on the final two years, but they're not declining those unless Lonzo stumbles badly (in which case this is all moot). The Lakers can also make Lonzo a restricted free agent in 2021, which means the soonest Lonzo can unilaterally leave Los Angeles is 2022, and that would require taking his qualifying in 2021.
In other words, Lonzo can't going anywhere anytime soon. The Lakers shouldn't feel pressed to get LiAngelo, a low-end prospect.
But could there be actual ramifications for not drafting him or signing him? LaVar acts as if he's Lonzo's de facto manager/agent. Lonzo has never shut the door on that perception.
He'll get asked about this, though. It'll be another opportunity to distance himself from his father or his franchise – or walk a delicate middle line yet again. It's a tough spot for a 20-year-old.
That, more than the threat of him walking in free agency, is why the Lakers are worried about him.
bob
MY NOTE:  Weird.  I read this story and suddenly I don't feel quite as bad about the Cleveland game anymore.

.

bobheckler




Posts

: 35759


Join date

: 2009-10-28



Lonzo has played 36 games this year and Lavar is talking about him not resigning? really?

He has really once again put his son in a bad situation. Sooner or later Lonzo will challenge his farther's assertions. It is going to happen

dboss



dboss




Posts

: 7669


Join date

: 2009-11-01



This is Magic Johnson's nightmare to deal with. If I were him, I would trade the kid to Sacto and let them deal with it. This is unreal. Any GM worth his salt will tell this guy to go to hell. He will ruin those kids lives before he is through.

RosalieTCeltics




Posts

: 15803


Join date

: 2009-10-17


Age

: 70



This Lavar guy is always interesting even if not ever too logical.

Glad that I was not his son and also that only his three kids have had to be raised by him.

wideclyde




Posts

: 1430


Join date

: 2015-12-14




---
Permissions in this forum:
You
cannot
reply to topics in this forum