https://www.yahoo.com/sports/lavar-ball-lonzo-ball-won-211501931.html
LaVar Ball: Lonzo Ball won't re-sign with Lakers unless they sign LiAngelo
NBC Sports • Dan Feldman • 1 hour 24 minutes ago
When LaVar Ball said Luke Walton lost the Lakers, some players strongly defended their coach. Not LaVar's son, Lonzo Ball. The promising rookie didn't commit to either side. That, and the Lakers' on-the-record silence on the issue, sparked speculation and rumors.
But the Lakers found a little groove, and the hysteria quieted. The words of LaVar – who's in Lithuania, where his other sons, LiAngelo and LaMelo, are playing – faded.
So, LaVar has cooked up another way to get his name into headlines.
Donatas Urbonas: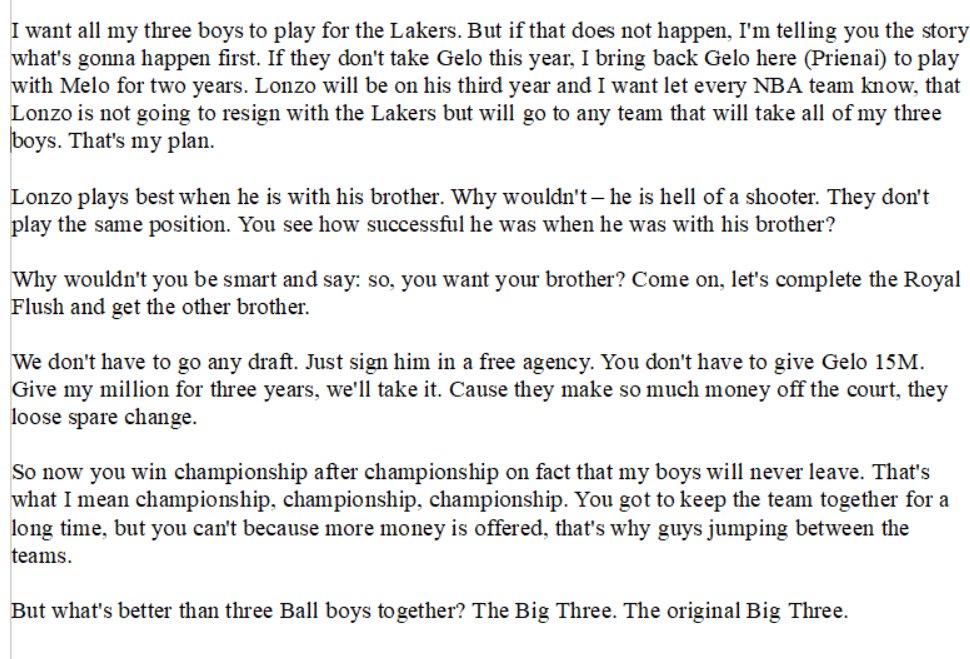 Donatas Urbonas
@Urbodo
LaVar Ball on his big plan how he's going to bring Lonzo, Melo and Gelo to one NBA team: "Lonzo will be on his 3rd year and I want let every NBA team know, that Lonzo is not going to resign with the Lakers, but will go to any team, that will take all of my three boys."
12:07 PM - Feb 12, 2018
1,192
867 people are talking about this
It's hard to follow LaVar's exact timeline here. (It's hard to follow a lot of what he says.) But let's try to unpack it.
Lonzo is under contract through the 2020-21 season. The Lakers have team options on the final two years, but they're not declining those unless Lonzo stumbles badly (in which case this is all moot). The Lakers can also make Lonzo a restricted free agent in 2021, which means the soonest Lonzo can unilaterally leave Los Angeles is 2022, and that would require taking his qualifying in 2021.
In other words, Lonzo can't going anywhere anytime soon. The Lakers shouldn't feel pressed to get LiAngelo, a low-end prospect.
But could there be actual ramifications for not drafting him or signing him? LaVar acts as if he's Lonzo's de facto manager/agent. Lonzo has never shut the door on that perception.
He'll get asked about this, though. It'll be another opportunity to distance himself from his father or his franchise – or walk a delicate middle line yet again. It's a tough spot for a 20-year-old.
That, more than the threat of him walking in free agency, is why the Lakers are worried about him.
bob
MY NOTE:  Weird.  I read this story and suddenly I don't feel quite as bad about the Cleveland game anymore.

.

bobheckler




Posts

: 40589


Join date

: 2009-10-28



Lonzo has played 36 games this year and Lavar is talking about him not resigning? really?

He has really once again put his son in a bad situation. Sooner or later Lonzo will challenge his farther's assertions. It is going to happen

dboss



dboss




Posts

: 10293


Join date

: 2009-11-01


Age

: 69



This is Magic Johnson's nightmare to deal with. If I were him, I would trade the kid to Sacto and let them deal with it. This is unreal. Any GM worth his salt will tell this guy to go to hell. He will ruin those kids lives before he is through.

RosalieTCeltics




Posts

: 19867


Join date

: 2009-10-17


Age

: 71



This Lavar guy is always interesting even if not ever too logical.

Glad that I was not his son and also that only his three kids have had to be raised by him.

wideclyde




Posts

: 1863


Join date

: 2015-12-14



Well, here's where we see if Magic has any stones...
https://sports.yahoo.com/agent-liangelo-ball-declares-2018-nba-draft-132424934.html
Agent: LiAngelo Ball declares for 2018 NBA draft
Shams CharaniaYahoo Sports
Mar 27, 2018, 6:24 AM
LiAngelo Ball, 19, has formally submitted early-entry paperwork to enter the June draft. (AP)
LiAngelo Ball has declared for the 2018 NBA draft, his agent, Harrison Gaines, told Yahoo Sports.
Ball, 19, has formally submitted early-entry paperwork to enter the June draft. Ball has played professionally with Lithuanian team Vytautas Prienu since parting with UCLA in December after a shoplifting scandal in China. LiAngelo and LaMelo Ball — the younger brothers of Los Angeles Lakers starting point guard Lonzo Ball — joined Vytautas in January on one-year contracts.
LiAngelo Ball is expected to work out for several NBA teams when he returns from playing for Vytautas and will participate in the Pro Basketball Combine at IMG Academy (Florida) in May in front of team executives. As NBA teams increasingly value 3-point shooting and defending wings, Ball will have an opportunity to prove to teams that he is a potential draft pick.
Ball, a 6-foot-5 guard/forward, has established himself as a pro player this season in Lithuania. He's averaging a league-leading 15.7 points and 2.9 rebounds and is shooting 45 percent from 3-point range in nine first-division Lithuanian league games. Ball has shown a two-way ability because of his size, strength and 3-point shooting, and has already emerged as one of the team leaders and positive voices for Vytautas.
Ball starred at Chino Hills High in California alongside LaMelo and Lonzo. In December 2016, LiAngelo had a 72-point performance for Chino Hills, and in February LaMelo had a 92-point game. Lonzo, LiAngelo and LaMelo led Chino Hills to a state championship in 2016.
bob
.

bobheckler




Posts

: 40589


Join date

: 2009-10-28



LaVar Ball reminds me of Schwarzenegger. He has had a dream for a long time and instead of just waiting for it to happen he is being proactive. He is actively trying to manifest that dream. Agree or disagree and I think most of us disagree with his tactics, his style, you have to give the guy credit for standing up to the NBA.

It's easy to think the guy is just a whack job. He isn't. It may be confusing for us to follow along when he is on a rant but I bet things are a lot clearer in his mind then in ours regarding his phamily. He's on a mission to see his sons play together their whole career. As long as that is their mission then this will continue for at least a few more years. What will we say if LA trades him to Sacto, they sign his brothers, and Sacto becomes relevant? (not gonna hold my breath lol)



It's going to be very interesting to see how this plays out. In the end, for me, it's a "whatever" moment. I got no skin in this game.

But I respect anyone who takes on corporateamerica whether or not I agree.

How special is it that this is the Lakers problem?

mulcogiseng




Posts

: 1091


Join date

: 2009-10-21


Age

: 70



I am sure that every (yes, EVERY) NBA general manager is so happy not to have this nutty father to deal with.

The saddest part of the entire Ball issue is that the kid playing for the Lakers is always being tossed around and bounced off the pavement by his own dad.  Does the NBA look into child abuse?

Dad, give the kid a break.

wideclyde




Posts

: 1863


Join date

: 2015-12-14





Similar topics
---
Permissions in this forum:
You
cannot
reply to topics in this forum