http://lexnihilnovi.blogspot.com/2018/09/kobe-drawing-interesting-comparisons.html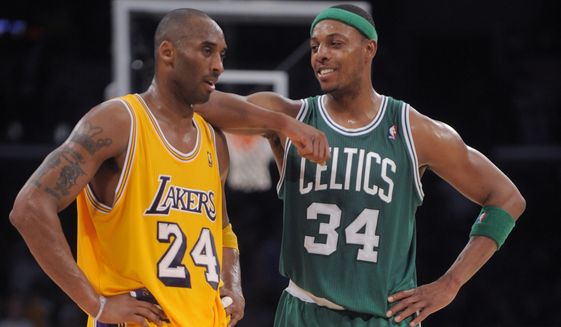 Kobe Drawing Interesting Comparisons
November 23, 1997
He is already on a first-name basis with his colleagues, teammates, fans, and everyone else. The name certainly is different - Kobe. The individual is certainly different, too.
The rampaging Lakers make their only visit to Boston this week, and Kobe Bryant arrives with a package so terrifyingly dynamic and explosive that he already is drawing comparisons to, well, I'm not going to say it. Most people liken him to Grant Hill, but Bryant is a hungry carnivore compared with the Pistons' cerebral Mr. Intel. No, the player people are seeing when they watch Bryant happens to play for the Chicago Bulls - and it isn't Joe Kleine. That's all you have to know, and this is not an Adidas spin.
"That kid," marveled Rick Fox, "is special. He's at a stage already in his game where he's capable of doing something amazing every time he has the ball. I suppose if he's guilty of anything, it's trying to hit a home run on every play, but the problem is that he really can do it. There are still times when two guys will come down on him, and he'll try to beat them instead of wondering where the open man is. But then again, he usually beats the guys. There was one game this season when coach Del Harris turned to us and said, 'I wish he would start missing some of that stuff so I can tell him to cut it out.' "
Bryant is 19. He is averaging 15.1 points, 2.7 rebounds, and 2.9 assists in 25.3 minutes a game. But numbers only begin to tell the story of this putative phenom.
He has a dominating streak in him that shows up every day in practice, where the word from Laker spies is that he regularly abuses Eddie Jones, no slouch himself. He is willing himself to be a great one.
Once he gets a reliable outside shot - he's shooting only 40.5 percent, 20 percent on treys - the party, as they say, will be over. And that day seems to be coming soon.
"You watch him in practice," Jerry West, the Lakers' venerable general manager says, "and he is just unbelievable. He is one of those unique talents that doesn't come along that often."
Bryant is into self-improvement in a very big way. He says he is more comfortable this year simply because Harris has given him a longer leash.
"I have a lot more freedom," he said. "My teammates trust me. Mentally, as a team, I think we are much better this season because we approach every game as if it is our last. Last year, we wanted it. But I don't think we understood what it was all about. It comes down to maturity, staying together, things like that. It's fun. That's what I like most about it. It's fun."
The Lakers and Bryant are a terrific fit. He can grow and mature without having to be The Man, which might not have been the case had he gone to some godforsaken outpost (New Jersey comes to mind).
He was brought along slowly last season, still won the Slam-Dunk and made second-team All-Rookie. Overall, he averaged 15.5 minutes and 7.6 points, hardly eye-popping numbers. This year he is getting more minutes and is developing fast. West said Bryant's defense has come a long way, evidenced Tuesday against Utah when he blocked a game-tying shot, retrieved the ball, and went in for a game-closing dunk.
"For me, the defense hasn't been that hard," he said. "Maybe at first it was, but Byron Scott and Rick taught me some of those veteran tricks of theirs."
Said West, "He is going to be a great defensive player. And he already creates so many matchup problems. He just wants to be great."
So take a good look at both No. 8's on the roster. The Celtics could have taken Bryant in the draft and were, in fact, mesmerized by his workout. They passed on him and took Antoine Walker, a choice they are very happy to have made. The Lakers, meanwhile, had a deal with Charlotte (Vlade Divac for Bryant, whom Charlotte would select with the 13th pick). All that had to happen was for Bryant to be available.
In what may well prove to be tremendous blunders, the Clippers (Lorenzen Wright), Mavericks (Samaki Walker), Warriors (Todd Fuller), Pacers (Erick Dampier), and Cavs (Vitaly Potapenko) all had a chance at Bryant and passed. West wouldn't trade Bryant for all five of those players.
Yes, it now seems that West did it again. In a short time, he remade the Lakers by signing Shaquille O'Neal, drafting Bryant, and ensuring that his team will be championship-driven well into the next century.
What'd he say?
Rick Pitino doesn't sweat the small stuff, so it's unlikely he'll be the least bit upset that he has been nominated as one of 1997's top 10 pretentious sports figures in a tongue-in-cheek poll conducted by Smirnoff. Why? According to the Smirnoff release, "for claiming that money isn't as important as loyalty just hours before accepting $ 70 million actually it was $ 50 million to coach in Boston, giving new meaning to the term 'Celtic Green.' " Fans can vote for Pitino or any of the other nominees on Smirnoff's web site, www.smirnoff.com. Among the other nominees are fellow basketball figures Allen Iverson and Kevin Garnett, boxer Riddick Bowe, plus Barry Switzer, George Steinbrenner (he must be a regular), and our personal favorite, Tiger Woods. The nomination for Woods notes that he signed a lucrative deal with American Express but is part-owner of a restaurant that does not accept American Express cards. Dennis Rodman won last year . . . The Pacers' Mark Jackson, who is second in career assists among active players and ninth overall, is averaging 8 per game this season, and soon will move into fifth place all-time, ahead of such luminaries as Guy Rodgers, Bob Cousy, Lenny Wilkens, and Maurice Cheeks . . . In case you're wondering, yes, the Celtics did call Golden State inquiring about Tony Delk. They were willing to part with Roy Rogers as part of the deal, but it never came to pass. (It's not as if the Boston roster is stocked with players anyone really wants; after Walker, the conversation generally stops.) Delk is not exactly burning up the windows in Beirut By the Bay and in fact did not play Thursday when the Warriors broke through and won their first game, beating Dallas. By the way, if the Warriors end up with one of the first three picks in the draft, they are required to offer it to Orlando as part of the Chris Webber/Anfernee Hardaway deal . . . Pitino was the first Celtichead coach in a while to not only get a technical foul but also get tossed from a game. We all know M.L. Carr had an almost pathological aversion to technicals. He got only one in two years, and it was reversed. Prior to that, Chris Ford, a holler kind of guy, picked up three in his last season, but you have to go back to 1993-94 to find a Celtic coach getting ejected. That was the night Joey Crawford gave Ford the heave-ho after Ford baited the referee with some comments about Darell Garretson. It was later determined that Crawford acted hastily and Ford's fine was rescinded.
Exodus in works?
You sort of figured that Isiah Thomas's days in Toronto might be numbered when he failed to gain control of the team last summer. He also was having trouble getting an arena deal done and then saw his new boss reject a couple of trades that would have brought the likes of Jerry Stackhouse or Clarence Weatherspoon to Canada. Sadly for Toronto, Thomas, easily the most identifiable figure for the franchise, is now gone. Sadly for Toronto, he has left behind a team that is an utter mess. Entering last night's game in Miami, the Raptors had lost eight straight. In their previous three games, they had twice been hammered at home (105-77 by Indiana and 122-109 by the Celtics) and been bludgeoned in Houston (127-97). Heading into the weekend, they were allowing opponents to shoot 50.1 percent from the field, worst in the NBA, and were being outscored by an average of 11.5 points a game, second only to the hideous Warriors (16.5). Including last night's game, six of their next seven are against the NBA elite, including roadies at LA (Lakers), Utah, and Phoenix, and home games against the Trail Blazers and Hawks. What's not known is how quickly Thomas's departure greases the skids for others to follow. Coach Darrell Walker, who was Thomas's choice, has to wonder about his neck. And what about the players? Damon Stoudamire always said he wanted to stay with Thomas in Toronto. He is a free agent next summer and said this past week, "You can write between the lines there's a new one whatever you want, but I'll say I would have done what he did." The Raptors may be forced to deal him rather than lose him and get nothing. Walt Williams, who signed a four-year deal last summer, said Thomas was the main reason he re-signed. And why would anyone now want to play in Toronto, since Thomas, who was a reason to go there, is gone? Who knows, maybe Marcus Camby will bolt, too, and renew his ties with Coach Cal. At this point, almost anything seems possible and not much of it looks promising.
West going?
West, who will turn 60 next May, says he is more convinced than ever that next year, the 1998-99 season, will be his last. "I have one more year left on my contract," he said. "I do want to finish it out. But I also now realize more than ever that I have to be concerned about myself, too." If he does indeed go, he will leave behind an executive legacy second only to that of Red Auerbach . . . The Pistons are in town tonight and they are doing a 180 from last season. You may recall they burst from the blocks at 20-4 last year but then hit the wall and became a first-round playoff casualty (Atlanta). This year, they won their first two (beating the Knicks in New York) but had won twice since then heading into last night's home game with Atlanta. Included were home losses to Indiana, Orlando, and Portland as well as a 1-3 Western swing with the only victory coming against Golden State. After this week's loss to Portland, coach Doug Collins challenged his team to turn things around. "This has to be the guys," he said. "I'm not trying to step off the ship, because I'm in charge of the ship. But they know what they have to do. They have to fight their way out of this. We spent two years building this and we are losing all of this overnight." Detroit may have Joe Dumars available in some capacity tonight. He has logged only 21 minutes all season, because of a hamstring problem and a separated shoulder. You can be sure that the Pistons, having played last night, will see the press as much as possible tonight. Having a heady ballhandler like Dumars would help.
AND ANOTHER THING . . . The NBA: You gotta love it
Two very prominent late-night comedians had some fun at the expense of basketball this past week. The topic: the Iowa septuplets.
"The babies already got job offers when they turn 6 from a Nike factory in Indonesia," quipped Jay Leno.
David Letterman also had his say.
"Here's how they came out: boy, girl, girl, girl, girl, boy, boy," said Letterman (who was wrong on the order but got his point across). "Sounds like Dennis Rodman selecting his wardrobe in the morning, doesn't it?"
Always the last to know
Knicks coach Jeff Van Gundy says he was not aware that Larry Johnson has been ailing all season with a sore toe. LJ said after Thursday's big win in Atlanta that he waited too long to have the toe examined and made a mistake trying to play through the injury. (It couldn't be that Chris Mills is pressing him, could it? Nah.)
"The first time he mentioned it was Wednesday," Van Gundy said. "I really haven't analyzed how it's affecting him. He wants to play."
bob
.

bobheckler




Posts

: 41821


Join date

: 2009-10-28




---
Permissions in this forum:
You
cannot
reply to topics in this forum