https://bleacherreport.com/articles/2808307-do-the-boston-celtics-have-a-jaylen-brown-problem
Do the Boston Celtics Have a Jaylen Brown Problem?
DAN FAVALE
NOVEMBER 29, 2018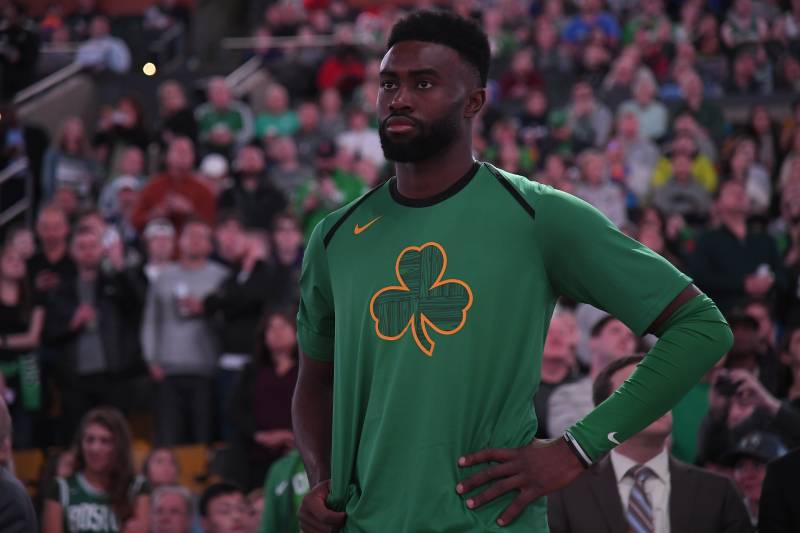 Notice: Copyright 2018 NBAE (Photo by Brian Babineau/NBAE via Getty Images)
Brian Babineau/Getty Images
No one on the Boston Celtics has received a pass for the team's early seesaw act.
Everyone with fault to find is being held accountable, right down to the once-irreproachable head coach Brad Stevens. And yes, they're all just as shocked by their onset sputtering as the rest of us.
"I thought we were just going to take off," Al Horford told the New York Times' Marc Stein. "I thought it was going to be...boom."
The Celtics have been more blah than boom. They own the NBA's second-best defense, but their offense has stumbled and stuttered against a jumbled, if oversaturated, pecking order. They are 25th in points scored per possession and have only been a hair better over their past 10 games, checking in at 19th.
Boston has found some semblance of structure in recent weeks. The offense is 16th in points scored per half-court possession since the start of November, a stark improvement over its 25th-place ranking from October, according to Cleaning The Glass.
Still, the gap between what the Celtics are and what they were universally expected to be remains enormous. It has narrowed ever so slightly but is not on the verge of being bridged.
In their long line of surprising and vexing letdowns, Jaylen Brown's struggles are the most curious. They might even be the most damning.
They're definitely the hardest to explain.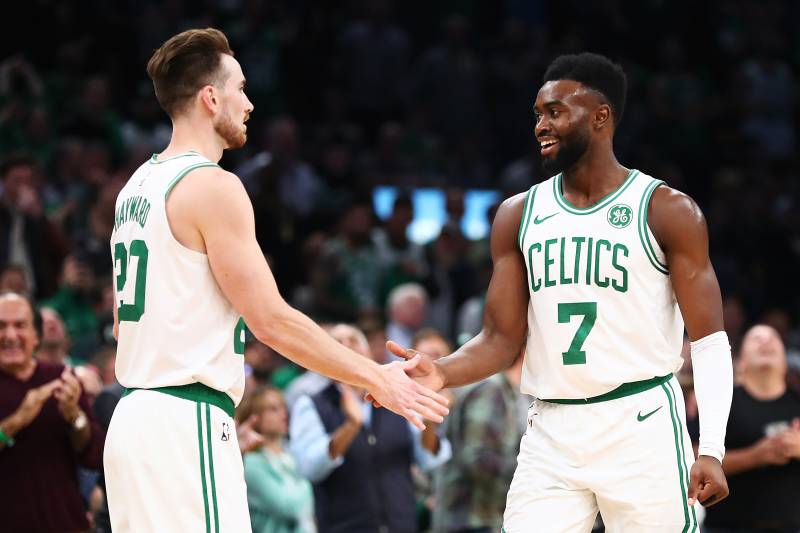 The heart of Brown's struggles are hard to pinpoint.Adam Glanzman/Getty Images
Most of Boston's other disappointments have a root cause. Jayson Tatum needed to stop firing up junky long twos (and he has). The value of Aron Baynes' grit will wax and wane when deployed in small, choppy bursts. Terry Rozier needs a more prominent role to match last season's impact and was never the most efficient scorer in the first place.
Gordon Hayward's opening slog, while hardly ideal, isn't the biggest bombshell. He's working his way back from a dislocated ankle and fractured leg that required further surgery in May. Stevens has no choice other than to futz and fiddle with a rotation reeling from it all.
Brown's regression is far more difficult to comprehend. Sure, a grace period was always in the cards. The Celtics are returning two stars, Hayward and Kyrie Irving, to an offensive hierarchy that came to use Brown, Rozier and Tatum as crutches by the end of 2018 postseason. Transition was unavoidable, and spot hiccups and failures are part of that process.
But the regular season has hit the quarter-pole. Boston's search for balance and continuity isn't supposed to be taking this long. And Brown, who's currently sidelined with a lower back injury, isn't supposed to be enduring one of most extensive setbacks.
His fit should be noticeably cleaner than that of Hayward or Rozier. Over half of his offensive possessions last year came as spot-ups and in transition. He attempted a larger share of his shots without using a dribble (51.5 percent) than Tatum (34.3 percent).
Extra ball-handlers and additional mouths to feed shouldn't be throwing Brown into a downward spiral. He retained his breakout label entering 2018-19 in large part because he's more plug-and-play than advertised.
That hasn't changed, which is where the real concern begin to kicks in. The nucleus of Brown's offensive role has barely shifted. More of his attempts are coming as pull-up jumpers (17.5 percent), but the uptick isn't drastic. It's smack dab in the middle of last year's overall frequency (14.5 percent) and his post-Kyrie injury volume (20.2 percent).
This relative consistency holds firm across Brown's shot distribution:
Jaylen Brown's Shot Distribution
Season................%FGA Catch-and-Shoot........%FGA 0-1 Dribbles.........%FGA 2-7+ Dribbles...........%FGA at Rim
2017-18...............38.6..................................63.2.............................36.8..................................45
2018-19...............35.4..................................58.7.............................41.3..................................43
Stats via NBA.com and Cleaning the Glass
.
Not one of the shifts in his profile is substantive enough to count as a diagnosis. His three-point-attempt rate has barely moved. His looks from the corner are down, but that says more about Boston's application of Gordon Hayward. Brown's free-throw frequency has dipped, but neither he nor this Celtics core has ever been great at getting to line. And he's averaging more drives per game (5.1, up from 4.

while playing fewer minutes.
For the most part, Brown's malaise comes back to his missing shots that went down last year—specifically from beyond the arc.
After hitting 42.6 percent of his corner triples in 2017-18, he's draining those same looks at a 25 percent clip. He's gone from putting down 39.4 percent of his open and wide-open treys last season to just 23.6 percent this year. And so on and so forth:
Jaylen Brown's Three-Point Woes
Season.........................3P%..........Corner 3P%..........Catch-and-Shoot 3P%..........Open/Wide-Open 3P%
2017-18.......................39.5...........42.6....................39.1...................................39.4
2018-19.......................25.3...........25.0....................25.4...................................23.6
Stats via NBA.com and Basketball Reference.
Brown is straight whiffing on uncontested looks altogether. Among 101 players who have attempted more than 45 shots with a defender at least six feet away, his effective field-goal percentage (34.0) ranks...101st.
A bunch of Brown's jumpers have fallen short. Even when he's in rhythm and not facing strong contests, the makes just aren't there:
Gimmes inside the arc haven't been Brown's friend, either. His accuracy around the rim has dropped by two points, while his efficiency on short mid-rangers has plummeted by 10, per Cleaning the Glass. He's shooting just 38.5 percent on driving layup attempts:
Challenging defenses that aren't yet set has even proved to be a chore:
Botched bunnies and missed open threes are either encouraging or alarming. It depends on how you look at them.
Brown has to get better, because he's already been better. He is better. But by floundering inside his wheelhouse, it is difficult for Boston to ride out the storm. He doesn't affect the offense in enough ways.
Featuring him on the ball more is too risky. He doesn't cough up possession off the dribble, but missed shots can hurt just as much as turnovers. He's passing out of more drives (33 percent of the time), but he's not a setup man. He's averaging fewer potential assists than Bam Adebayo, a big man, while making more passes.
The Celtics aren't asking Brown to create for everyone around him, so that's fine. They have plenty of others to take on that responsibility, and he's not finishing nearly enough possessions for his inconsequential assist splits to receive a full-fledged crucification. But Boston still needs him to be a less predictable offensive player.
Subsisting on assisted baskets isn't a problem. Brown makes quick decisions off the catch. They're just not complicated ones. That absence of variation catches up with him when he's attacking the basket more than any other time.
Some of his drives end prematurely. He'll leave his feet a tick too early and float rather than knife into traffic—a recipe that won't help him increase his trips to the charity stripe:
Many of his challenges are just plain ill-conceived for someone who has yet to ever seem entirely comfortable finishing through any sort of contact, major or minor: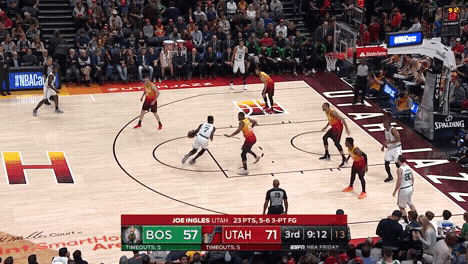 It is in these moments Brown strays from the player the Celtics need him to be. They could live with that if his usual looks were finding nylon. They're not. And Boston's offense is feeling the squeeze.
"According to Cleaning The Glass, the Celtics were 8.8 points better per 100 possessions when Brown was on the floor last year. This year, they're 9.8 points worse," Boston.com's John Karalis wrote. "In half-court possessions, against set defenses, the Celtics were plus-5.6 with Brown on the floor last year but are a negative-3.6 this year. Even in transition, where Brown is supposed to shine, they were a plus-6.4 last season, but they're a negative-10.9 this year."
Stevens has talked about upping the pace as a possible remedy. The Celtics are 29th in average possession time following a made shot by their opponent and 18th when grabbing a defensive rebound, according to Inpredictable. A conscious effort to push the ball, particularly on the inbounds, might help Brown settle into a progression. He hasn't ruled the day in transition, but fast breaks give way to easier looks.
Plus, the Celtics have more than enough reasons to believe Brown is just working through a rut. His deviations from what they need are finite, and he's missing looks he's made before. His defense, an issue to start the season, is getting better. He's not fouling as much or having as hard of a time navigating ball-handlers and screens inside the arc.
That's not a license to disregard the bigger picture. Brown's efficiency could do a complete 180, and the Celtics still wouldn't be off the hook. He is extension-eligible this summer, with restricted free agency on the horizon in 2020. The pull to distinguish himself is real, just like it would be for any other 20-something player coming up on his next contract.
"It's definitely been a challenge, and that's a part of this league, a part of life, challenges and things like that," Brown said, per the Boston Herald's Stephen Bulpett. "Just coming out every day and trying to do what's best for the team, but also balancing what's best for yourself and your family. Ultimately if we win, that's number one. And everybody knows that."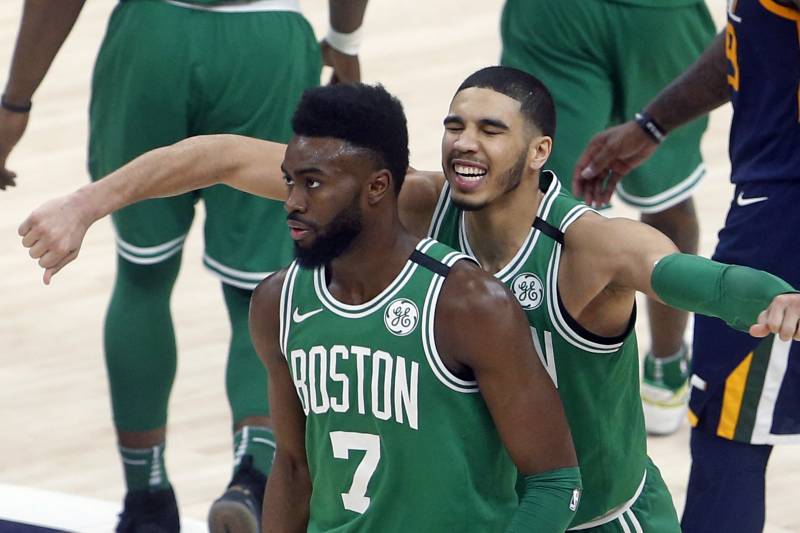 Tough calls await the Celtics if Brown wants a more expansive offensive role.Rick Bowmer/Associated Press
Striking that balance will be hard for Brown in Boston, even if the Celtics are winning. Hayward has a $34.2 million player option for 2020-21, when Brown's next deal would take effect. Horford and Hayward (and Rozier) will be on new contracts by then. Tatum is on course to make superstar money one year later, in 2021-22.
The finances get dicey if the Celtics want to keep them all. Their plans for Horford, Irving and Tatum will almost assuredly impact how they handle Brown's windfall. Extension negotiations will be mega-complicated if he doesn't recapture last season's form. Even then, for better or worse, the money is at least something they can control.
What Boston cannot control is Brown's comfort level within a role that doesn't ever figure to call for expansion. Hayward, Horford, Irving, Tatum and Rozier make it tough for him to branch out with any sort of permanency. Shedding one or two would make it more feasible, but banking on eventual departures isn't a suitable resolution.
And that, more so than anything else, is the Celtics' Brown problem. They've laid out a role he's more than capable of handling, of owning, but it comes with a glass ceiling he might not ever fully accept.
bob
MY NOTE: If the Celtics have a "Jaylen Brown Problem" is a problem with having too many riches. Jaylen was supposed to come out of the gate fast and cover for Hayward's slow comeback. He hasn't, but over the course of the next 50-70 games there is plenty of time to find his game again. He works too hard not to. I do wish, however, that he spend less time making the scene and doing videos in the off-season and just live in the gym like Terry.
.

bobheckler




Posts

: 42210


Join date

: 2009-10-28



Jaylen's problem is that he has not been knocking down the 3 ball. But when he and AH and GH were all struggling to knock down shots it tends to overstate the obvious.

AH and GH are starting to shoot better. I am pretty certain that Jaylen will be fine as well. As he has worked to expand his game and try different things it is a work in progress.

dboss




Posts

: 11058


Join date

: 2009-11-01


Age

: 69



I think Jaylen has let games where he is struggling on the offensive end, the stunt his effort on the defensive end - and then it all goes in a big circle, rinse and repeat. He needs to buckle down on D - and let the rest of his game come to him.

But in the end, I do think it is very possible that he wont work out with this team long term. His best places on the court are some of the same places Tatum, Kyrie and Hayward are already in. How many slashers can you have on one team? Not sure this works as it is currently constituted.

Can you see Paul Pierce being nearly as effective if he were teamed with a drive first point guard (Kyrie) and another similar player who also likes the drive the ball (Tatum)? Can you see KD being as effective without Klay and Steph spacing the floor? THis was part of the problem in OKC - Westbrook and KD both needed the ball and needed their teammates to clear out for them to be effective.

If Jaylen develops a much more consistent jump shot - then he is not a liability when he sits in the corner and takes 3s. But right now, I see Jaylen often the 4th option - with Kyrie driving and playing pick and rolls with Horford - and Morris and Tatum asking for clearouts all the time.

Time will tell - but I could see Jaylen being part of a bigger deal in the near future.

mrkleen09




Posts

: 3616


Join date

: 2009-10-16


Age

: 50



The Cs do NOT have a Jaylen Brown problem! He is a young player who may not be all world quite yet (like many of us would like), but he is an exceptional athlete who will be a star in the NBA.

wideclyde




Posts

: 1996


Join date

: 2015-12-14



This is a long winded article about nothing, not the other comments, we shall all see. I think the reintegration of Hayward, and having so much other depth has him thinking too much, he is not playing on instinct and attacking and knowing where to get his shots off. I have also seen a lot of plays where he overpasses too, hopefully this is all behind him and he will find his niche and stroke. Sure we wish 2 J's were as good as they could be at 24 and 25, but it's a process and I have to think the cream always rises to the top, kid is still young and raw, last year I was really impressed with how he played in big games against the big names, he went after it. We have a lot of big games coming up.

cowens/oldschool




Posts

: 16321


Join date

: 2009-10-18



This team seems to play better when down a player or two. It worked last year but this season not so much. Now that the team has been down that player or two they are playing better. Just like we thot they would. Brad changed the lineup at the same time that play started to gel. When Jaylen comes back he will be playing with a "different" team and whatever role Brad has for him he will fill. Just a reminder that this is Dec 4th. Still a long way to go just to get to next year. The conversation is already starting to change. By mid January we will all be singing a different tune methinks.

mulcogiseng




Posts

: 1091


Join date

: 2009-10-21


Age

: 71




---
Permissions in this forum:
You
cannot
reply to topics in this forum