DAL 93, BOS 114 Final


Celtics Wrap: Short-Handed C's Cruise Past Mavericks In 114-93 Win

NESN by Adam London on Fri, Jan 4, 2019 at 10:21PM

No Kyrie Irving, Marcus Morris and Aron Baynes? No problem.

The short-handed Boston Celtics looked anything but Friday night, as they notched their second straight win with a 114-93 victory over the Dallas Mavericks at TD Garden.

Boston employed a well-rounded offense and rigorous defense to split the regular-season series with Dallas. Jaylen Brown logged a team-high 21 points and was one of five Celtics to score in double figures. Gordon Hayward fell two assists shy of a triple double with 16 points, 10 rebounds and eight assists.

With the win, the Celtics improve to 23-15, while the Mavericks fall to 18-20.

Here's how it all went down:

STARTING FIVE
PG: Terry Rozier
SG: Marcus Smart
SF: Jaylen Brown
PF: Jayson Tatum
C: Al Horford

3-POINT PARTY
It felt as though the Celtics only were interested in pulling up from deep in the early goings. Of Boston's 25 first-quarter shots, 16 came from beyond the arc. While the C's only connected on six of them, they still managed to grab a 34-24 lead after 12 minutes of play.

Three Celtics knocked down a pair of 3-pointers in the first. Tatum led all scorers with 10 first-quarter points, while Smart wasn't far behind with eight. But the most surprising source was Brad Wanamaker, who drilled two baskets from beyond the arc in the final 37 seconds of the frame.

The Mavs couldn't get much going on offense, as no visiting player scored more than five points in the first. DeAndre Jordan, as he usually does, dominated the glass with seven rebounds.

MISSED OPPORTUNITY
The Celtics appeared to have the Mavericks on the ropes, but struggles down the stretch of the second quarter prevented this one from getting out of hand. After Smart knocked down a 3-pointer to give the Celtics a 17-point lead with 4:40 left in the frame, Boston missed its next 12 shots, allowing Dallas to finish the second on a 15-5 run and cut the deficit to 58-51 at the break.

The Mavs weren't overly impressive in the quarter, but they managed to chip away nonetheless. Devin Harris provided a boost off the bench with seven points, while Wesley Matthews notched six. Rookie phenom Luka Doncic turn in five second-quarter points, including this wild 3-pointer that beat the halftime buzzer.

BREATHING ROOM
The Mavs carried the momentum into the start of the third, opening the quarter on a quick 6-0 run to cut the deficit to one and force Brad Stevens to take a timeout less than two minutes into the frame. But it was all Celtics the rest of the way, as an efficient offense paved the way for an 84-68 lead heading into the fourth.

Horford carried the load with eight third-quarter points, including a pair of 3-pointers, while Tatum and Brown both notched five. Dallas' offense, on the other hand, was nightmarish, as it only connected on five of 21 shots from the floor. In fact, the Mavericks endured a field-goal drought of five minutes and 50 seconds during the back end of the third.

FINISHING TOUCHES
Boston didn't even entertain the idea of a Dallas comeback, as the home team kept its foot on the gas en route to a convincing victory. Hayward led the charge with seven fourth-quarter points and knocked down one of the Celtics' seven 3-pointers in the final frame.

PLAY OF THE GAME
Horford still can throw it down in his 12th NBA season.

UP NEXT
The Celtics continue their homestand with a Monday night matchup against the Brooklyn Nets. Tip-off from TD Garden is set for 7:30 p.m. ET.

112288

112288




Posts

: 6852


Join date

: 2009-10-16



Marcus Smart is shooting 33.8% from 3 point land and cut down his attempts. He has really turned into the all around player we had hoped he would become.
Jaylen has really stepped up. So has Gordon - 16 points, 11 rebounds. Wow. Theis and Al are playing well. Terry was 2-9 but otherwise he played well. We are on our way, and all without Irving. Baynes, and Morris.

worcester




Posts

: 6917


Join date

: 2009-10-31


Age

: 72



Pretty sure I am the only person who has referred to him here--- Brad Wanamaker can play. Theis too. It is really too bad that he often has to play the 5 on this center-phobic team.

jrleftfoot




Posts

: 1062


Join date

: 2016-07-07



Didn't Wanamaker have 3 steals?

worcester




Posts

: 6917


Join date

: 2009-10-31


Age

: 72



worcester wrote:Didn't Wanamaker have 3 steals?
                                                                                            4 assists 3 rebounds , 2 for 2 from three, just one turnover, worcester. . might fill the Rozier role w/o the flash.

jrleftfoot




Posts

: 1062


Join date

: 2016-07-07



Pretty impressive performance, Brad#2.

worcester




Posts

: 6917


Join date

: 2009-10-31


Age

: 72



We will win a lot of games when 2 J's, GH and Smart are all on and spreading the ball and thought Jayson and GH could have easily played better as both missed many bunnies. Jaylen is developing sick midrange postgame. If we can keep having 3 of these 4 on each game that would be so great, Al and Theis doing a lot of good dirty things, can't wait for Baynes and Williams to get back. Hopefully when Kyrie comes back, will still be enough good shots for 2 J's and GH. We might be only team that plays so well with a main cog out because we do have so much depth and anyone can go off.

cowens/oldschool




Posts

: 16439


Join date

: 2009-10-18



Here's the game flow: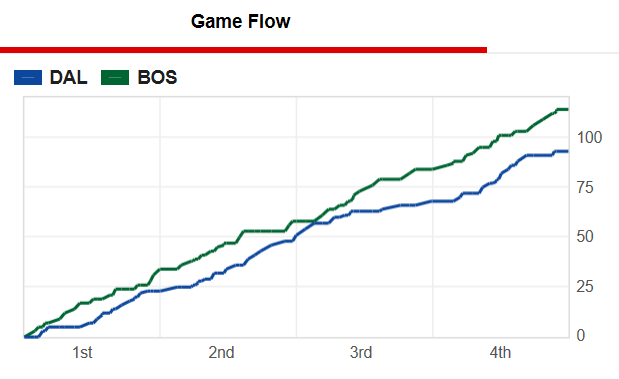 _________________

gyso




Posts

: 14762


Join date

: 2009-10-13



I thought this win was a pretty decent measuring stick.  Not a signature win, certainly not a high water mark, more of a low water mark.  We can beat a decent, albeit not good, team (if they were in the east they would have been in 8th playoff spot heading into last night's game) without Kyrie, Baynes and no Time Lord (Jordan would bully him off the court but Dwight Powell?).  And we won it convincingly, the final score makes the game look closer than it was, except for the beginning of the 3rd quarter where, once again, we came out weak and our 7 point halftime lead got cut to 1 in no time flat.  Our half-hearted starts to the 3rd quarter is the biggest single issue that concerns me at this time.  Do that against a good team or in a playoff game, especially if you're behind at the half, and they'll keep their sneakers on our throats for the rest of the game.

Tatum was 7-21, 4-11 from 3.  I hope he never talks to KoME again.  #Losehisnumber.

Horford with 8 assists, tied with Gordon Hayward.  Another good game by G.  16 points on 6-15.  He could have had more but he blew a few easy ones.  11 rebounds.  8 assists and a block.  He missed his first couple shots, and my eyes started to roll again, then he started to heat up.  I've been burned enough times by Hayward that I want to hold off for another game or so before I jump back on his bandwagon.  Nevertheless, two good games in a row is very encouraging.  Give me one more good game, G, and I'll take you off of cash-on-delivery and start extending you some credit because I'll then know you're good for it.

Jay King @ByJayKing
yesterday
Smart on Hayward: "Early on in the season guys were trying to pick on him and kind of exploit that matchup. But now he's more comfortable with his legs where he can hold his own and really get out there and defend, and then come in on offense and make plays."

Speaking of two strong games in a row, how about the resurrection of Jaylen Brown?!  As I mentioned on the Game On! thread twice in a row he is taking an extra half a beat of time on his jump shot before releasing it and it's going in more.  He's slowing down, a bit, and it's working.  High scoring 21 points on 9-15 and 3 steals.  Jaylen getting it done.

Dead-eye Marcus Smart.  6-11, 5-8 from 3, 17 points.  The final piece is being put into place to nominate him for All-World.  Shooting was his last weakness.


Adam Himmelsbach @AdamHimmelsbach
yesterday
Brad Wanamaker on his reaction when Brad Stevens told him to go in during the first quarter: "Honestly, I was like, 'What? What? What?!'"

Wanamaker with a very solid game.  Good defense as well as hitting his shots.  He's not a kid, he's 29 years old, and he just came in like a pro and did his thing.  Cynical me: "did Brad put him in to see how he'd do because Danny's phone is ringing for Rozier?".  Regardless, good job by the other Brad.

Jay King @ByJayKing
yesterday
Smart said Wanamaker's always ready: "It's kind of funny because you see guys like Brad who don't play as much, and in practice they're kind of stand-back or standoffish. It's the opposite with him. He's in the drills. He's doing things like he's playing 30, 25 minutes a night.

Jay King @ByJayKing
yesterday
Brad Stevens said he was "really, really happy" for Brad Wanamaker after he capitalized on his opportunity. Noted that the guard turned down serious money overseas and has needed to deal with a lot of DNPs for probably the first time in his life.

reply retweet like
Scott Souza
Scott Souza @Scott_Souza
yesterday
#Celtics Brad Stevens: I thought Brad Wanamaker was great. JJ Berea really killed us last time & Brad made it really hard on him. ... He gave up a lot to come here and not play a lot so you are really, really happy for him.

The NBA is going to be a lot of fun to watch for the next dozen years or so, especially the Milwaukee Bucks and the Dallas Mavericks.  Giannis and Luka are the future.  Jayson Tatum, and maybe Jaylen Brown, will have their place at the table too but, just as Magic and Bird energized the NBA back in the day, Johnny Attentivemumble and Luka Doncic are going to be the poster boys.  Doncic already has the skills, body and poise of a 3rd or 4th year all-star and he's just a rookie.  That 3ptr he hit to end the half was unreal but his game, overall, is fantastic.  I might enjoy watching him even more than The Freak precisely because he doesn't have to dominating physical gifts of Giannis.  Luka is just a very, very fundamentally sound player.  Trae Young is having a good rookie year but I don't know how much more upside he has.  Doncic is having a phenomenal rookie year (he's the #2 All-Star vote getter after LeBron.  Ahead of Durant and Anthony Davis.  That's nuts, and disrespectful, but highlights my point about him being the NBA's future poster boy.  The fans love Luka already) and he could get even better.

Goodbye Dirk?  He went 0-10 with the crowd cheering for him to hit the last shot of the game so he would go out with a smile.  Gave him a nice hand when he came into the game too.

Chris Forsberg @ChrisForsberg_
yesterday
Dirk on 0-for-10 in possible last Boston game: "[The Celtics] were trying to make me score at the end. On the one switch, I think it was Wanamaker, he didn't even put his hands up and I still came up real short. … I wish I would have at least made one."

reply retweet like
John Karalis
John Karalis @RedsArmy_John
yesterday
Jaylen Brown on Dirk: "I wanted him to make a shot, Jesus Christ" ... Added he got to know Dirk in South Africa. Called him super cool and a true legend

Theis played with tremendous energy last night.  He was bringing the ball up court after rebounding it himself ala Horford.  13 rebounds, 2 blocks.  Best game in a while.  We own his Early Bird Rights.



Brian Robb @BrianTRobb
about 8 hours ago
Over the last 20 games, the #Celtics have the best offense in the NBA (114.9 points per 100 possessions).

http://www.espn.com/nba/boxscore?gameId=401071242





bob


.

bobheckler




Posts

: 42358


Join date

: 2009-10-28



I am seeing a couple of Glimmers.

Both GH and JB are starting to score the basketball with a higher level of efficiency.  They have struggled to score all year long.  The Celtics style of play always looks more dynamic when guys are making their 3 point shots.

Boston shot 46.7%  21-45 is a ridiculous # of deep shots.

Marcus Smart looks pretty damn good for a non-shooter.  He is consistently releasing his shots with no hitch and the ball is going in the hole.  His shots are within the flow of the offense.

While those 3 are finding their range Jason Tatum is going in the opposite direction.  During December he shot only 33% from deep.  His 2 January games produced an eye sore while going 4-14 (around 29%)  it appears to me that his hitch has raised its' ugly head again.  His shot has 3 actions.  The rise up, the cock back and then the release,  The cock back (hitch) has altered his accuracy.  The more pronounced it is the less accurate touch on his shot.  I think it is correctable.  It is interesting to watch how a 20 year old develops as a shooter over stretches of the season.

Daniel Theis with 13 rebounds.  He also scored 8 points and handed out 3 assists, had 2 blocks and a steal in 23 very productive minutes.

Semi and Wannamakerr contributed as did TR and AH who hit the floor with a lot of intensity.

Good win

dboss




Posts

: 11223


Join date

: 2009-11-01


Age

: 69





Similar topics
---
Permissions in this forum:
You
cannot
reply to topics in this forum