Good interior defense + good perimeter defense + good ball movement + attacking the paint offense = A WIN..........SIMPLE........BOTTLE IT!!!!!!!

Only 40 pts in the paint tonight for Philly verses 54 pts last night...big difference!

Bench points - Philly 21pts....Celtics34pts!

Hey Jeff Green....keep watching your highlight DVD!!!!!!!! Great Game!!!!!!


DOES ANY ONE KNOW WHERE SCAL IS...I THOUGHT HE WAS GOING TO CALL GAMES WITH MIKE AND TOMMY?


NEXT GAME - WEDNESDAY - HOME - 8PM - DALLAS - CSNE/ESPN

POST GAME RECAP

ESPNBOSTON.COM

Rapid reaction: Celtics 92, 76ers 79

By Chris Forsberg | ESPNBoston.com

BOSTON -- Rapid reaction after the Boston Celtics defeated the Philadelphia 76ers 92-79 on Saturday evening at TD Garden:

THE NITTY GRITTY
Kevin Garnett scored a team-high 19 points on 9-of-11 shooting and paced a Celtics' offense that shot 53.3 percent from the floor. Ironically, Garnett did not grab a single rebound, only the fourth time in his career that's happened and first since Jan. 21, 1997. Rajon Rondo flirted with back-to-back triple-doubles, settling for seven points, 11 assists, and nine rebounds. Paul Pierce added 13 points and nine rebounds, while Jeff Green (16 points) had a solid night off the bench. Thaddeus Young scored a game-high 22 points, but the Celtics limited the damage done by Friday's hero Evan Turner (13 points, 3 rebounds, 3 assists).

TURNING POINT
With the Big Three off the floor, the Celtics' role players put together a nice little burst late in the first quarter. A one-possession game was broken open as Jason Terry hit a 3-pointer, Green produced a driving layup, and Jared Sullinger canned a 21-foot jumper as Boston opened a double-digit advantage (22-12 with 1:52 to go in first frame). Terry hit another 3-pointer late in the second quarter to spark a little 9-0 burst that Garnett capped with consecutive buckets for a 21-point cushion (45-24 with 1:59 to play in the half). The Celtics were still on top 20 at the intermission.

SIXERS MAKE A CHARGE
The Celtics and Sixers were content to trade baskets early in the third quarter (doing so on six consecutive possessions in fact, at one point). A Courtney Lee 3-pointer had Boston out front by 21, but Philadelphia responded with a 13-0 run against Boston's reserve unit, trimming the lead to single digits. Garnett subbed back in and hit a 17-foot fadeaway jumper to stop the bleeding and Boston's lead was back at 13 by the end of the frame despite a 29-point quarter for the 76ers.

BOLD PLAY OF THE GAME
Green had his hand on a pair of loud dunks early in the second quarter. After drawing a double team, Green fed a wide-open Garnett streaking down the lane for a trademark tomahawk slam. Less than two minutes later, Green found himself with space in the paint and delivered his own one-handed rim-rocker off a feed from Rondo. For good measure, Green threw down an alley-oop lob from Rondo in the second half.

WHAT IT MEANS
The Celtics bounced back nicely from Friday's loss, opening a big lead early and cruising on a sleepy Saturday night at TD Garden. Boston had one third-quarter lapse, but recovered nicely and the 76ers never got closer than eight in the second half. The Big Three carried Boston, but the Celtics got nice contributions from across the board (including nice quiet efforts from the likes of Chris Wilcox and Jared Sullinger off the bench). The Celtics will enjoy three consecutive days off before hosting the Dallas Mavericks on Wednesday evening at TD Garden (the final home game before a three-game road trip that stops in Houston, San Antonio and Chicago).
xxxxxxxxxxxxxxxxxxxxxxxxxxxxxxxxxxxxxxxxxxxxxxxxxxxxxxxxxxxxxxxxxxxxxxxxxxxxxxxxxxxxx

112288

112288




Posts

: 6368


Join date

: 2009-10-16



Didn't see the game, a little thing called "Life" interfered with my happiness, but I like the final score. It sends a message that "they got lucky in Philly".

KG with NO rebounds? Wow. But only 23 minutes. Nice.

Jeff Green's boxscore looks efficient. That makes it 4 out of 5, right?

9 boards for Sully in 22 minutes. Love it.

Another long layoff until the next game. Opportunity to rest and practice. You know, though, that it all balances out at the end. If we're getting lots of rest now, we're going to be playing a heavy schedule later.


bob


.

bobheckler




Posts

: 37611


Join date

: 2009-10-28



Heart and Cajones.
http://espn.go.com/boston/nba/story/_/id/8728176/boston-celtics-make-philadelphia-76ers-doug-collins-eat-words
BOSTON -- Poor Doug Collins. All that research for nothing.The Philadelphia 76ers coach must have spent much of his Saturday morning combing through
Basketball-Reference.com, totaling up all the regular-season and playoff
minutes logged by Boston's veteran core. All with the goal of inspiring
his team by showcasing just how tired the high-mileage Boston Celtics would be on the second night of a back-to-back, particularly coming off an overtime loss to youthful Philadelphia on Friday.Instead, in itemizing the 150,000 combined minutes on the odometers of Kevin Garnett, Paul Pierce, Jason Terry and Rajon Rondo, Collins unintentionally poured gasoline on a fire that was already burning for an agitated Celtics squad that crashed in trying to close
out Friday's game.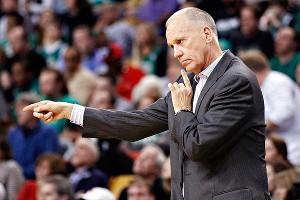 David Butler II/USA TODAY Sports


Doug Collins will probably leave his calculator out of the equation the next time Philly faces Boston.

While meeting with the media 75 minutes before Saturday's back end of a
home-and-home, Collins noted, "There's no reason [the Celtics] should be
fresher than us. Not with the amount of playoff games, the amount of
minutes they've put into this league."Those remarks were relayed to Celtics coach Doc Rivers 20 minutes later and he quipped, "[Collins
is] probably right. But I don't want to go in our locker room and tell
them that."Or maybe he did want to go in the Celtics' locker room and tell his players that.So Rivers did. And asked after the game how Garnett and his 51,152 minutes
responded to the news, Rivers noted, "Kevin reacted the way you think
he would react."Which is to say that Garnett was essentially enraged.After passing up an opportunity to take a potential winning shot in overtime
on Friday, Garnett called his own number early and often on Saturday. He
finished with a team-high 19 points on 9-of-11 shooting and helped
Boston build as much as a 21-point cushion before fending off
Philadelphia's lone second-half charge.Boston never trailed."One thing they don't keep track of is heart and cajones," said Garnett.
"OK? You can monitor all the minutes you want, but you can't monitor
someone's drive, what fuels them and motivates them. Doc came in here
and gave us that so -- Doc's the best at getting the best out of us in
certain ways, and tonight's no different from that."Garnett said the Celtics already had a bit of a chip on their shoulder after a marathon film session following Friday's loss. He
detailed how players watched the tape on the flight back from Philly,
then again after landing in Boston, and one more time in a silent locker
room before Saturday's game. Players were calling and texting each
other throughout the day lamenting all the opportunities they missed to
close out the 76ers.In this blossoming rivalry, that didn't sit well with Boston. The 76ers have emerged as a real thorn in the Celtics'
side -- playing Boston tough during the regular season each meeting
over the past two seasons and engaging in a seven-game war during the
Eastern Conference quarterfinals last year.Collins might simply have been asserting facts, but the Celtics were not in the mood to hear them."It feels good," said Garnett. "Philly has played us tough, a couple times.
So this is not the last we are going to see of them. Doug gets those
guys up and ready to play us for some reason, they play us well.
Tonight, I was just glad that we were able to not only defend home
court, and be solid at home, but after last night's performance,
everybody came in here with a little chip on their shoulder. So we need
to play with a little edge more -- more and more often."By referencing the age of Boston's core, Collins simply poked the Celtics amid a sleepy 10-9 start to the 2012-13 campaign.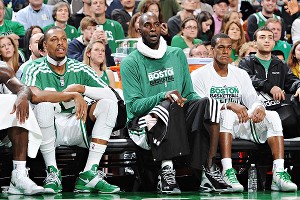 Brian Babineau/NBAE/Getty Images


Paul Pierce, Kevin Garnett and Rajon Rondo took care of business early and were able to rest late.

Now the Celtics and 76ers find themselves knotted in the middle of the
Atlantic Division standings. And this rivalry is only getting more
intense."Fresh legs don't mean anything if you don't have the
heart to go with it," said Jason Terry. "You've got three champions when
you talk about the guys that logged the most minutes over the last how
many years. After losing a game like [Friday] night, tonight was
personal. Philly has had our number so to speak, and this was a game for
us to prove to ourselves that that team is not better than us, and
that's what we believe."The Celtics cranked up their defensive intensity Saturday, limiting the 76ers to 39.2 percent shooting
(31-of-79 overall). Philadelphia mustered a mere 28 points in the first
half, including just 12 in the second quarter as Boston blew the game
open.And just when some of the Celtics' younger players let the
76ers back into the game in the third quarter, in came old man Garnett
to slam the door.Rivers, having endured an emotional and travel-heavy day after trekking to Milwaukee for the funeral of Rick
Majerus, arrived at TD Garden less than two hours before tipoff. His
good friend Collins did him a favor by writing his pregame speech.Even Collins admitted his approach was off the mark after Saturday's loss."I've been around greatness in my 40 years in the NBA. I've seen Michael Jordan
at 40, that there's nothing there and get 50 points," said Collins.
"All with [his head]. Not wasting anything, just knowing where to be and
just taking yourself to another level to fight through fatigue. And
that's what young guys have to learn and so that's what we're in the
process of doing."The Celtics didn't mind an extra dose of motivation. Even if they probably didn't need it."[Friday's loss] left a bad taste in our mouths," said Garnett. "Like I said,
playing edgy, with a chip on our shoulders, is not a bad thing."That's something Boston's veterans know all too well from all their time on the floor.
bob
.

bobheckler




Posts

: 37611


Join date

: 2009-10-28



I LOVE KG.

Going to the game on Wednesday with my new bride...who is from Dallas.

Go Celtics. Keep it rolling men.

mrkleen09




Posts

: 3078


Join date

: 2009-10-16


Age

: 49



mrkleen09 wrote:I LOVE KG.

Going to the game on Wednesday with my new bride...who is from Dallas.

Go Celtics. Keep it rolling men.
Mrkleen,
Congrats on scoring tickets! (Oh yeah, congrats on the new bride too!)

bobc33




Posts

: 7074


Join date

: 2009-10-16



Mrkleen,

My wife's originally from Dallas too. She lived in University Park. She is sending her greetings to your wife.

Sam
sam wrote:Mrkleen,

My wife's originally from Dallas too. She lived in University Park. She is sending her greetings to your wife.

Sam
Thanks Bob
Sam - We had a great dinner in Highland Park on our last trip - a bit too rich for our blood, but great to pretend for a night. My understanding is University Park is an equally nice, albeit not quite as pretentious cousin ton Highland.
Erin is actually from El Paso - but went to school in Denton and then lived in Dallas for 10+ years. She was a big Mavs fan during the early days of Nash and Dirk, but with the departure of the Jet to Boston and Dirk being out till January - I am sure she is leaning more the way of the green at this point.
Thanks for your kind words.

mrkleen09




Posts

: 3078


Join date

: 2009-10-16


Age

: 49



Mrkleen,

Sally's parents were our only non-business reason for visiting Dallas for many years. We used to go every late march to celebrate their anniversary. The four of us were best friends, and we had a super time together. We miss that.

We haven't been back since the mid-nineties, but we used to love the barbecue at a place calles Sahli's as well as all the azaleas that bloomed along Turtle Creek.

I'm sure you know of the various "laws" that are part of the vernacular. Murphy's Law, Parkinson's Law, etc. We have one that we call Sam's Law. All the good stuff gets wrecked. A nice vacation trip loses its meaning. Your favorite restaurant goes out of business or becomes so saturated that it's never again the same. You support a sports team through thick and thin in their lean days, but they're doing fine now so it now costs $300 to go see them.

Speaking of which, enjoy the game.

Sam
Sam

Every year we try and go to the Bruins vs. Stars game (when Dallas is here in Boston) and the Celtics and Mavs game - so that is one I buy in advance. Got the first or second row in the balcony for $100 per...which is ridiculous, but makes Erin happy.

As for other games - unless I get one of those day of game emails with a discount code, I generally just watch at home or a local bar. As much as I love the team, I just cant see spending $250 per seat

mrkleen09




Posts

: 3078


Join date

: 2009-10-16


Age

: 49




---
Permissions in this forum:
You
cannot
reply to topics in this forum