My daughter got this in the mail yesterday............despite some setbacks she still got her BA in 3 1/2 years.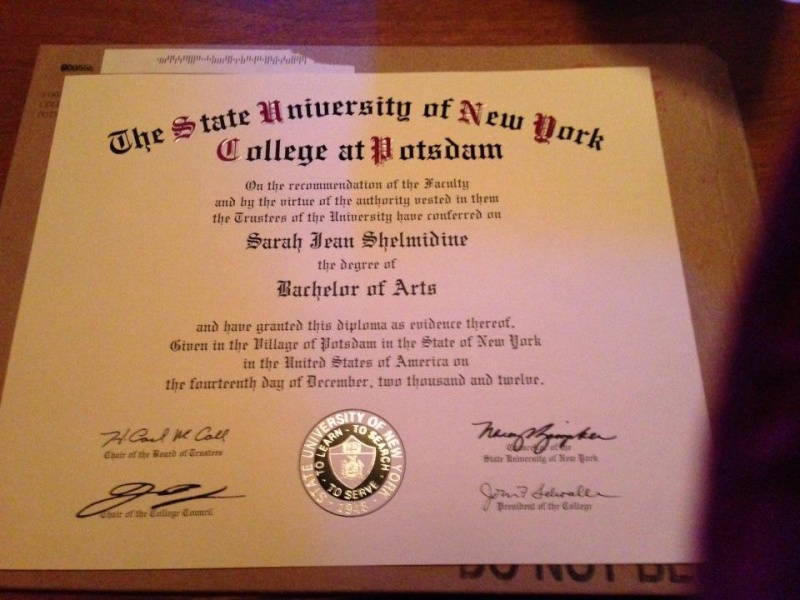 Now on to grad school that she is doing on line starting January in Information Tech.
Has a new job offer. from AT+T Wireless, much better pay, some bennies and if she stays with them (unsure of the details and the time) they will pay for her masters degree.
Hard to give the kids greater gifts than they gave themselves this year. Santa has come a little early. Maybe I can retire sooner than I thought.
My wife and I are truly blessed.
beat

beat




Posts

: 6944


Join date

: 2009-10-13


Age

: 65



Beat,

Congratulations to Sarah—one of my favorite young people. Talk about a great combination of brains, personality and perseverance. Yes, you and your wife are truly blessed, but so are your kids. You are great parents.

All the best,

Sam
Well Done Beat.

Good people - make good parents - who make good kids - who grow up to be good people and good parents and the circle continues.

Very happy for Sarah and Marcus.

mrkleen09




Posts

: 3121


Join date

: 2009-10-16


Age

: 49



This is the 3rd time I've tried to write something on this thread. Honest. 3rd time. For some reason, every time I try to write something meaningful the gremlins in my laptop delete it before I can hit 'send'. I'm serious. VERY frustrating, especially considering how verbose I can be. And they wait until I'm just about done or in review mode, so all the time-consuming writing is done. One more shot, a little briefer, to head the gremlins off at the pass...

Congratulations, not only to the kids who have turned out to be prototypes of the type of citizens we need going forward, but to their parents, who sacrificed and dedicated themselves to those kids, who attended all their games, stayed on them with their schoolwork, and was such an integral part of those kids' lives there was not much wiggle room for them to veer off into a bad direction.


bob


.

bobheckler




Posts

: 37801


Join date

: 2009-10-28



Congratulations to your daughter Beat. It is a great feeling knowing that you have succeeded in raising a child who "WORKS" for everything. I have two like that. Best wishes to your daughter and continued success when she goes on to getting her Masters. As I said before with Marcus, you and your wife should be proud.

Rosalie

RosalieTCeltics




Posts

: 17607


Join date

: 2009-10-17


Age

: 70



Beat, treasure it.
My son got on the wrong side of the tracks growing up, and the future for him was rather gloomy to say the least. Thru God and a lot of help from other places and finally at the age of 25 he is 4 months away from being a registered nurse and also having the best grades of everyone in his class. My daughter which was two years younger as already been working as a RN for a couple years now. I guess this is another reason I don't give up hope on the Celtics. I held on to hope with him and it has nearly ran the full cycle.

Merry Christmas everyone!!!

tardust




Posts

: 394


Join date

: 2012-05-03



Tardust,

Congratulations to both your daughter and son...and also to you and your wife, because you'll probably live to 125 with such caregivers in your life.

Sam


Similar topics
---
Permissions in this forum:
You
cannot
reply to topics in this forum