Ok, so this is a legit article and not just me beating my own drum again.
http://www.boston.com/sports/basketball/celtics/extras/celtics_blog/2014/06/who_the_heck_is_kristaps_porzingis.html
Who the Heck is Kristaps Porzingis?
Gary Dzen
@GaryDzen
Boston.com Staff
JUNE 10, 2014 12:46 PM
ABOUT THE AUTHOR
Gary Dzen has covered one Celtics championship run and one 18-game losing streak. He was there for Belichick's 4th-and-2. He really, really likes IPAs.
A future Boston Celtic, if Chad Ford's latest mock draft is to be believed. Ford projects the Celtics to use the No. 17 pick in the June 26 draft to select Porzingis, a 7-footer out of Latvia.
From Ford: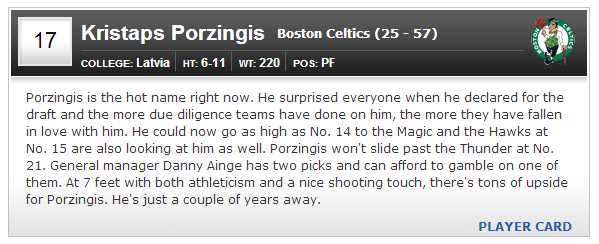 I'd be lying if I said I knew a lot about Porzingis. He's an 18-year-old power forward currently playing in Spain for Cajasol Sevilla. DraftExpress.com has Porzingis 15th on its big board.
Below is a FIBA profile for Porzingis, whom Ford describes as a high-upside player who is still a "couple of years away."
My friend Kevin O'Connor, who writes for CelticsBlog, is releasing his own NBA Draft guide on Thursday. Here's his take on Porzingis:
In case you can't see the image and can't wait for the draft guide Thursday, O'Connor lists several pluses and minuses for Porzingis:
PLUS:
-- Athletic, long wingspan
-- Star potential as a rim protector
-- "Absolutely a menace in transition"
MINUS
-- Lacks a post game
-- Gets pushed around by stronger guys (he's 220 pounds!)
-- Must improve perimeter defense
Porzingi's body type has O'Connor comparing him to a young, skinny Joakim Noah.
bob
.

bobheckler




Posts

: 45907


Join date

: 2009-10-28



Tall and skinny. The learning curve will be interesting. Will his offense be good enough to offset his defensive deficiencies in the early going?

And could he be a stretch 5 (if that's possible)?


KJ

k_j_88




Posts

: 4696


Join date

: 2013-01-06


Age

: 31



Who the Heck is Kristaps Porzingis?

Hopefully not a future Celtic IMHO.

I think there have been just enough long shot picks in the not-so-distant Celtic past that we can let this project go.  There should be much better talent with much better odds at #17.  We simply don't need to take a risky proposition at center at this early rebuilding stage if there are better athletes available at other positions.

Has anyone checked to see if he was a soccer player until a couple of years ago?

NYCelt




Posts

: 8499


Join date

: 2009-10-12



he is a potential top10 pick in the 2015 draft!!
pulled out of this years draft, it seems

kdp59




Posts

: 4935


Join date

: 2014-01-05


Age

: 60



Well, this takes some of the angst out of draft day for me.

He should take his time, develop his body and game, maybe stay in Europe for 2 more years.  That way he won't have to enter the draft at all and Danny can just sign him outright.


Heheheh.


bob


.

bobheckler




Posts

: 45907


Join date

: 2009-10-28



draftexpress now has Porzingis going #7 in the 2015 draft.



bob


.

bobheckler




Posts

: 45907


Join date

: 2009-10-28



---
Permissions in this forum:
You
cannot
reply to topics in this forum