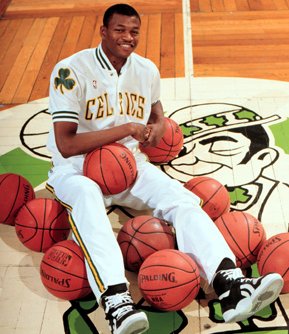 17 years ago, we lost Reggie Lewis.
http://www.nba.com/celtics/news/070203_RememberingReggie.html
He was the quiet Celtic with the infectious smile. He was reserved and almost shy but his actions, both on and off the basketball court, spoke much louder than any words. He was a 6-7-basketball player, the captain of the team and the leading scorer. He was a devoted husband, father and friend to many. He was the torchbearer to a new Green and White generation. He was a soft-spoken yet powerful leader. Reggie Lewis, 27 years old, fell victim to natural causes and on Tuesday, July 27, 1993, Celtics fans tearfully said, 'good bye'.
http://en.wikipedia.org/wiki/Reggie_Lewis
Lewis suffered sudden cardiac death on the basketball court at an off-season practice on July 27, 1993 at Brandeis University in Waltham, Massachusetts. He was 27 years old.
http://tinyurl.com/28yl7cv
When Boston sportscaster and family friend Jimmy Myers reached Donna Lewis to give her the news, she stopped him. "Wait, Jimmy," she said. "I've got something to tell you first."
Donna's news was joyous: She had just learned she was 2½ months pregnant with her second child.
Jimmy's was tragic: Her husband, Boston Celtics star Reggie Lewis, had collapsed while shooting baskets at Brandeis University and was on his way to Waltham-Weston Hospital. "We're living this nightmare again," he told Donna. "We've got to get over there."
_________________

gyso




Posts

: 16319


Join date

: 2009-10-13




gyso




Posts

: 16319


Join date

: 2009-10-13




gyso




Posts

: 16319


Join date

: 2009-10-13



We'll never know what kind of pro Len Bias would have made, although we have some pretty strong suspicions. What really hurts in the case of Reggie is that we could actually see his future taking shape. He was so utterly consistent. In every one of his seasons with the Celtics, he scored either 19 or 20 points per 36 minutes. During his last season, he shot something like 86% from the free throw line. Equally good at shooting from the outside, medium-range jumpers, and finishing on the break. But, more than any of the statistical stuff, he seemed to be becoming a real team leader—not vocally, but by example.

The less savory aspects of Len's and Reggie's lives were unfortunately intertwined, and the outcome in both cases was the opposite of the legacies we would have liked them to share.

And I believe that, to this day, Reggie lies in an unmarked grave. R.I.P. Reggie.

Sam
gyso wrote:
Wow, that pic almost looks like it could be from the 60s.

bobc33




Posts

: 8831


Join date

: 2009-10-16



I just remember him falling to the floor in the playoffs clutching his chest. Then having all those doctors...........some saying he's fine others saying he should not play again. What must have been going thru his mind?
Who do you believe, was it drug related or did he just have a bad ticker that he somehow played thru for years?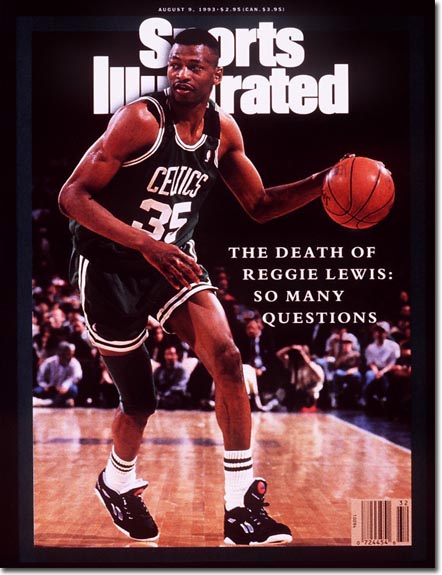 For a while he was about all there was to cheer for as the big three were no longer much of a factor.
Seventeen years.
What could have been!
beat

beat




Posts

: 7032


Join date

: 2009-10-13


Age

: 67



beat,

One thing these pictures tell us is that he could dribble with either hand.
_________________

gyso




Posts

: 16319


Join date

: 2009-10-13



---
Permissions in this forum:
You
cannot
reply to topics in this forum