https://www.theringer.com/nba/2017/9/12/16290580/rookie-scale-extension-candidates
The Most Interesting Rookie-Scale Extension Candidates
The top tier of the 2014 rookie class is in line for pay raises. But these four players—and their teams—have big decisions to make before the October 16 deadline.
BY KEVIN O'CONNOR  SEP 12, 2017, 8:31AM EDT
Getty Images/Ringer illustration
Before the real games begin October 17, the NBA still has business to attend to.

October 16 is the deadline for teams to sign eligible players from the 2014 draft class to rookie-scale extensions before they hit restricted free agency next summer. The 21 eligible players are:

Kyle Anderson, Spurs
Rodney Hood, Jazz
Elfrid Payton, Magic
Bruno Caboclo, Raptors
Zach LaVine, Bulls
Julius Randle, Lakers
Clint Capela, Rockets
Doug McDermott, Thunder
Marcus Smart, Celtics
Joel Embiid, Sixers
Shabazz Napier, Blazers
Nik Stauskas, Sixers
Dante Exum, Jazz
Lucas Nogueira, Raptors
Noah Vonleh, Blazers
Aaron Gordon, Magic
Jusuf Nurkic, Blazers
T.J. Warren, Suns
Gary Harris, Nuggets
Jabari Parker, Bucks
Andrew Wiggins, Timberwolves


Odds are most of this group will remain unextended when the clock runs out. An average of 7.4 players have signed rookie-scale extensions over the past five years, and most of the players that receive them are no-duh types like C.J. McCollum, Giannis Antetokounmpo, Damian Lillard, and Anthony Davis. None of the players in this group are at that level. Wiggins and Embiid come the closest.

There have already been multiple reports that the Wolves and Sixers will look to ink their young stars, and multiple league sources have told me they expect Wiggins to sign once he gets his new agency in order. Embiid's fate is less clear, considering his significant injury history.

But there are several other interesting cases still left on the board, ones that will require calculated risk from both the team and the player. In addition to the player's development, representatives from both sides of the negotiating table must attempt to accurately project the future market. And next summer's market could dry up after the huge contracts signed the past few years. Just five teams are currently expected to have cap space (Hawks, Bulls, Mavericks, Pacers, Lakers), according to projections by Real GM's Keith P. Smith, though a handful of other teams could create space.

Deal-making may also be affected by the new collective bargaining agreement, which will raise the cap holds for first-round picks coming off their rookie deals to 250 percent of their previous year's salary if they are at or over the league's average salary, or 300 percent if they aren't. The change is intended to limit teams from waiting to extend young players to huge pay increases until after other players are signed. Teams could effectively save cap space if they extend a player for less than his cap hold, therefore increasing the urgency to sign a deal.

The extension game is a precarious one. The decisions made between now and the deadline could have colossal implications for both the franchise and the player. If I were running a team, here are the four players I'd look to extend now. If I were these players, though, I'd likely rather wait:


Gary Harris, Nuggets

The Nuggets almost sent Gary Harris and the no. 13 pick to the Cavaliers for Kevin Love on draft night, according to an ESPN report. After the deal fell apart, the Nuggets instead traded down from no. 13 to no. 24, where they selected Syracuse forward Tyler Lydon. Multiple league sources believe Denver's target was OG Anunoby, who was selected one pick before by the Raptors.

But sometimes the best deals are the ones you don't make. The Nuggets—who went on to land Paul Millsap in free agency—could find that to be the case after missing out on Love if Harris continues along the same rapid developmental track. The 6-foot-4 shooting guard was one of the most efficient players in the NBA last season, scoring 1.1 points per possession, according to Synergy. Harris drained 3s at a 42 percent clip, was a freight train on the break, and flashed the ability to defend the perimeter at a high level. It's hard to find high-end 3-and-D players, and, at almost 23 years old, Harris already checks many of the boxes.

Still, there's room for improvement, especially on the defensive end. Harris flashes moments of brilliance on defense, but there were far too many instances in which he got beat backdoor after losing focus off the ball. The Nuggets were 29th in defense last season, so it wasn't all on Harris. The hope is that the young roster can grow together on that end.


There are also no guarantees that Harris, who has shot at a 36.3 percent clip since college, will maintain his torrid 3-point shooting from last season. If he keeps developing his range from above the break, where he shot 38.6 percent last season, then he could enter the upper echelon of shooters. Either way, he's a quality shooter and a high-IQ player who is a perfect complement to Millsap and Nikola Jokic, both slick passers in the frontcourt.

https://giphy.com/gifs/3ov9jIA2ITkI64cruM?utm_source=iframe&utm_medium=embed&utm_campaign=Embeds&utm_term=https%3A%2F%2Fwww.theringer.com%2Fnba%2F2017%2F9%2F12%2F16290580%2Frookie-scale-extension-candidates

Harris can space the floor, and he's a great cutter who always seems to sneak through the cracks of the defense to make himself available for easy buckets. Though he might not be a feature scorer, it's crucial for winning teams to have players who fill in the blanks. Harris is imperfect, but he has foundational skills that'll lead to a long career.

That is precisely why I'd be pushing for a deal now if I were Denver. If Harris builds on his progress from last season, in the form of an improved handle or a sustained shooting percentage, then it's conceivable that a team could throw a max offer sheet his way. If I'm Harris's agent, Aaron Mintz, I might agree to Victor Oladipo money ($84 million over four years). Harris is better than Oladipo, but Oladipo never should've received a deal that big in the first place. Harris is a good player who's only getting better, and teams around the league know it. Denver should act now.


Marcus Smart, Celtics

Smart has become a love-him-or-hate-him player. On one hand, his flopping is annoying and some may argue he hurts his team by committing careless fouls. On the other hand, he finished fifth in charges taken last season and is one of the NBA's most versatile defenders. The Celtics traded Jae Crowder and Avery Bradley, but they may still have their best defender. There simply aren't many (or any) 6-foot-4 guards who can reliably defend anyone from Millsap to Carmelo Anthony to Paul George to Damian Lillard.


But Smart is also statistically one of the worst shooters in league history. Of the 433 players to attempt at least 800 3s in their careers, only 10 have a worse 3-point percentage than Smart does, per Basketball-Reference. The numbers don't lie, but to focus on his shooting is to ignore his redeeming qualities, like his knack for clutch moments and his nifty passing.

Though Smart is a walking paradox for fans and NBA execs alike, there seems to be a general consensus from the league sources I've chatted with that Smart would likely receive a deal next summer in the range that Andre Roberson—another plus defender who's a negative offensively—signed with the Thunder this past offseason (three years, $30 million). I don't buy it; $10 million seems far too low, even in a diminished free-agent market.

Smart is only 23 years old and is in the same ballpark as Roberson (almost 26) is defensively. He shed 20 pounds this summer, which should help him more effectively defend the perimeter-oriented guards that Bradley was typically assigned to last season, further increasing his defensive value.



Smart also far exceeds Roberson's offensive impact. He's a superior ball handler and passer, and, despite his flaws, he's still a better shooter. Roberson was being hacked and left alone in the corner; Smart shot more than 80 percent from the line and at least draws closeouts on his jumpers. As covered before on The Ringer, it's quite common for guards to develop slowly to start their careers. Smart's weight loss could help his burst and explosiveness, which would help him draw contact and finish inside.

I view Smart as an already good all-around player who doesn't need to get any better for his skills to take him into his early or mid-30s. There's always a use for playmakers like Smart. If he shows any semblance of progress offensively, it could be an indicator that he's a late bloomer from the Kyle Lowry Point Guard Tree. If I ran a team with cap space that had a quality shooting coach—like the Hawks—I'd be all over Smart next summer, making an offer that the Celtics would be more hesitant to match.


Jabari Parker, Bucks

The recent history of Parker's agent, Mark Bartelstein, might give us an idea of the Bucks forward's future. The Wizards offered Bradley Beal a contract extension at less-than-max value prior to the rookie-scale extension deadline in 2015, according to the Washington Post. But Beal declined, deciding instead to bet on himself and play out the season on his rookie deal. He cashed in seven months later with a max deal.

Gordon Hayward, also a Bartelstein client, did the same in fall 2013 after failing to reach an agreement, signing a max offer sheet with the Hornets the following summer and forcing the Jazz to match.

Maybe Parker is next. The Racine Journal Times' Gery Woelfel reported last week that Parker's camp won't "settle for anything less" than a max contract extension. "We have had discussions; there has been dialogue," Bartelstein told Woelfel. "It's been a positive dialogue. But that's all I can say at this time."

Extending Parker now is a risk. The 22-year-old suffered a second noncontact torn ACL to the same (left) knee this past February and might not return next season until February or March. But if the Bucks are able to find a comfortable number, they could end up saving money next summer.

Parker looked on track for a max deal before the injury. He'd begun to blossom as a scorer, averaging 20.1 points while scoring 1.02 points per possession, per Synergy. Parker had multiple high-volume games while scoring efficiently. It looked like he was back at Duke.



Parker is a true physical specimen. There aren't many players that tall (6-foot-

, that thick, and that nimble. He moves like a ballerina, but looks like an NFL offensive tackle. He's a get-out-of-the-way player when he's rumbling down the runway on his way to an explosive dunk. It's funny how Wiggins's max contract with Minnesota is considered imminent when Parker is the better, more skilled scorer. Injuries complicate everything.

But if this is the last major injury of Parker's career, his return could push Milwaukee to a new level. The Bucks need another star but don't have a realistic way of finding one. It's nearly impossible for the Bucks to create max cap space, and there aren't any guarantees their target would want to sign in Milwaukee. And they might be too good to land the sort of high draft picks necessary to give Antetokounmpo a superstar partner.


Which is why Parker is so important. No other player on the roster possesses the ability to finish games as a go-to scorer like Parker can, double as a floor spacer like Parker can, and run a freakish, forward-duo pick-and-roll with Antetokounmpo like Parker can.

If Parker—who also fractured his right foot in high school—returns next season and gets right back on track, he'll surely receive at least one max offer sheet. Bartelstein's track record suggests he knows it. The Bucks should, too. They need Parker to maximize his potential. There are no other viable options.


Clint Capela, Rockets

We're about to witness the Lone Star State version of Lob City, with Clint Capela starring as the primary receiver for Rockets quarterbacks James Harden and Chris Paul.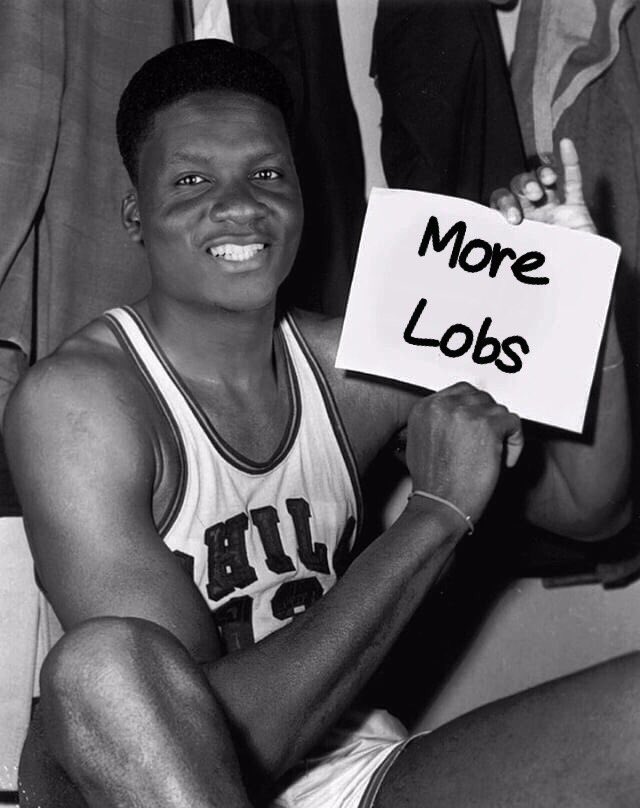 Follow
Clint Capela
@CapelaClint


bobheckler




Posts

: 37554


Join date

: 2009-10-28




---
Permissions in this forum:
You
cannot
reply to topics in this forum