WARNING!  Bleacher Report!
Boston Celtics' 5 New Year's Resolutions
BY MICHAEL WALSH (FEATURED COLUMNIST) ON DECEMBER 25, 2013
New Year's resolutions are always an interesting topic of discussion. As we near the start of 2014, the Boston Celtics have some big decisions to make.

2014 will be the year of an expectedly stacked NBA draft. One in which the Celtics have two first-round picks—theirs and either the Brooklyn Nets' or Atlanta Hawks'.

It will also be the year Avery Bradley and Jordan Crawford become some sort of free agent. Kris Humphries and MarShon Brooks have no ties beyond the spring of 2014, and Keith Bogans will likely join them in a pool of uncertainty.

Kelly Olynyk, Vitor Faverani and Phil Pressey will become sophomores. Jared Sullinger will become a junior and potential star. Rajon Rondo and Jeff Green will have to start thinking about the future as well. Certain other Celtics may have the decision made for them on whether they remain in green beyond the spring.

The Celtics need to make some New Year's Resolutions for 2014. Though they will surely be difficult to keep, they can serve as guidelines on how to try to act for the coming year.


1.  To Give Ron Adams Virtually Anything He Wants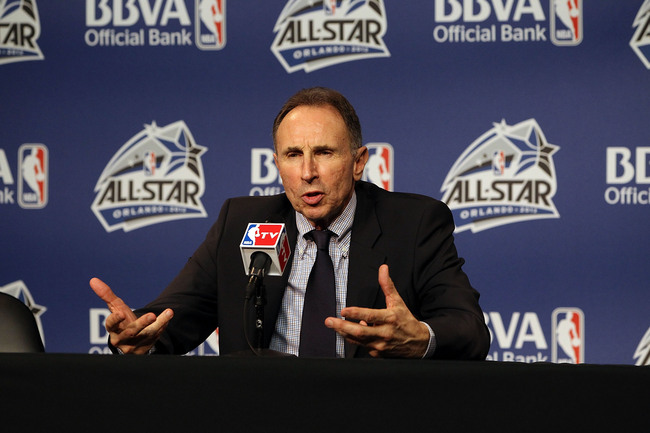 Gary Dineen/Getty Images


First-year head coach Brad Stevens deserves a lot of credit for how competitive the Boston Celtics have remained throughout this season.

However, as history tells us, the transition from coaching college to coaching the NBA is very difficult and rarely met with success. Stevens owes a fair portion of credit to his bucking of this trend to assistant coach Ron Adams.

Despite losing defensive stars Kevin Garnett and Rajon Rondo to start the season, Boston is a top-10 defense right now. According to Basketball Reference, the Celtics rank No. 9 in the NBA in defensive rating, allowing 104.3 points per 100 possessions.

"I mean, I have people that walk up to me and say, 'That guy, right there — listen to him,'" said Second-Team All-Defense guard Avery Bradley to The Boston Globe's Baxter Holmes. "Everybody — everybody says that. It's pretty cool. It says a lot about him."

Adams has been around, working as an assistant coach with five different NBA teams before joining the Celtics. Most recently he was a part of the defensive revolution Tom Thibodeau brought to the Chicago Bulls.

The chances are very good he'll start being primed for a head coaching gig next season, so Boston will have to pitch him to stay and keep his focus on the green team. Boston lost Thibodeau as an assistant and Doc Rivers' teams rarely looked the same. Ideally, they don't want to let that happen again.


2.  For Fans, Brass and Teammates to Allow Rajon Rondo to Control Himself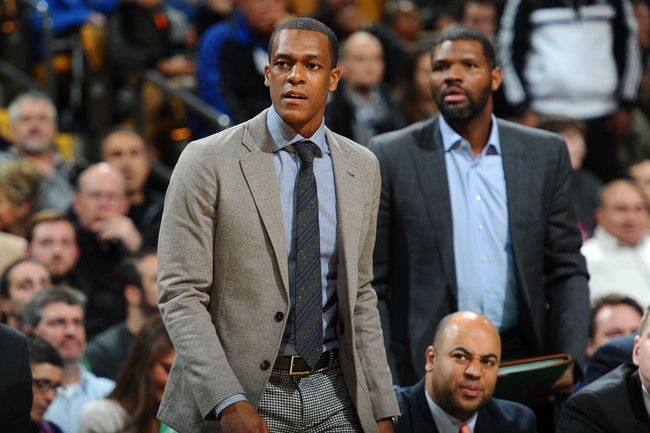 Brian Babineau/Getty Images


Rajon Rondo is entering into some dangerous waters coming up. The longer he continues not playing games, the greater chance rumors have to start and people have to get frustrated.

All it will take is some minor spark to ignite the powder keg of Rondo talk in New England.

Fans can start it easily by shaping public opinion on talk radio and comment sections. Boston's higher-ups and teammates can start something by simply saying the wrong thing to the wrong media member and have it play as them taking a shot at Rondo's toughness. All of this is bad news the longer we go without seeing him play.

"I don't think I have to pass anymore tests. I have to pass tests for myself," Rondo told Gary Washburn of The Boston Globe. "I know what I felt like before I hurt my, when I get back to feeling that type of feeling the way I play the game, then I'll be back."

Given what we are learning every day about just how fragile the human body can be, and the long-term risk that professional athletes' injuries can mount, It seems completely reasonable for Rondo to take it slow. Allowing him to handle his own body and make his own call seems like the more logical decision.



3.  To Not Give Up on Kelly Olynyk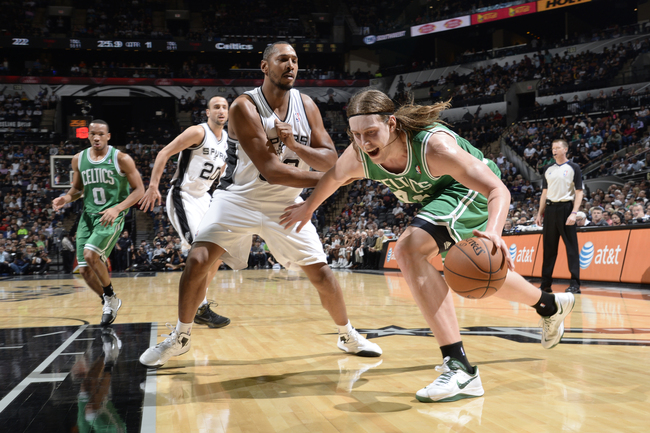 D. Clarke Evans/Getty Images


One of the worst things the Boston Celtics can do is give up on a young player too early.

See guys like Chauncey Billups and Joe Johnson, who were sent away during their rookie seasons only to become stars down the line. Granted those moves happened a long time ago, but Boston should still take the lesson to heart.

The organization needs to make a resolution to not deal Kelly Olynyk for any quick fix. They need to have faith in their ability to assess and draft first-round talent. Of Boston's last 10 first-round selections, 10 have been definite hits. Gerald Green (No. 18) is at least still in the league, while J.R. Giddens (No. 30) and Fab Melo (No. 22) where somewhat acceptable risks that late.

Kelly Olynyk probably won't turn into the caliber of player Al Jefferson or Tony Allen wound up being, but the Celtics saw something in him, moving up in the draft to secure him. Have a little faith in the track record and player-development system.

Olynyk has struggled, particularly of late, but his 6.6 points and 4.7 rebounds per game prove he isn't a total bust.

"I'd say it's pretty average; I wouldn't say I'm doing anything out of the ordinary," Olynyk told The Boston Globe's Gary Washburn. "But that's part of the process. Stuff is not always going to come easy and when you hit adversity you've got to keep fighting and work through it.

There is a place on an NBA floor for him to be. It wouldn't be wise for Boston to cut bait for a short-term veteran.



4.  To Not Skimp on Avery Bradley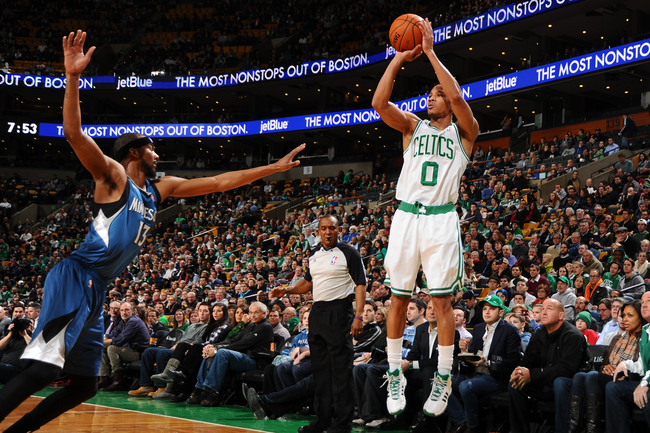 Brian Babineau/Getty Images


The Boston Celtics definitely needed to see more from Avery Bradley before the topic of an extension even came up. Then they needed to see more before they would rise to his requested number.

It has now been 174 games since Bradley entered the league as a first-round pick in 2010. He has played 29 games this season, and played well pretty consistently. He has fully earned the trust of Brad Stevens, and saw a small push in minutes through December.

"He did a great job with it and it's part of his growth," Stevens told The Boston Herald's Tom Layman about a game in which they featured Bradley's offense. "I think he can get a lot better and I think his effectiveness on the offensive end will just continue to improve and improve."

During the month, Bradley is averaging 16.1 points and 5.1 rebounds on some crazy shooting clips (50.8/57.1/64.3).

According to Bleacher Report's Jared Zwerling, Bradley's camp rejected a contract offer of four years and $24 million. The young shooting guard wants $8 million per year. While putting this strong season under his belt, the Celtics can feel more comfortable about rising towards that number.

Obviously the deadline has passed, and this will have to be done in the offseason, which is also good since they'd like to see him alongside Rajon Rondo as well. Bradley is passing tests every day, and Boston should take notice when it comes time to pay him.



5.  To Find a Trading Partner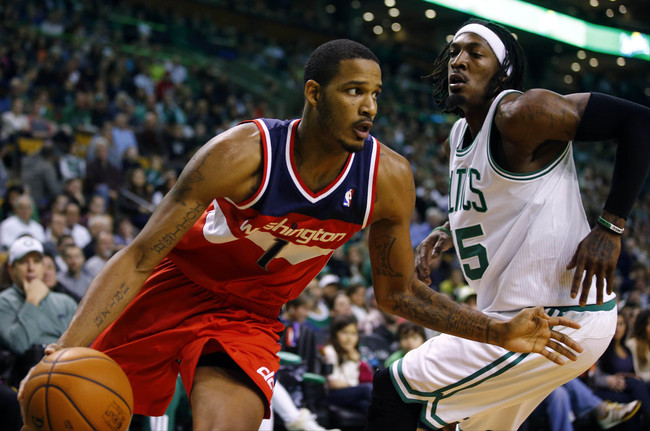 David Butler II-USA TODAY Sports


It is becoming tougher and tougher for Brad Stevens to put Gerald Wallace on the floor with this team. He is trying to build something from the ground up. Something that unfortunately doesn't include a 31-year-old small forward getting a lot of playing time.

Wallace played 40 minutes in the Boston Celtics' opener. Through the month of December, he hasn't seen more than 25 minutes and is averaging just 19.9 per game. That is down from 24.1 in November. He is being weaned out of the rotation bit by bit. However, he is still making $10.1 million per year through 2015-16, per HoopsWorld.

Wallace is just one of the players on this roster that Boston will be looking to deal. The Celtics also hold Kris Humphries (15.5 minutes per game), Keith Bogans (four games played) and MarShon Brooks (nine games played) on expiring deals for a combined $18.27 million this season.

There are active pieces worthy of a trade as well.

Brandon Bass and Courtney Lee are having great bounce-back years from a dismal 2012-13. Both are 28 years old and offer something to a contender. Obviously, these two were already brought up heavily in the Omer Asik rumors recently, per Yahoo Sports' Adrian Wojnarowki.

"We're just opportunistic," decision-maker Danny Ainge told 98.5 The Sports Hub's Toucher and Rich. "When you read our name out there, sometimes it's true, sometimes it's not. The reports are embellished for sure right now, but we are having discussions and seeing what opportunities there are out there."

With the current Celtics, Bass may ideally become repetitive if Kelly Olynyk pans out behind or with Jared Sullinger. When Rajon Rondo returns, Courtney Lee becomes a fourth guard making north of $5 million each of the next three years.

Boston has at least one deal in it for 2014.
bob
MY NOTE:  As Bleacher Reports go, this one wasn't TOO bad.  In fact, it was positively pedestrian.  Find a trading partner?  Duh.  At least they didn't call for stupid stuff like blowing the team up, trading Rondo and/or tanking. I disagree with him about JR Giddens and Melo. JR Giddens, at #30, can be forgiven, that's as close to a second round pick as you can get, but Fab Melo was a bust and we could have had Festus Ezeli. I've been saying all along that the draft is a crap shoot, so I'm not disappointed that 2 out of 10, late first rounders no less, weren't good picks. I'm just reality checking his article. I've also said all along that you can't really tell anything from summer league, so I'm not surprised Kelly is struggling (although he is playing REALLY small) but I'm not saying "TRADE HIM!" either. I can't understand why his shooting is so bad, though. An NBA court is the same as an NCAA one, except for the 3pt line. He can take a KG 20'er and that's the same as the ones he hit at Gonzaga.
.

bobheckler




Posts

: 45907


Join date

: 2009-10-28



Thanks for posting this, Bob. At least it gives us something to quibble over and gets us to Saturday's game. Keeping Ron Adams and Avery Bradley, yes!! Finding a trading partner and letting Rondo be Rondo, waste of ink. Which leads us to Olynyk, where I'm on the fence. I didn't like the Johnson or Billups trades, at all, but both Johnson and Billups seemed more NBA ready, physically, than Kelly O. No need to trade him for a vet to help us now, but for a young BIG or as part of a package? I wouldn't shut the door. He's 7' feet tall and we're searching hard for a center because he really doesn't fit the bill, even in a rebuilding year. I see him more as a pf, but Sully would appear to have the inside track there as long as we have a legitimate center.

hawksnestbeach




Posts

: 520


Join date

: 2012-03-12



My bigger picture problem with Kelly is this:

We have Sully at 4.  Is Kelly a 5?  Not without a lot of training both physically and mentally.

So, should we keep Kelly, a #13 lottery pick, if all he's going to be  is a back up 4/5?

I'm in no rush to trade him, in general I agree with the sentiment expressed in the article, but "bigger picture" where will he be on the depth chart and is that the best value we can use him for?

Jeez, I'm starting to talk like Danny.


bob


.

bobheckler




Posts

: 45907


Join date

: 2009-10-28



---
Permissions in this forum:
You
cannot
reply to topics in this forum