http://www.sportingnews.com/us/nba/news/nba-trade-rumors-these-teams-are-willing-to-give-up-first-round-picks-sn-sources-say/xpqz0rcw5wyi1d185cyjyugai
NBA trade rumors: These teams are willing to give up first-round picks, SN sources say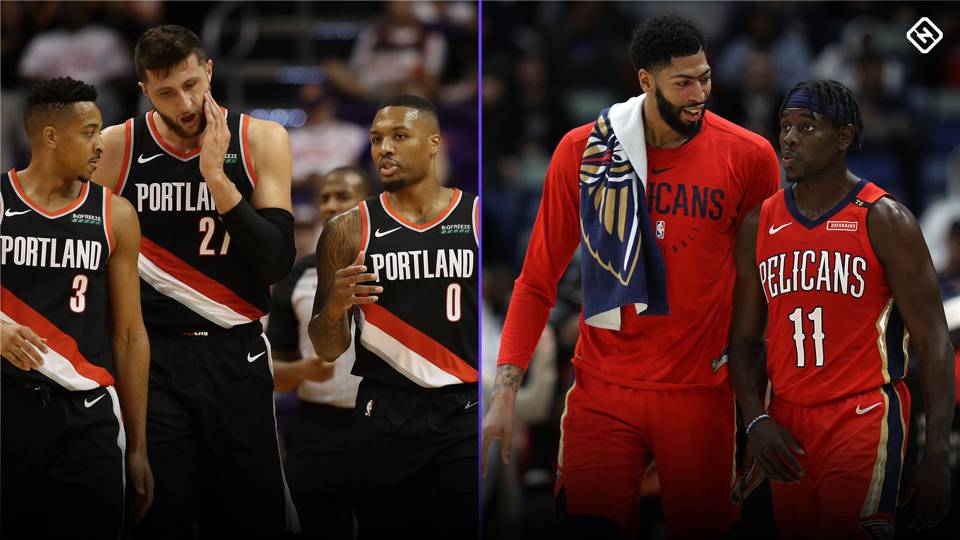 By Sean Deveney
January 12, 2019 9:40am EST
There are a handful of NBA teams that have been willing to trade first-rounders this year. For teams seeking to rebuild, that figures to be good news ahead of the February deadline.
Sean Deveney  @seandeveney
Updated at 9:40 a.m. ET
The countdown to the NBA's trade deadline has reached four weeks, and with 25 teams within 3.5 games of a postseason slot, the league swap meet could be as confused as ever.
Let's have a look in this week's Friday Rumor-rama, or as it is known in Canada, Rumour-rama.
One of the difficulties that arises for those with players to peddle at this time of year is the way teams clasp tightly to first-round picks, protecting them as though they possess part of the nuclear codes. First-rounders are the best way to get high-quality cheap labor and, naturally, there is little incentive to part with cheap labor.
But, according to league sources, there are a handful of teams that have been willing to offer up first-rounders this year. For teams seeking to rebuild — and with so many teams angling for the postseason, there are not many — that figures to be good news.
One of the teams most eager to move its first-rounder along for immediate help is the Pelicans, who have won two straight games as they've gotten Elfrid Payton and Nikola Mirotic back from injury but are still desperate for small forward help. A source told SN that the Pels made a pitch for small forward Kelly Oubre before Washington traded him to Phoenix, and New Orleans has continued to look for a starting-quality wing.
The Pelicans have shown interest in Orlando small forward Terrence Ross, who has had a career year, but is a free agent this summer and uncertain to re-sign with the Magic.
Orlando has been reluctant to deal Ross as the team has been within range of a playoff spot, but four straight losses have left the Magic seven games under .500 and perhaps ready to give up the postseason dream and get back to the long-term rebuilding project. They have a difficult five-game slate ahead and could be out of the playoff mix by next weekend.
The Magic's preference has been to trade Jonathon Simmons, who has struggled this season. Simmons is signed for next season, at $5.7 million, but only $1 million is guaranteed. Still, teams pushing for the postseason (like New Orleans) prefer Ross for a first-rounder. The Magic may have to budge on that if they want a pick.
The Sixers are another team willing to part with this year's pick for immediate shooting help, as Philly looks for a big man who can shoot, along the lines of Mike Scott, Frank Kaminsky or Noah Vonleh. The Sixers gave up Dario Saric in the Jimmy Butler deal and miss his ability to stretch the floor.
Philadelphia did acquire Miami's 2021 pick in the deal with the Suns for Mikal Bridges, but the Sixers have kept that pick out of trade discussions. Should the Heat unravel in the next couple of years, that pick will have increased value.
Portland, too, would be willing to part with its first-rounder to add depth to a roster that badly needs help in the backcourt and on the wing. The Trail Blazers could be a player for Ross or Simmons, too. But sources tell SN that they have expressed interest in another player expected to be made available for a first-round pick: Atlanta point guard Jeremy Lin.
When the Hawks traded for Lin last summer, the hope was that he could be a veteran presence for the first part of the season for young point guard Trae Young, then could be swapped for a rebuilding asset to help the woebegone Hawks' future. A first-rounder would do the trick.
The Pelicans and Sixers have also inquired about Lin (11.0 points in 19.3 minutes per game this season), and the Hawks may be able to create some bidding for his services ahead of the deadline. It'll still be tough to wrestle one of those first-rounders away, but this time around, there are at least more on the market.
Draft picks aplenty for Celtics (again)
The Celtics are poised to have three first-rounders in next year's draft, and possibly two lottery picks. But, according to league sources, none of Boston's picks are expected to be available at the deadline.
Boston has the Grizzlies' pick, protected for the top eight. Memphis currently has the ninth spot in the draft, tied with Dallas, but is on a downward trajectory, going 4-13 after a 15-9 start. The Celtics could lose this pick if Memphis keeps dropping, but it is protected only for the top six next year and unprotected in 2021 — just in time for the departures of Mike Conley and Marc Gasol, and the likely bottoming-out of this team.
The Celtics have Sacramento's first-rounder, too, which is unprotected. The Kings' surprising start dinged the value of this pick (now at No. 13), and Sacramento is seeking to add depth to keep its playoff push alive. But the Kings have lost five of seven and have a very difficult six-game road trip at the end of the month.
No matter how Memphis or Sacramento performs in the coming month, expect the Celtics to sit on these picks and hope that they can be part of a bigger overall package (yes, possibly for Anthony Davis) ahead of draft night.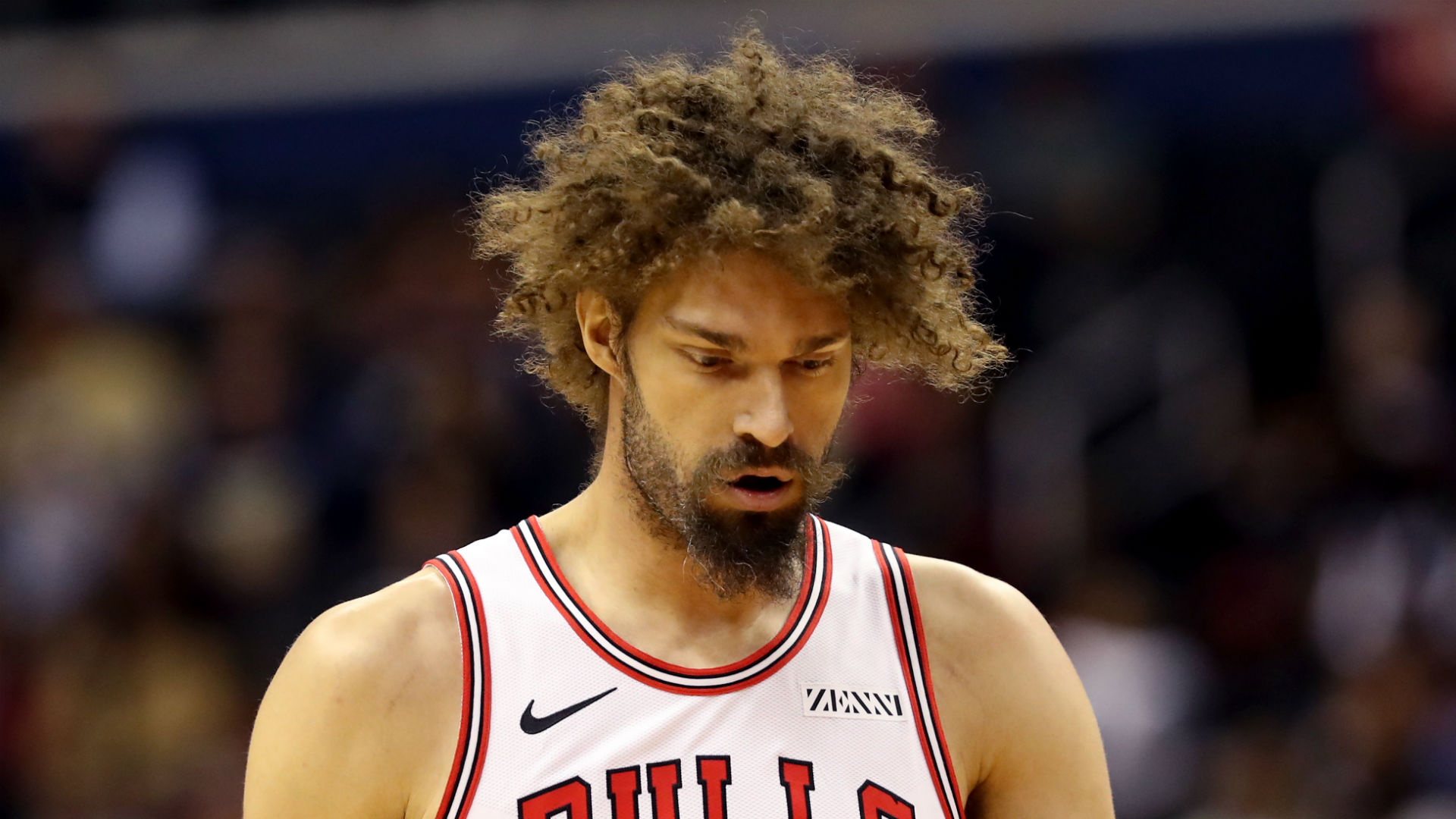 Brotherly love with Bucks?
The Bucks are not expected to make a major move, having already acquired George Hill, absorbing an addition $19 million in salary for 2019-20 along the way. But the team is in the market for a low-cost backup big man for Brook Lopez, whose perimeter shooting has been a key to the Bucks' rise this year.
Can't help but notice that, just 90 miles south of Milwaukee, the Bulls have a backup big man who can be had at the deadline: Robin Lopez, Brook's twin brother. It's been 11 years since the two played together at Stanford, and over that span, they've had productive careers while also cultivating offbeat, entertaining and somewhat goofy personae.
Robin would fit nicely with the Bucks. And don't forget, it was only two years ago that he gave the Celtics fits in a first-round playoff series (12.7 points, 7.2 rebounds, 65.4 percent shooting) that Chicago may have won had Rajon Rondo not been injured.
Boston is a likely Bucks opponent somewhere in the playoffs. That was a different Celtics team, of course, but Robin does have playoff credentials.
It's about time we got the Lopez twins on the same roster.
bob
MY NOTE:  The NBA Trade Deadline is Thursday February 7th, just 26 days from now.  Things will start heating up in a week or so, maybe even this coming week.  Rumors will be flying, most of them BS, but there will be lots to follow.  There always is.  

It seems to me that, if Danny doesn't trade his picks, he's got his eyes on a bigger prize in the offseason.  There's no way we're going to add a minimum of 3 rookies, assuming the Memphis pick is < 9 and rolls to next year.  If it doesn't Danny will have 4 rookies.  Could he draft-and-stash like he did with Yabby and Zizic?  Sure, but will he?  Zizic is a bust and Yabby is close to it for a #16 pick.  As we know Danny does not like to get burned twice. Therefore, if 3 or 4 rooks are too many, then they won't be on the team next November.  Make sense?  I'm thinking that Danny is going to have to thin the draft herd out a bit.  The question is "will he do it by the trade deadline or will he do it post-season (or maybe leading up to the draft, after we know exactly where Sacto and Memphis are likely to pick.  The lottery is May 14th). If Danny trades anything other than our pick (currently around #23) or the Clippers' pick (currently around #20) then he's big game hunting and Danny usually knows pretty much what he needs to offer to get what/who he wants. Danny doesn't just "wish upon a star" and cast his bread upon the waters. He knows what it will take, more or less, to get one of his desired players.
.

bobheckler




Posts

: 42199


Join date

: 2009-10-28



The draft picks could also be used to help fill out the back of the roster if we did trade for AD, especially if we need to piece together matching salary, some combo of Smart, Tatum, Brown, Rob Williams, Yabs, and Ojeleye. I don't see Baines agreeing to be a part of this deal as he'll have veto power. Also with Kyrie and Horford to be re-signed, maybe Rozier and Morris as well, they may object to Hayward being the salary filler. It may be more understandable to the players for a Smart/Tatum offer than a Hayward/picks offer.

KyleCleric




Posts

: 806


Join date

: 2012-05-10


Age

: 33



teams sometime trade current late first rounders for a future first as well.

so that may be an option IF Danny is sitting on too many first round picks next draft.

kdp59




Posts

: 4449


Join date

: 2014-01-05


Age

: 59



If he makes no moves at all before the trade deadline, I believe he. will go after a bought out player preferably a veteran who will help in the middle or a scorer. With the regression of Rozier, we can't seem to rely on him coming off the bench and dropping some quick shots. I don't know what is going on with him. His value has definitely dropped.

Last night's loss was so disturbing.. They had the game in hand, and could not put them away. That last play was not what lost the game.....it was lost long before that. I love Kyrie, but he could look in the mirror this morning and admit to himself, he took a few ill advised shots. The one where they got the rebound, he came driving down the left side of the court, and pulled up and missed a long three instead of working the ball inside and getting a layup.

There were many one and done plays, no passing, just ME ball again. Everyone wants to be a hero.

That was yesterday, move on to tomorrow and try to get your heads straight. Something has to give here.

RosalieTCeltics




Posts

: 21507


Join date

: 2009-10-17


Age

: 71




---
Permissions in this forum:
You
cannot
reply to topics in this forum